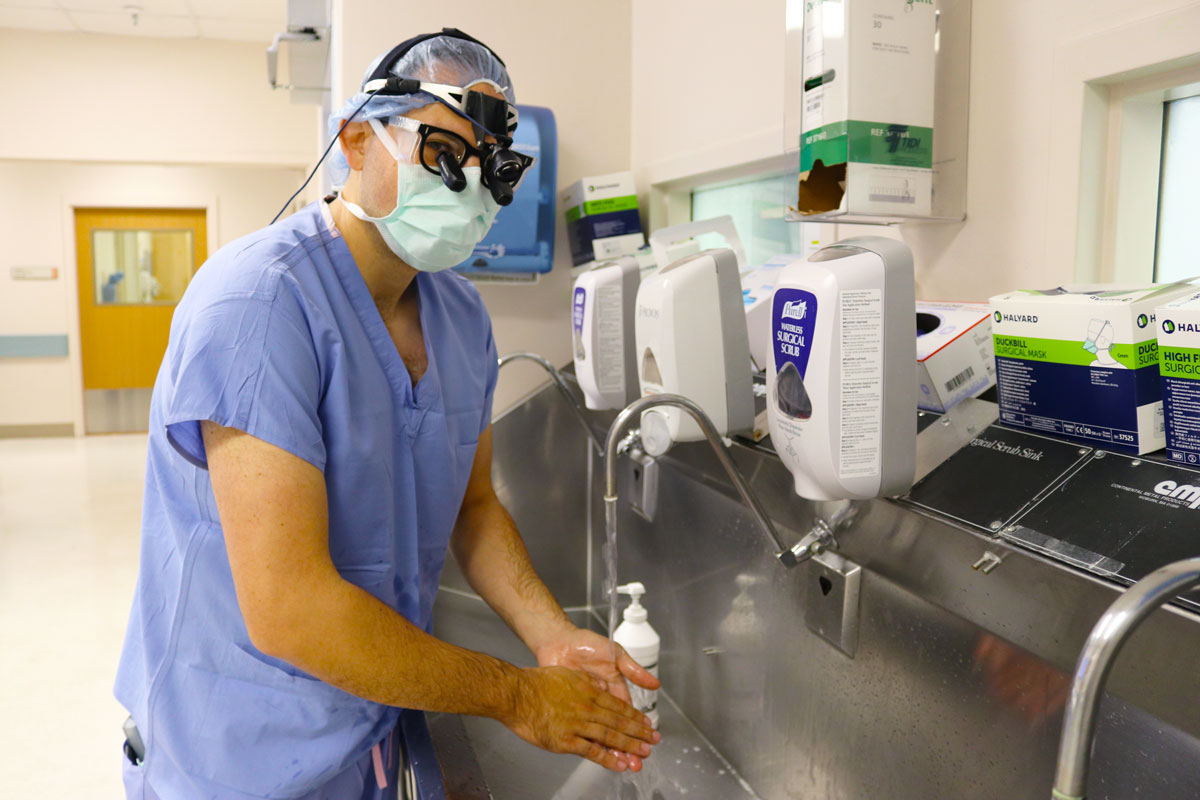 Dr. Louis Capecci preps for surgery at Kapiolani Medical Center's Pediatric Heart Center.
Keeping Hearts Healthy in Hawaii
As a Stanford Children's Health pediatric cardiothoracic surgeon at Kapiolani Medical Center for Women & Children, Dr. Louis Capecci performs corrective surgery on infants and children born with congenital heart defects. He is the first full-time pediatric heart surgeon to practice at Kapiolani. 
Congenital heart defects are different than heart problems seen in the general adult population. They usually develop when a baby is in utero and cannot be treated with medicine alone due to their structural nature.
"I work closely with pediatric cardiologists, anesthesiologists, neonatologists and intensive care unit physicians to provide our young patients with the best care possible before, during and after surgery," Capecci explains. He brings his experience to Kapiolani's Pediatric Heart Center, which will be the first for local keiki when it opens later this year. The new center will allow more Hawaii families to seek lifesaving heart surgery and treatment here at home.
"I am happy to be here in Hawaii and am certainly feeling the welcoming aloha spirit from all the doctors and staff at Kapiolani Medical Center as well as the island population itself. I feel like the luckiest doctor in the world to be working here in paradise with such wonderful people," he adds.
In this article, Capecci shares more about his background, his career and offers heart-health advice.
What treatments are your patients typically seeking?
My patients all require some level of surgical intervention in order to live a normal, healthy life. Usually, we can determine through pre-natal screening that a baby in-utero has a heart defect and whether they will require surgery immediately after birth or will need close follow-up care and possible surgery in the future.
In other cases, patients might start displaying symptoms of a heart defect after birth. We sometimes even see adults with cardiovascular symptoms such as fatigue, decreased exercise tolerance, shortness of breath, swelling in lower extremities, etc., and determine that they have been unknowingly living with a heart defect that requires surgical correction. Some defects I treat include holes between the chambers of the heart, malformations of the major blood vessels and poorly functioning heart valves.
February is American Heart Month. What tips do you have for keeping hearts healthy, especially when it comes to children?
Maintaining a healthy, balanced diet and an active lifestyle are always important. Another important measure you can take to maintain your child's heart health is to visit your primary care physician regularly, especially if your child gets sick.
If you are pregnant, be vigilant about your prenatal care. If you have already received heart surgery, yearly follow-ups with your cardiologist are crucial. Seeing a dentist regularly (twice a year) and establishing healthy dental hygiene habits with young children are also extremely important – there are links between poor dental health and heart disease.
What inspired you to pursue a medical degree and, in particular, choose pediatric cardiothoracic surgery as your specialty?
I was born with a congenital heart defect that required several open-heart surgeries before my first birthday. It is because of my team of heart surgeons and doctors that I am here today.
So, from a young age, I was acutely aware and in awe of the impact these doctors had, and I knew I wanted a career in the medical field. When my daughter was born, there were some concerns with her heart, and although she fortunately did not need surgery, it made me realize that with my medical history and background, I could do the greatest good as a congenital heart surgeon.
What do you love most about your career?
I love being able to save lives and drastically improve someone's quality of life. Although some of the surgeries are quite invasive and can be long and risky, it is always so gratifying to see the relief in the eyes of the parents when we are able to fix their child's heart. I am constantly and truly humbled by my patients, patients' families and their faith in me.
What would you like readers to know about your medical training, education and previous work positions?
After medical school, I completed nine years of surgical training. I was fortunate enough to learn from and train under some of the top surgeons in the pediatric cardiothoracic field at Penn State and at Stanford School of Medicine – some of whom trained under the very surgeon that operated on my heart when I was born.
The opportunity to start a full-time comprehensive heart program for the people of Hawaii is incredibly exciting. It is wonderful to be able to fully treat patients close to their home and not have to fly them and their families to the mainland or wait lengths of time before they're able to get treatment.
---
This article was first featured in the Feb. 23, 2022, issue of MidWeek as a part of the "Dr. in the House" series. See the full publication here.
Published on: February 2, 2023