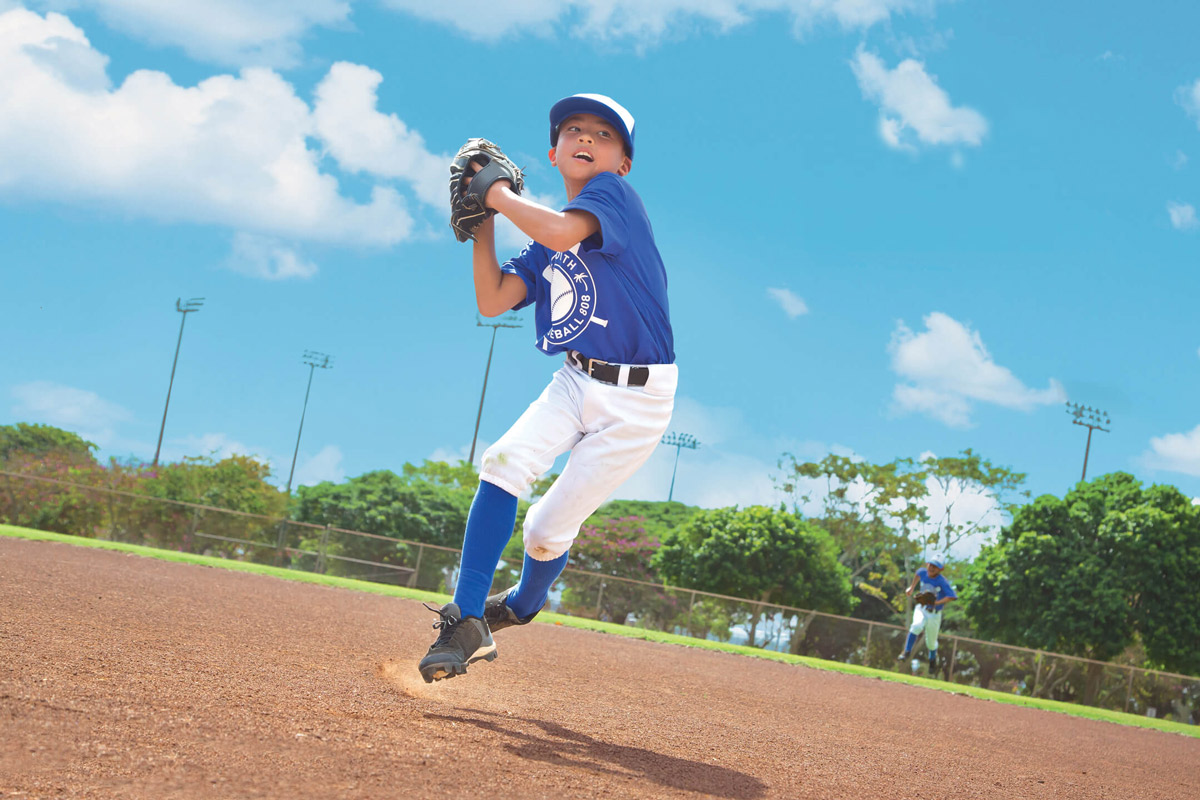 Kodey Deuz
Let's be honest – turning 10 years old is a pretty big deal. You've hit double-digit status and now can show off your age using all of your fingers … and thumbs! 
When Kodey Deuz reached this milestone birthday on Feb. 16, 2017, the celebration signified something bigger than just the 10 candles on his cake. 
Kodey was born with a hole in his heart that didn't close all the way. This condition required Kodey undergo open-heart surgery to close the hole when he was 4 months old. 
The procedure was performed during Heart Week at Kapiolani Medical Center for Women & Children. 
"Kodey was originally scheduled to have surgery in the mainland in August, but, his health began to decline and his surgery needed to be moved up to June," says his mom, Alicia, adding that Kodey also had a valvuloplasty – a procedure that widens the aortic valve using a balloon catheter inserted inside the valve – when he was 1. 
"We're very grateful we were able to have his surgery here, rather than having to go to the mainland. I would never want to fly to have surgery. It's easier to be home for these kinds of things," Alicia says. 
There were no major complications in the initial few years following Kodey's surgeries, save for a bout of severe nosebleeds when he was 3 and 4 years old. Alicia says the nosebleeds would last upwards of two hours, leading Kodey to become anemic. Kodey's physician said the nosebleeds were connected to his heart condition, and Kodey had two surgeries to cauterize his nose – first the right side, then the left. 
We're very grateful we were able to have his surgery here, rather than having to go to the mainland. I would never want to fly to have surgery. It's easier to be home for these kinds of things."
Then, at age 6, Kodey developed endocarditis, a rare blood infection of the heart that he developed following a dental appointment. 
"People with heart conditions have to take antibiotics before visiting the dentist because bacteria from the mouth can travel down and get into the bloodstream during the exam," Alicia explains. "Kodey's meds weren't strong enough for this infection, and he had a bad reaction." 
Kodey had a 104-degree fever that lasted for four days but no other symptoms. On day five, doctors did blood work and told Alicia to bring him in. 
"I packed for two days but we ended up staying in the hospital for two months!" she recalls. 
"His two-month stay was the worst for me. I never left the hospital the whole time. My parents brought me clothes for the week. I slept there, ate there and worked there for two whole months," says Alicia, who works as a nurse at Kapiolani. 
During Kodey's hospitalization, Alicia said physicians and staff tried to accommodate their needs as much as possible. 
"Whether it be switching up his meals from time to time – even if it wasn't on the menu, like putting cheese on his scrambled eggs once in a while or making him an omelet – or creating games for him to play in the Playroom instead of video games, like splatter painting the windows, or syringe water fun with a monkey target drawn on the window. We even set up tutoring so he wouldn't fall behind in school, even if he was only 6," Alicia says. 
"They created an environment that kept Kodey occupied and happy so that he wouldn't feel trapped in a hospital for such a long period of time, especially while I was at work just downstairs from him and couldn't be with him," she adds. 
In total, Kodey has had five surgeries for his heart condition. He continues to see his cardiologist, Dr. James Sim, every six months to monitor his heart function, and goes to his pediatrician, Dr. Douglas Kwock, for yearly checkups. 
Although he's now stable, Alicia says he will always be in what is considered "heart failure." 
"He doesn't let his condition hold him back," Alicia says. "He loves to play baseball; he's been playing since he was 3-and-a-half years old." 
Kodey currently plays pitcher, catcher and third base. (He doesn't watch baseball or follow any teams, but he was rooting for the Chicago Cubs to win the 2016 World Series.) 
While he has a lot of energy – "He's the kind of kid you want to be on a leash!" says Alicia – he's not allowed to play any other sports due to his condition. He also can't play contact sports, such as football, or play sports that require a lot of running, like soccer or basketball. 
However, Kodey is part of the Kapiolani support group Kardiac Kids. Participants meets every month to share experiences, address concerns, gain knowledge from expert speakers and plan outreach activities. 
"They've been really supportive," says Alicia. 
Alicia and Kodey also take part in the American Heart Association's Heart Walk each year. 
"I make him walk the entire 3.1-mile distance," Alicia says with a laugh. 
Alicia credits Kapiolani's physicians and staff for making her son's experience more positive. 
"They have been supportive by being there when we needed comforting, answering questions, and making us feel like we were a part of a family," she says. "I am grateful for everything Kapiolani has done for us and couldn't be happier or more satisfied with the services that have been provided to us. Everyone here is treated like family, and that feeling is what brings us back. Knowing that there are 'strangers' who are so willing to make sure that you have the best care and care about you themselves, there is no better feeling."
Published on: February 1, 2018