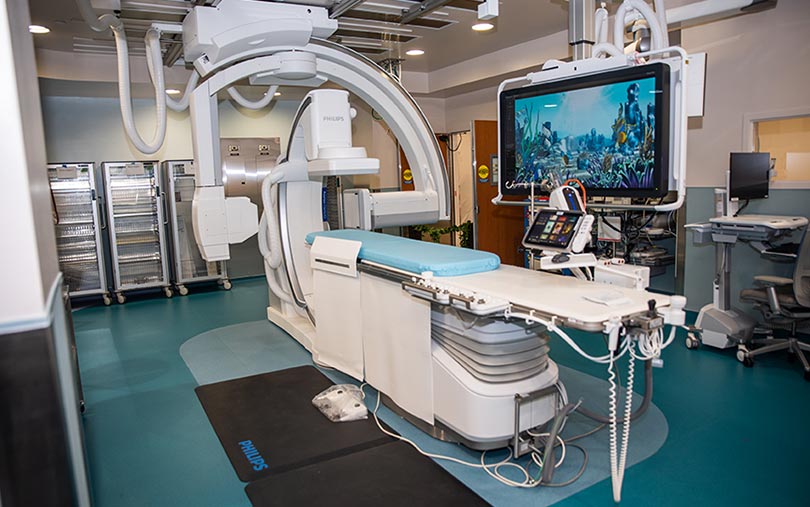 Valentine's Day held even more significance this year at Kapiolani Medical Center for Women & Children. On Tuesday, Feb. 14, 2023 the only full-service children's hospital in Hawaii celebrated its new Pediatric Heart Center, the first and only center of its kind in the state and Pacific region.
About 200 children are born with a heart defect in the state every year. The Pediatric Heart Center provides critical heart procedures for children in Hawaii, eliminating the need for many local families to travel more than 2,500 miles to the mainland to seek care.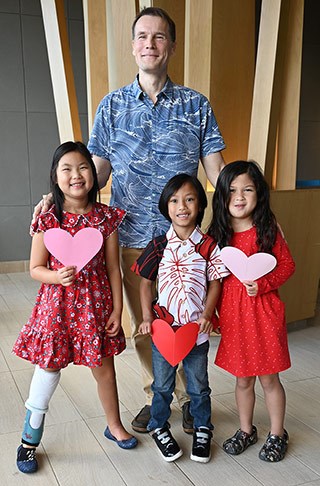 "Families will no longer need to be separated during a time when they need each other and the support of their friends and neighbors most." said Gidget Ruscetta, chief operating officer at Kapiolani Medical Center for Women & Children. "Kapiolani has had a deep connection with the community since it opened more than a century ago. Through the generosity of our community and donors we are now able to expand our care for children across Hawaii."
Kapiolani's heart campaign raised more than $10 million to completely fund the launch of this center. Chuck Mitsui, whose child was born with a heart defect, and the Turner Farm Foundation were the first major donors to step forward and make these new surgical services a reality.
The Pediatric Heart Center encompasses an expanded team, including Kapiolani's first full-time pediatric heart surgeon, as well as the first pediatric cardiac catheterization laboratory, and a comprehensive and collaborative approach to treating Hawaii children with heart conditions.
The heart of a newborn is just a few inches around – about the size of a kukui nut. Kapiolani's Cardiac Catheterization Laboratory allows physicians to treat congenital defects, such as small holes in the heart, and take measurements or samples. The new facility has large video monitors for fluoroscopy — a series of X-ray images that create a real-time "movie" — that the medical team can observe throughout procedures. The screens will also be used to play animated movies to help put young patients at ease. A large wall mural of fish also serves as a colorful distraction.
"The cardiac catheterization laboratory means children can have the lifesaving procedures they need inside a pediatric hospital, which comes with the added safety and comfort of having an entire team of pediatric specialists," said Dr. Andras Bratincsak, Kapiolani pediatric cardiologist. "This center is a dream come true for me and it is truly a gamechanger for families and children across the state."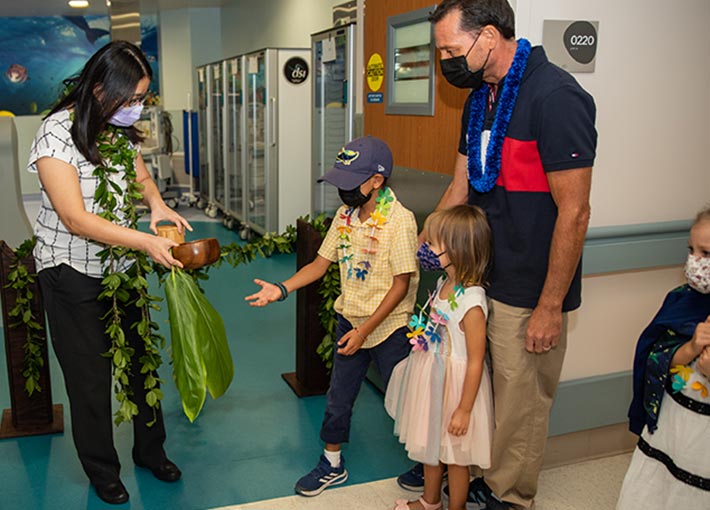 Captions
Top photo: The new Cardiac Catheterization Laboratory at Kapiolani Medical Center for Women & Children.
Inset photo: Dr. Andras Bratincsak, Kapiolani pediatric cardiologist, with heart patients Mika Ohigashi, Jhreyzn Alforo-Solon and Leila-Rose Coloma.
Bottom photo: Blessing ceremony for the new Pediatric Heart Center.