At Hawaii Pacific Health we believe health starts where we live, learn, work and play. We also recognize that improving factors outside of the medical care system that impact how healthy—or unhealthy—we are requires engagement beyond our traditional hospital boundaries. To further our mission of creating a healthier Hawaii, HPH is committed to partnering with others in the community to work together to create opportunities for better health by investing in health where it starts—in our homes, schools and jobs.  
Our Community Health Priorities
We will strengthen families and develop resilient children by promoting:
Economic Empowerment

 

through food security, housing stability, and self-sufficiency; and

Education

 

through holistic child development and family educational attainment.
*Fiscal Year 2021 (July 1, 2020-June 30, 2021)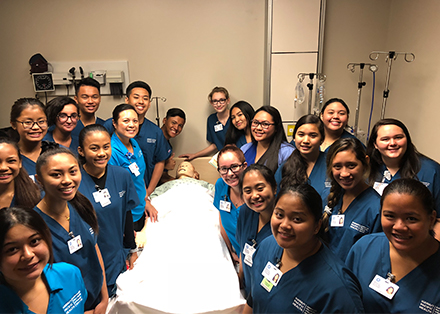 Offering economic empowerment through career pathways that provide a living wage.
The Hawai'i Pacific Health Medical Careers Training Program is offered at no cost to high school students in partnership with the Hawai'i Department of Education. Upon completion of the program and national certification, students are given primary consideration for employment at Hawai'i Pacific Health once they graduate from high school. The program, currently available at 13 O'ahu public high schools, offers career pathways for Nurse Aides, Medical Assistants, Surgical Instrument Processing Technicians, and Phlebotomists.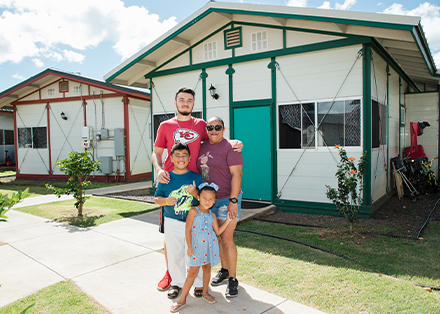 Creating community to support strong families and children
Kahauiki Village is a public private partnership between the State of Hawaii, the City and County of Honolulu and the aio Foundation. It was designed to provide permanent housing for Hawaii's homeless families and help alleviate the state's growing homeless crisis. Hawai'i Pacific Health is proud to be a partner with Kahauiki Village, supporting strong families through housing stability and community wellness initiatives.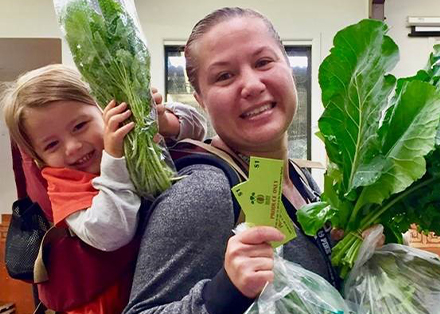 Promoting wellness through access to healthy foods for everyone
Hawaii Pacific Health is proud to partner with a statewide, multisector coalition to support the Double-Up Food Bucks program. This initiative increases access to fresh, local food for financially struggling households while also supporting local farmers and providing a boost to the local economy. On Kauai, Hawaii Pacific Health supports Malama Kauai's Village Harvest gleaning program which collects food leftover from harvests on personal properties and small farms. The food is then donated to food pantries and youth programs. HPH also partnered with Parents and Children Together and the YMCA to provide meals to pre-school and school-age children while schools were closed due to the pandemic. Unfortunately, for many children, school meals are their primary source of nutrition, making these programs even more valuable.
Promoting self-sufficiency for the most vulnerable in our community
Hawaiian Community Assets is a nonprofit community development financial institution that provides loans and financial counseling services to individuals who do not have access to mainstream financial services because of their lack of assets. When the economic downturn from the pandemic impacted Hawaii households, HCA's applications for emergency and debt consolidation loans increased by 400% within a month. With support from Hawaii Pacific Health and other community partners, HCA was able to provide small emergency bridge loans to low income working households to help them weather the economic effects of the pandemic.
Total Community Benefit in FY21*
Creating a healthier Hawaii
Hawaii Pacific Health and its system of medical centers, clinics and health care professionals provide charity care to patients in need of public health services and in underserved areas, education and training programs that raise the standard of care, and health initiatives and new medical services to improve health outcomes over the long term. During the COVID-19 pandemic, Hawaii Pacific Health served as a statewide resource to the community. Initiatives included community testing sites at its medical facilities, respiratory clinics, telehealth options, and a cohesive public health response in collaboration with the Department of Health and other health care providers.
Last fiscal year, Hawaii Pacific Health contributed more than $156 million to help create a healthier Hawaii.