In 1938, Wilcox opened as a community hospital to serve the people of Kauai. Today, it is a state-of-the-art, Level III Trauma Center. While times and technology have changed, the medical center, built for the community, remains steadfast in its dedication to providing families and visitors with accessible, quality care.
*FY17, July 1, 2016-June 30, 2017. Includes the financial summary of benefits provided to Hawaii from Wilcox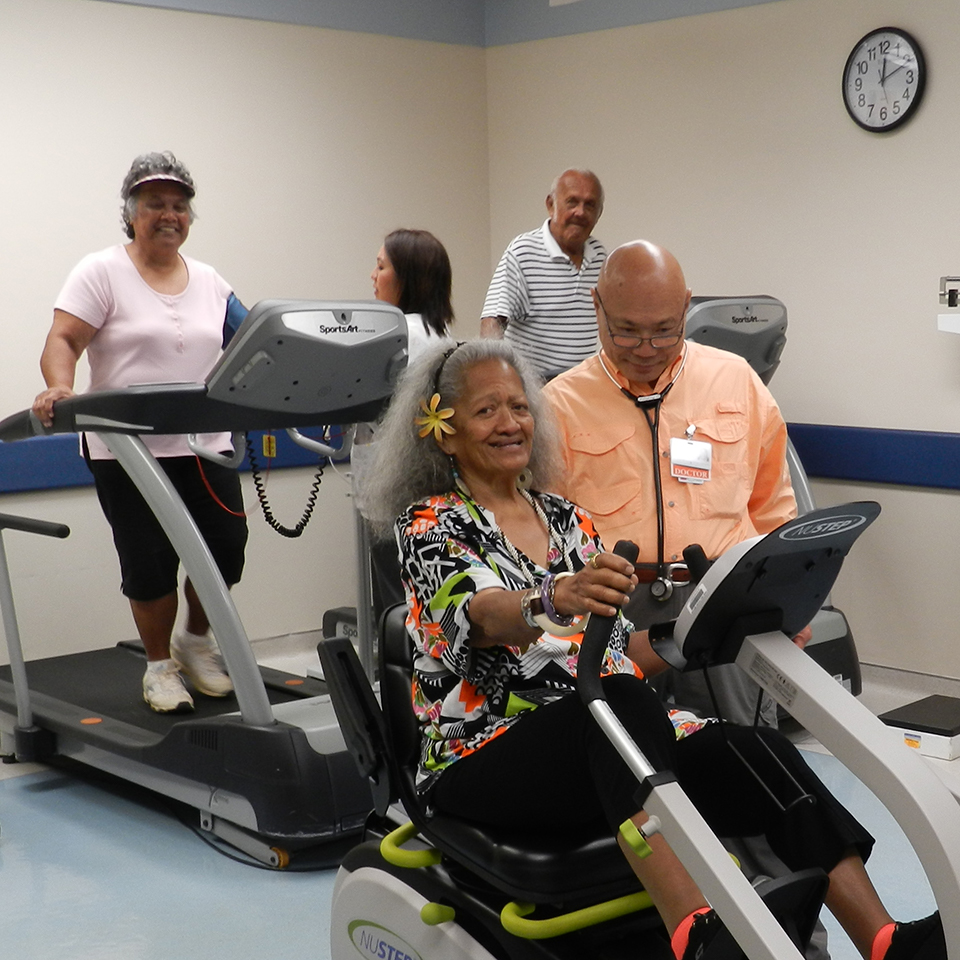 A Holistic Approach to Heart Health
Wilcox Medical Center got to the heart of Kauai's lack of cardiac rehabilitation services by providing free physical rehabilitation services to residents to support recovery from congestive heart failure, cardiac surgery and cardiac events.
Cardiac patients receive individualized, personal attention for their heart conditions, as well as exercise prescriptions, nursing overview of their medications, and immediate attention to their concerns and questions. They also develop friendships with other patients and deeper professional contact.
"Because Cardiac Rehab at Wilcox Medical Center is a community benefit, we are able to provide preventive medicine to our patients to help them manage their heart disease," said Wilcox Cardiac Services Manager Kathryn Bieker. "We provide friendly, face-to-face contact with patients who have heart disease to offer guidance, support and education for their conditions."
In fiscal year 2015, a total of 84 individuals benefited from this service.
"The patients share much of the same health challenges, and this results in camaraderie, which made the time fly and the program very enjoyable!" said one patient, Gy H.
A nutrition component also was added to the program and included classes taught by registered dietitians specifically tailored to lowering cholesterol and reducing salt intake, including a heart healthy diet.
The first series of free classes enrolled a total of 17 individuals.
"The nutrition class was a great help to knowing what foods to eat and buy to be healthy. I made changes in my and our family's diet," said a participant, Floricita G.
According to Bieker, patients are able to overcome their fears of their condition, and in the process develop lasting relationships with other Cardiac Rehab participants and leave with a better understanding of the changes in lifestyle that are required for them to live a happy and healthier life.
"You have already exceeded my expectations. Please know that I am truly grateful for this program, which establishes a course which I must continue to pursue," added another patient, Ezra K.
Total Community Benefit*
$30.6M
"Creating a healthier Hawaii"
As part of the Hawaii Pacific Health system and its not-for-profit mission, Wilcox provides charity care to patients in need of public health services and in underserved areas, education and training programs that raise the standard of care, and health initiatives and new medical services to improve health outcomes over the long term.
Last fiscal year, Wilcox contributed more than $30 million to improve the community's health.