Straub was created in 1921 to address a community need to provide better, more-specialized care for Hawaii patients. We continue this same tradition of providing excellent patient care throughout the state today.
*FY17, July 1, 2016-June 30, 2017. Includes the financial summary of benefits provided to Hawaii from Straub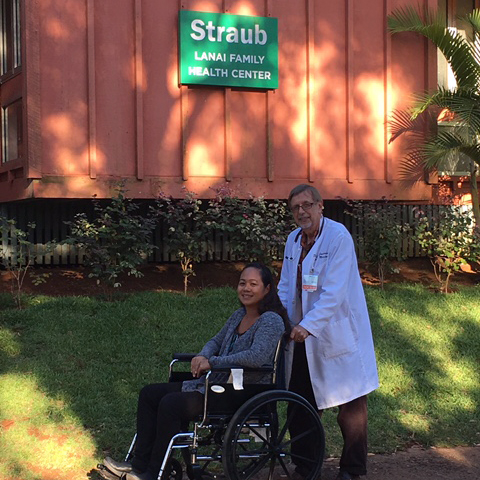 Straub Visiting Physicians Extend Care Statewide
Every year, Straub Medical Center sends physicians to under-served communities throughout the state to meet the ever-increasing demand for access to high-quality specialty services.
Federally designated as Medically Underserved Areas (MUAs), Medically Underserved Populations (MUPs) and Health Professions Shortage Areas (HPSAs), these areas lack access to specialty medical services, or possess economic barriers (low-income or Medicaid-eligible populations) as well as cultural and/or linguistic access barriers that limit access to primary medical care services.
Through this "visiting specialists program," Straub's physicians travel to rural health clinics on both Lanai and Hawaii Island to bring patients and their families the finest health care possible in a caring and compassionate atmosphere.
"Diabetes continues to be a growing problem in Hawaii, especially in areas where health care access is limited," said Sheri Chinen, MD, an endocrinologist at Straub Medical Center. "I am grateful for the privilege of providing health care and diabetes education to individuals in underserved communities.Witnessing the genuine appreciation of the patients and the impact we are able to make is promising."
On the island of Hawaii, physicians attended to approximately 6,073 patients in Hilo and Kona for consultation or follow-up appointments in ENT (ear, nose, and throat), endocrinology, electrophysiology, gastroenterology and neurosurgery.
A total of 7,999 patient visits were recorded on Lanai in the specialty areas of family medicine and optometry.
Total Community Benefit*
$58M
"Creating a healthier Hawaii"
As part of the Hawaii Pacific Health system and its not-for-profit mission, Straub provides charity care to patients in need of public health services and in underserved areas, education and training programs that raise the standard of care, and health initiatives and new medical services to improve health outcomes over the long term.
Last fiscal year, Straub contributed more than $58 million to improve the community's health.