If you have an emergency, call 911.
We provide emergency care for all people, 24 hours a day, 7 days a week, 365 days a year. Our team of doctors, nurses and clinical support staff are specially trained in emergency services, combining clinical expertise with expert triage services.
Programs & Services available at:
Kapiolani has the only Pediatric Emergency Department in the state of Hawaii.
It is open 24-hours a day, with a dedicated pediatric team focused on one goal: quickly diagnosing and treating a full range of medical conditions in babies, children and teens.
Kapiolani treats more than 45,000 patients a year for emergencies, over two-thirds of whom are children
Kapiolani has a team of board-certified pediatric emergency medicine physicians
As parents, it's difficult to know how serious your child's illness or injury may be. So it's comforting to know that if your son or daughter requires more than a few stitches, Kapiolani has immediate access to pediatric specialists, including surgeons, intensivists and radiologists. Kapiolani also has the only pediatric emergency transport team in Hawaii.
When your child or teen faces an unexpected health crisis, turn to the specialists in pediatric emergencies.
Kapiolani Emergency: 1-808-983-8633
To learn more about our NICU/PICU, ECMO and Transport Services, please visit our Critical Care page. 
Our Emergency Department will be undergoing renovations, beginning on Wednesday, June 02, 2021. The Emergency Department will remain OPEN during this time;  however, a temporary check-in and registration station has been established nearby. Thank you for your patience and understanding during this project as we make improvements that will benefit our patients, staff and community.
In a medical emergency, getting the help you need quickly matters. Fortunately, access to high-quality emergency care is always available, close to home, at Pali Momi.
Here's the Pali Momi difference:
24/7 Emergency care that's convenient for patients
Board-certified emergency physicians
Greeters to welcome and keep patients informed
Easy access to lab work and imaging procedures
24-hour valet parking for emergency patients
Pali Momi Emergency: 1-808-486-6000
Straub's Emergency Department is available 24-hours a day, 365-days a year to care for patients in need of immediate attention.
The emergency department is located on the north side of the hospital fronting Hotel Street. Short term patient parking is available adjacent to the ambulance parking area. Patients arriving at the front of the hospital at 888 South King Street can proceed directly through the main floor to the emergency room. Valet parking is provided at the front of the hospital during daytime clinic hours. Someone is always available to transport a patient by wheelchair from their car to the Emergency Department.
Straub Emergency: 1-808-522-4000
The Wilcox Emergency Department is staffed by physicians and specially trained personnel 24-hours a day to treat immediate medical emergencies.
The Emergency Department is currently under construction, but OPEN and ready to care for patients. In a medical emergency, every minute matters and with comprehensive safety measures in place, there is no reason to wait to get health care.
Wilcox is the first American College of Surgeons-verified Level III Trauma Center in the state of Hawai'i. Its 20-bed emergency department serves as the island's Primary Stroke Center and includes a central monitoring system. A high-tech communication system allows medical staff to communicate with emergency medical teams en route to the medical center. This system also provides a communication link with triage centers on Oahu. If necessary, patients with major trauma and head injuries are transferred to Oahu via air ambulance.
Get the care you need, right now.
Wilcox Emergency: 808-245-1010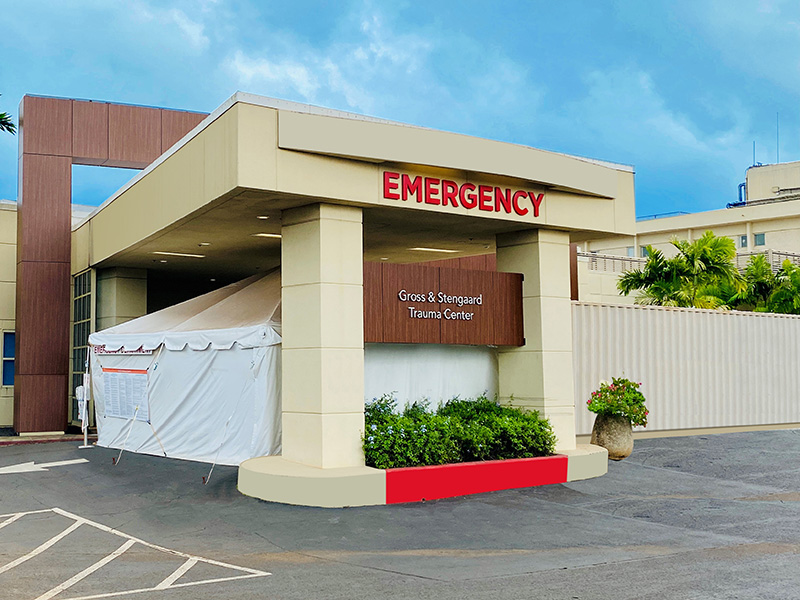 Additional Resources:
ER vs. Urgent Care
Stroke Awareness: When Every Second Counts