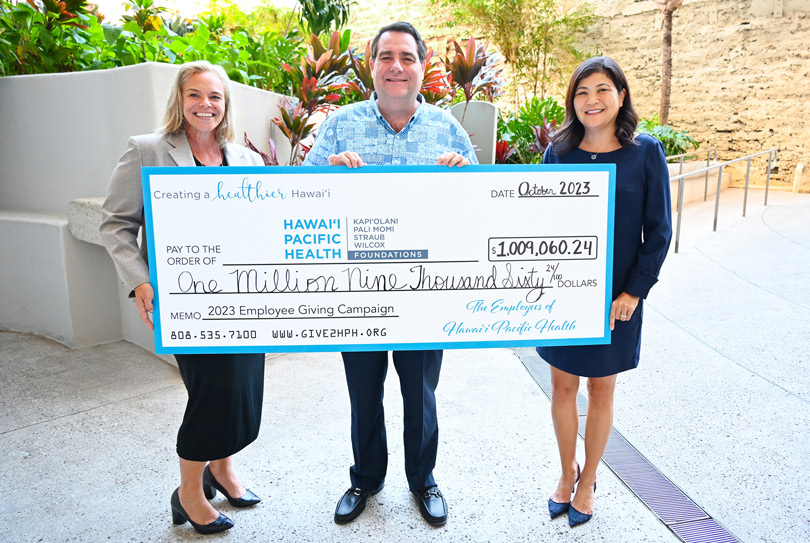 Every year, Hawaii Pacific Health employees join together in September to raise money and donate to support patients and their families. In 2023, more than 4,000 HPH doctors, nurses, technicians, leaders and staff also gave to help a community devastated by fire.
HPH employees raised $1,009,060 for the 2023 Employee Giving Campaign, which featured the theme "Our Care is Rooted in Our Communities." During the monthlong campaign, the community of Lahaina was on the minds of many. So HPH designated 10% of the money raised — $100,900 — for Hawaii Community Foundation's Maui Strong Fund to help with recovery efforts from the Maui wildfires.
"Our employees are passionate about caring for their patients and are personally committed to helping our communities," Sunshine Topping, HPH senior vice president of human resources and organizational effectiveness, said. "We are extremely proud and humbled by their gifts. These donations will touch local families in Lahaina, as well as people across the state through our mission to create a healthier Hawaii."
This is the 22nd year of the annual HPH Employee Giving Campaign. It is also the seventh year in a row that the annual event raised more than $1 million to fund programs and services at HPH's medical centers: Kapiolani Medical Center for Women & Children and Pali Momi, Straub and Wilcox medical centers.
Many of the campaign's more than 60 fundraising events made the giving fun. At Pali Momi, employees showed off their skills in a talent show and donated for a chance to toss plates full of whipped cream at their leaders. Straub teams served ice cream, hot dogs and katsu sandwiches. Kapiolani hosted a clothes swap and sold everything from Molokai hot bread to flowers while on Kauai, Wilcox teams created gift baskets and hosted a popular country market.
As a not-for-profit organization, HPH medical centers treat all patients, regardless of their ability to pay. Most of the money raised will benefit programs and services that would not be possible without the philanthropic support of employees and the community, including:
Photo (from left): Sunshine Topping, HPH senior vice president of human resources and organizational effectiveness; Ray Vara, HPH president & CEO; and Dawn Dunbar, HPH senior vice president of philanthropy.