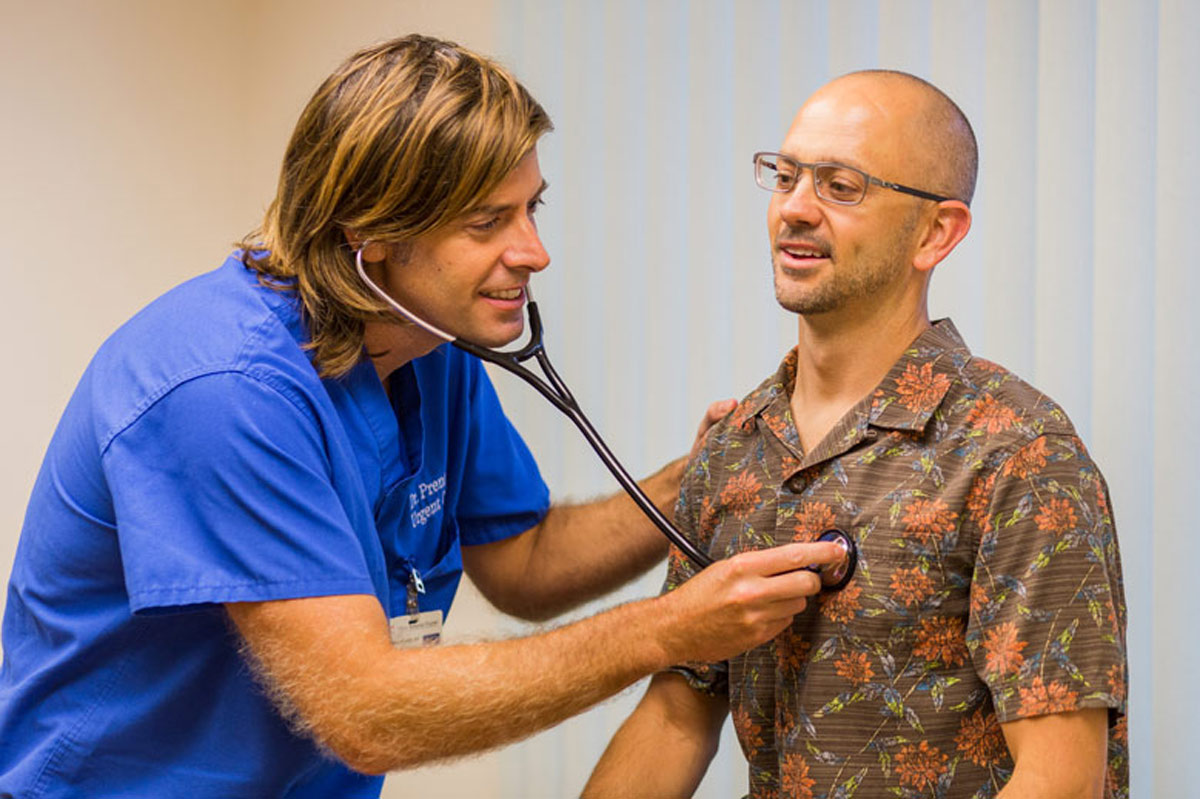 ER vs. Urgent Care
You know you should always call your primary care physician (PCP) at the first sign of a medical problem, but what if you're sick or injured and your doctor isn't available? 
Should you go to a hospital emergency department? 
Or would an urgent care clinic be able to treat your ailment? 
"Overall, I encourage folks to make an attempt to see their PCP first for any non-threatening issue, as this doctor knows you best, and continuity of that relationship makes for the best, most ideal care," says Dr. Owen Prentice, an emergency medicine physician with Kauai Medical Clinic's Urgent Care team. 
"If your PCP is unavailable, I would advise patients go to urgent care if their problem is not life-threatening," Prentice says. "We will do our best to help you right on the spot, and if we can't, we'll get you to the appropriate doctor or place of care ASAP." 

Urgent Care Clinic
Urgent care clinics offer quality care on a walk-in basis and are open during extended evening and weekend hours. For added convenience, most urgent care clinics typically have radiology and laboratory services available. 
"Urgent care is great because the wait time is fairly reasonable, usually less than 60 minutes; you can rarely expect to be in and out of the ER in less than three or four hours," Prentice says. "Additionally, the cost of urgent care is lower, as the care requires less testing." 
If your PCP is not available, urgent care clinics can treat short-term medical problems that include: 
Common illnesses such as colds, flu, earaches, eye infections, sore throat and cough, fever, sinus infection, skin rashes and infections, urinary tract infection and stomach ailments.
Minor injuries, lacerations and bruises.
Most other minor injuries and illnesses that are not life-threatening.
 

Emergency Department
Emergency departments are open 24 hours a day, seven days a week, 365 days a year, and have specially trained doctors, paramedics, nurses and other support staff who can recognize, diagnose and make recommendations on a wide variety of medical issues. 
"The ER is best for potentially life-threatening illnesses, such as stroke, heart attack, very bad infections, severe injuries, accidents or falls – situations that might involve ambulance transport," Prentice says. "It is not the place to go for common illnesses or minor injuries." 
Call 9-1-1 or go immediately to the nearest hospital emergency department if you experience:
Sudden or severe pain in any part of your body, such as the chest or abdomen.
Coughing or vomiting blood.
Deep cuts or severe bleeding that won't stop.
Sudden blurred vision.
Sudden dizziness, weakness or loss of coordination or balance.
Sudden severe headache.
Seizures.
High fevers.
Signs of a stroke (numbness in face, arm or leg).
Other major trauma or injury, or any other condition you believe to be life-threatening.
Click here to locate the urgent care clinic closest to you.
Published on: December 3, 2015