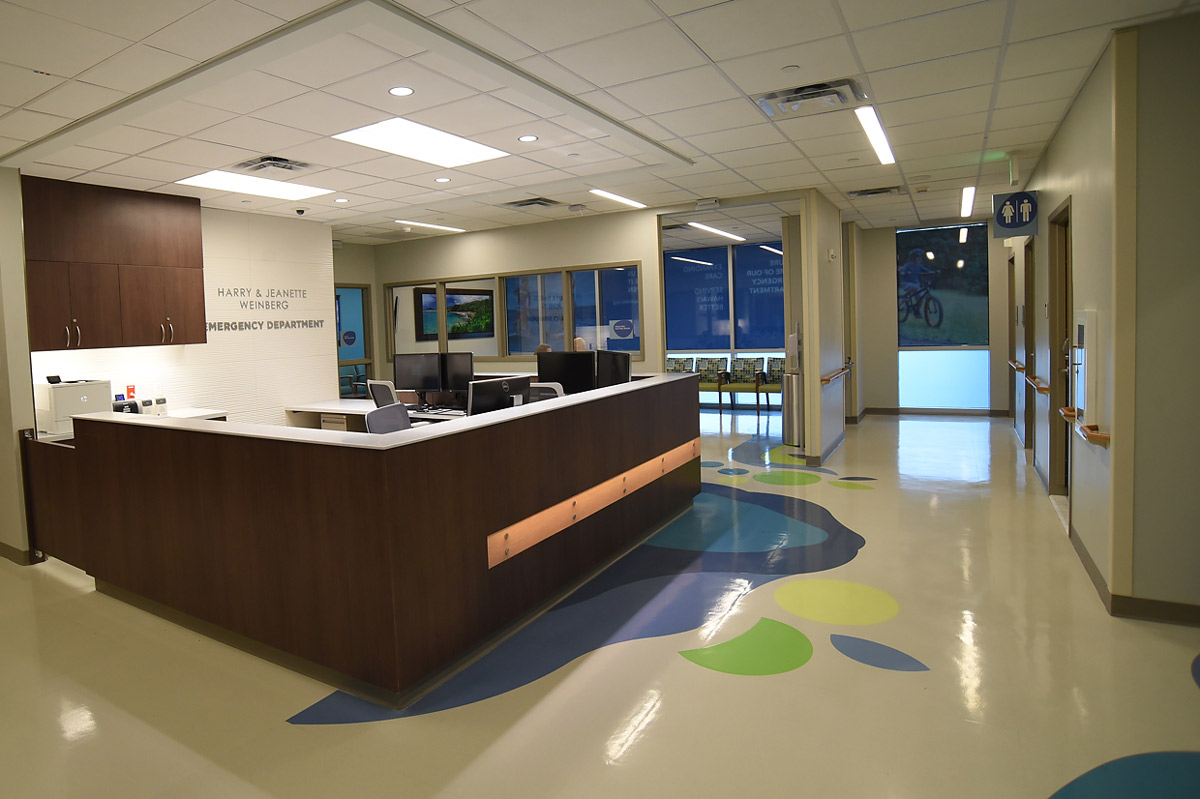 Kapiolani Expands Emergency Department
Kapiolani Medical Center for Women & Children capped off the completion of its newly expanded Emergency Department (ED) with a blessing ceremony Nov. 30, 2017, followed four days later by the official grand opening of the new department Dec. 5.
The events marked the finish of a much-needed expansion and upgrade of the previous ED, which, at only 7,000 square feet, would see nearly 125 patients each day. 
"Our former ED was built in 1994, and we have long outgrown the current facility due to a steady increase in the number of patients we see every year," says Dr. Paul Eakin, associate director of emergency medicine at Kapiolani. 
"Currently, we are seeing roughly 45,000 patients per year, two-thirds of which are pediatric patients," Eakin continues. "Our previous footprint had only 16 rooms, some of which had more than one bed, which is less than ideal. We were far exceeding the yearly census that is usually seen in an ED of our size."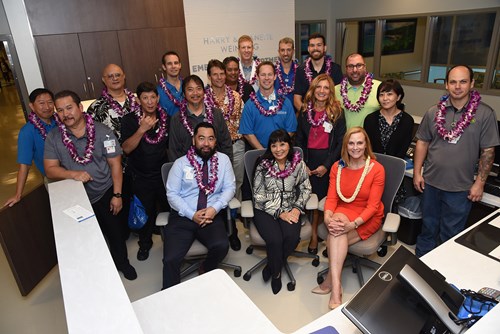 Construction for the project began in March 2017, but the groundwork for the build was laid much earlier by the ED team and Kapiolani leaders, who from the very start were involved with all aspects of the creative process. 
Several years ago, the Kapiolani team joined architects from HDR Architects on a tour across the country of pediatric EDs that had new or innovative designs, including Seattle Children's Hospital and Duke University Medical Center. 
"We were able to incorporate aspects of what we observed, including an open design with good sight lines, larger trauma bays and private rooms for all patients," Eakin says. "Our goal was to create a new ED that would be user-friendly and encourage efficient patient care and throughput." 
The floor plan underwent countless changes as the team refined what it wanted while being sure to incorporate feedback from Kapiolani doctors, nurses, leadership and other medical staff. 
"Involving the team from early on, we were able to have great buy-in and create a facility that we will be proud to work in for years to come," Eakin says, noting that Honolulu-based general contractor Nordic PCL was key to bringing their vision to life. 
"Everyone who has toured the new ED facility has been impressed, and we couldn't be happier with the end result," Eakin says. 
Located on the first floor of the Kapiolani Diamond Head Tower, the new ED features more space – lots of it.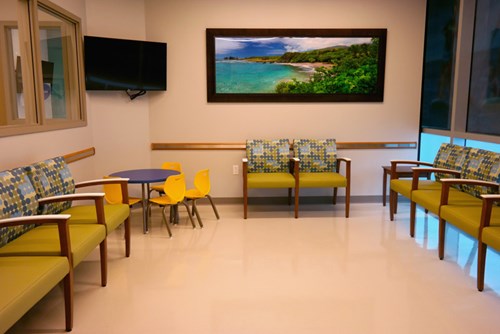 At more than twice the size of the previous department, the 14,000-square-foot ED has more than enough room to fit 24 private treatment rooms and state-of-the-art equipment, all of which will significantly enhance the lifesaving, family-centered care provided at Kapiolani. 
"Each room is private, and there are separate waiting rooms for pediatric and adult patients. The new ED is also more colorful, and Child Life specialists will have more of an active presence there, which will help our keiki and their families feel more comfortable as they are cared for," Eakin says. 
Highlights of the new ED include the following:
Twenty-four private treatment rooms, including two trauma rooms and two triage rooms.
Three rooms equipped as negative-pressure isolation rooms.
On-site satellite radiology suite for plain X-rays, eliminating the need to transport patients to the medical center's Imaging Department.
Separate adult and pediatric waiting areas.
Child-friendly décor, including the use of soothing color palettes and artwork.
A central, open business center. 
As the state's only full-service medical center specializing in the care of women and children, and the only medical center in the Pacific designated a Level III Pediatric Trauma Center, Kapiolani has a team of board-certified pediatric emergency medicine physicians and adult emergency medicine physicians on-site 24/7. 
Together with nurses and other health care professionals, they are equipped to care for everything from bumps, broken arms and pediatric trauma to respiratory issues, rare infections and critical care needs for pregnant women. 
"We see our new ED as a resource for Hawaii and the Pacific basin, as we are the only ED with fellowship-trained pediatric emergency physicians and direct access to a wide range of pediatric and OB-GYN specialists here at Kapiolani Medical Center," Eakin says. "As a not-for-profit medical center, we would like to extend our sincere gratitude for the support the community has given us to make this facility a possibility. The level of financial giving was outstanding, and we truly appreciate each and every one who was able to contribute. 
"This ED has been years in the planning, and now we are absolutely thrilled to be moving into our new home."
Published on: December 1, 2017