Welcome to the Kapiolani Medical Center Diamond Head Tower
The Diamond Head Tower at Kapiolani Medical Center for Women & Children is a 200,000-square-foot building consisting of five floors and a lower level for support services.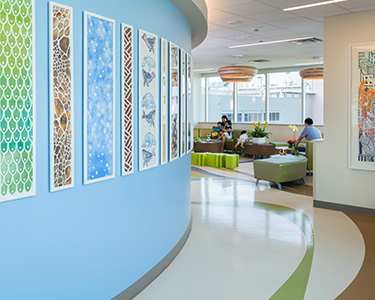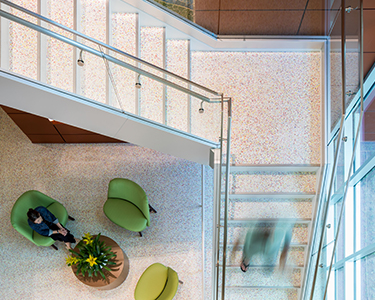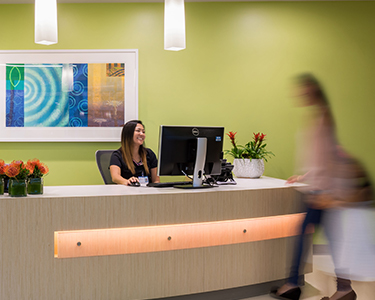 The creation of space was vital in the rebuild of the medical center — so that we can continue providing family-centered care for all of Hawaii's children and families for generations to come.
It's no coincidence that colorful paintings, murals and photographs of magical scenes that seem to be taken straight from the imaginations of keiki (and keiki at heart) decorate the walls, hallways and rooms of the building. Research has shown that art has the power to heal. Certain images – such as vivid paintings of landscapes, friendly faces and familiar objects – have been proven to calm patients, and can help lower blood pressure and heart rate thanks to their stress-reducing effects. Research also shows that patients heal better and faster when families are involved with their care. Now, larger, private ICU rooms allow parents and caregivers to stay overnight comfortably, which enables them to be better involved with their loved one's care.
---
Neonatal Intensive Care Unit
FEATURING 70 PRIVATE ROOMS
40,000
square feet
Pediatric Intensive Care Unit
14
private rooms
Rehabilitation Services Department
8,000
square feet
Adult Medical Surgical Unit
12
private rooms
Emergency Room
14,000
square feet
Multidisciplinary outpatient clinics.
The Nan, Inc. Auditorium, a 1,600-square-foot, state-of-the-art teaching and education space.
Eight conference and education rooms.
A 4,000-square-foot employee fitness center to enhance and support the overall health and well-being of Hawaii Pacific Health employees.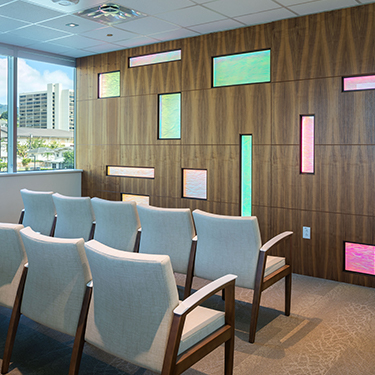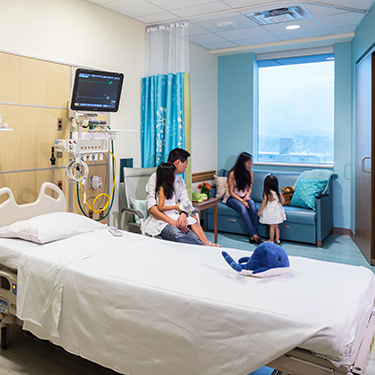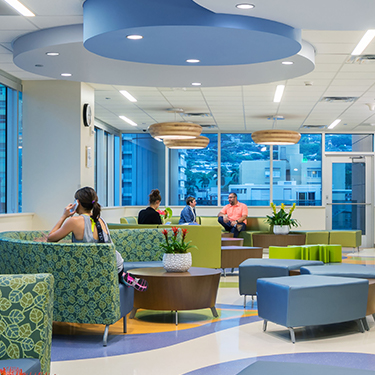 In order to be good stewards of the community and environment, Hawaii Pacific Health is pursuing a Leadership in Energy and Environmental Design (LEED) Silver certification for the Diamond Head Tower. Featured design and construction elements of the building were selected to make the following impact:
Wide use of regional materials that have been recycled, are rapidly renewable, or are certified by the Forest Stewardship Council.
Use of materials that reduce emissions of volatile organic compounds to improve indoor air quality.
Use of low-flow fixtures such as water closets and faucets, which reduces water use by 32 percent for an annual savings of 720,000 gallons.
Efficient design and equipment selection that will achieve an annual energy cost savings of 20 percent (or $340,000 annually).
Reduce storm water runoff by 35 percent.
The new Kapiolani Dining Room is named in honor of the Kobayashi and Kosasa families represented by Bert and Susan Kobayashi along with Dr. Thomas and Mi Kosasa. Both families have a giving history at Kapi'olani that spans more than two decades.
Dining Room features include: :
9,000-square-foot kitchen..
14,000-square-foot dining room.
7 new serving areas:

o   Pizza
o   Grab & Go
o   Salad Bar
o   Entrée
o   Grill
o   Deli Bar
o   Action Station

227-seat capacity – triple the size of previous dining room.
3 new conference rooms.
1,800-square-foot outdoor lanai.
Free Wi-Fi.
Cellphone charging station.
Starbucks – the only 24/7 licensed location on Oahu.
Virtual Tour
We've created an online 360-degree virtual tour of select rooms and floors of the tower to assist you in navigating the tower. Take the virtual tour and see special features of Kapiolani Medical Center's Diamond Head Tower.
Emergency Department *Newly built
Our new Emergency Department features more space, private treatment rooms and state-of-the-art equipment that will significantly enhance the lifesaving, family-centered care provided at Kapiolani.
More about Emergency services

Lobby
As patients and families enter the Kapiolani Diamond Head Tower, they are greeted by a whimsical, bright and cheerful lobby filled with elements meant to spark their imaginations. This lobby is a beautiful example of how architecture, artwork and design come together to create a place where both children and parents can feel happy, inspired and at ease.

Chapel
Located on the second floor of the Diamond Head Tower with views of beautiful Manoa valley, the nondenominational chapel offers a quiet, contemplative setting for prayer, meditation and reflection.

Colonel Harland Sanders Pediatric Rehabilitation Center
The Colonel Harland Sanders Pediatric Rehabilitation Center offers specialized programs and rehabilitation services for infants and children.
More about the Rehabilitation Center

Neonatal Intensive Care Unit (NICU)
The NICU combines advanced technology with trained health care professionals to provide specialized care for the tiniest patients. The expanded NICU features more than 40,000 square feet of space and 70 private intensive care rooms that allow parents and caregivers to stay overnight, promoting family-centered care.
More about NICU services

Pediatric Intensive Care Unit (PICU)
The PICU provides sick children with the highest level of medical care. The 14 large, private rooms are designed to promote family-centered care, which is especially important and comforting for patients who need to stay in the hospital for several days at a time.
More about PICU services
Departments
Kapiolani has a team of board-certified pediatric emergency medicine physicians and adult emergency medicine physicians on-site 24/7. Together with Emergency Certified nursing staff and other health care professionals, they are equipped to care for bumps, bruises and broken arms as well as acute respiratory, trauma and critical care needs of adult and pediatric patients.
New features include:
14,000-square-foot space, which is more than twice the size of the previous Emergency Department.
24 private treatment rooms, including 2 trauma rooms and 2 triage rooms.
Three rooms equipped as negative-pressure isolation rooms.
On-site satellite radiology suite for plain X-rays, eliminating the need to transport patients to the medical center's Imaging Department.
Separate adult and pediatric waiting areas.
Child-friendly décor, including the use of soothing color palettes and artwork.
Central, open business center.
The Emergency department is the only Level III Pediatric Trauma Center serving Hawaii and the Pacific region.
Learn more about the Emergency Department at Kapiolani
At Kapiolani, we care for approximately 1,000 of the tiniest and most vulnerable infants in Hawaii each year, with an average daily census of 73 babies.
Specialized procedures performed here include:
ECMO (Extracorporeal Membrane Oxygenation)
EMCO provides oxygenation and circulation by taking the child's blood, running it through a bypass machine, providing oxygen to the blood and returning it to the body.
Whole Body Cooling
This treatment has seen improved neurological outcomes for infants who have suffered a low-oxygen event during the birth process.
The NICU team is comprised of professional staff and medical personnel who are well trained and have experience in neonatal care, to include:
Neonatologists
Registered nurses
Neonatal nurse practitioners
Pediatric neonatal hospitalists
Respiratory therapists
Social workers
Case Management
Rehabilitation Services
Lactation consultants
Palliative care personnel
Pastoral Care Services
Registered dietitians
Behavioral Health Services
Pharmacists
Other medical specialists and consultants as needed
We provide a specialized training academy for neonatal nurses.
Our PICU serves nearly 500 children in Hawaii each year ranging in age from 1 week to 21 years of age, with an average daily census of 11 patients. We provide a specialized training academy for PICU nurses who deliver special services that include but are not limited to:
Open Heart Program (five times per year)
Serves children with congenital heart defects or conditions that need non-surgical interventions.
ECMO (Extracorporeal Membrane Oxygenation)
ECMO provides oxygenation and circulation by taking the child's blood, running it through a bypass machine, providing oxygen to the blood and returning it to the body.
Dialysis CRRT (Continuous Renal Replacement Therapy)
Continuous 24/7 therapy where blood is dialyzed so that fluid as well as waste that would normally be excreted through a functioning kidney can be removed.
Trauma
We collaborate with Queen's Medical Center to provide specialized pediatric postoperative care for any trauma, to include rehabilitative services.
Transplant Program
We collaborate with Queen's Medical Center for solid organ transplant where the transplant surgery (kidney) is done at Queen's Medical Center with our PICU nurse assisting in care postoperatively for the first 24 hours. We then transfer the patient to Kapiolani to provide specialized postoperative care.
The Medical Surgical Unit (Med Surge) offers 12 private rooms for adult patients. Each room is equipped with telemetry monitoring capabilities for central monitoring at the nurses station. Med Surge serves the following:
Oncology patients, to include chemotherapy.
Post-surgical patients.
Orthopedic patients.
Pregnant patients less than 20 weeks gestation with medical surgical needs.
Mothers of NICU babies requiring postpartum care.
Postpartum moms who have experienced a loss.
The Colonel Harland Sanders Pediatric Rehabilitation Center is home to specialized programs and rehabilitation services for infants and children. Some highlights of the 8,000-square-foot facility include:
A therapy gym area to promote motor development, strength, mobility, balance and coordination in a safe, therapeutic, kid-friendly environment.
Multi-specialty room for an augmentative communication program for children who require an assistive device to communicate or customized equipment for seating and mobility.
Exercise room for older children recovering from orthopedic surgery or sports injuries, or those who need an exercise plan for weight management.
Occupational therapy splinting room designed for the fabrication of custom splints to prevent loss of range of motion for children in a coma or for burn management.
Two speech therapy rooms with two-way mirrors and audio capacity for observation.
Facilities for day program and neighbor island families to wait while their children are in extended therapy sessions.
New staff work stations and offices, along with a staff lounge and conference room.
Location Information
Kapiolani Medical Center for Women and Children
1319 Punahou St., Honolulu, HI 96826
Directions
Visiting Hours
Everyday: 11 a.m. – 8:30 p.m.
Public Parking Garage
Entrance is located off of Bingham St. Open 24 hours a day, seven days a week.
Valet Parking
Entrance is located off of Bingham St. in the patient drop-off zone.
Monday – Friday: 8 a.m. – 4:30 p.m., closed weekends.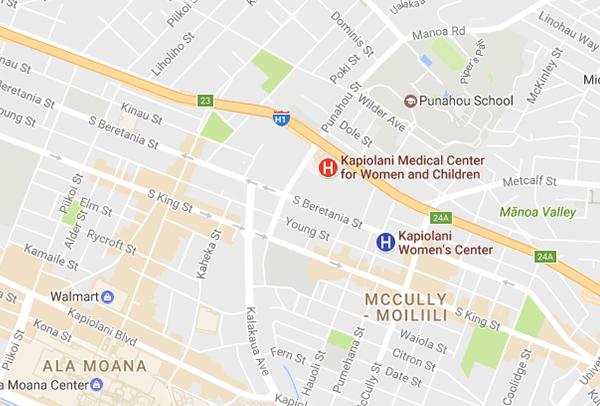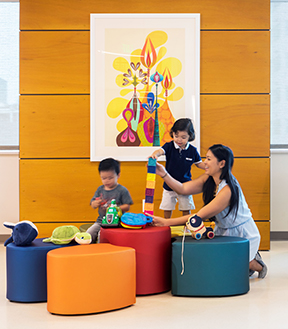 Thank You to Our Donors
Kapi'olani Medical Center for Women & Children is a not-for-profit organization and relies on philanthropic support to help carry out its vital mission.
The Campaign for Hawaii's Children was launched in 2011 with the goal to raise $30 million for the Phase I renovation and expansion of Kapiolani. Upon its completion in 2014, the capital campaign raised $35,082,930, exceeding the original goal with six months left. But our needs don't end there.
Generous donors, such as those who contributed to the Campaign for Hawaii's Children, have demonstrated that with the help of our community, Kapiolani can make even greater advancements to improve health care access and quality of life for all of Hawaii's keiki and their families.
If you would like to contribute, please visit Kapiolani Health Foundation