Emergency Department
Located in the Diamond Head Tower
As the state's only full-service medical center specializing in the care of women and children, Kapiolani Medical Center for Women & Children has a team of board-certified pediatric emergency medicine physicians and adult emergency medicine physicians on-site 24/7. Together with Emergency Certified nursing staff and other health care professionals, they are equipped to care for bumps, bruises and broken arms as well as acute respiratory, trauma and critical care needs of adult and pediatric patients.
Our Emergency Department features private treatment rooms and state-of-the-art equipment that will significantly enhance the lifesaving, family-centered care provided at Kapiolani, a not-for-profit medical center.
Kapiolani Emergency Department: 808-983-8633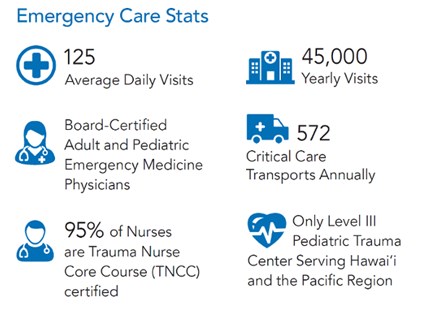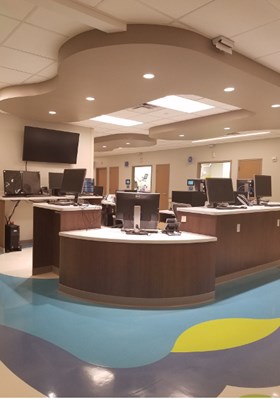 Features of the Emergency Department
14,000-square-foot space.
24 private treatment rooms, including 2 trauma rooms and 2 triage rooms.
Three rooms equipped as negative-pressure isolation rooms.
On-site satellite radiology suite for plain X-rays, eliminating the need to transport patients to the medical center's Imaging Department.
Separate adult and pediatric waiting areas.
Child-friendly decor, including the use of soothing color palettes and artwork.
Central, open business center.