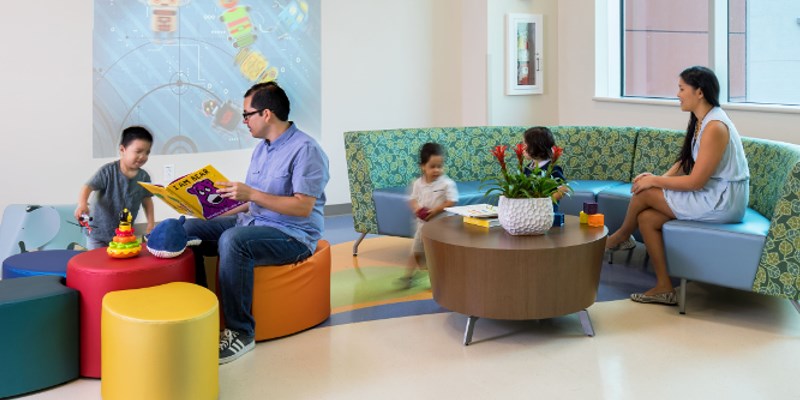 Our commitment to you…
We want you to have a positive experience during your stay at Kapiolani. It is not easy having a loved one in the hospital and we strive to make it easier for you and your family during your time with us. Our true goal is to provide you with the highest level of care.
---
 

Dining Experience

Dining Room
Our Dining Room is open from 6:00 a.m. – 3:00 a.m. It is located on the 2nd floor of the Main Hospital and serves hot meals during the hours listed below. Additionally, we have salads, sandwiches, snacks and drinks available during open hours.

Meal Dining Room Hours:
Breakfast: 6:00 a.m. – 9:00 a.m.
Lunch: 11:00 a.m. – 2:00 p.m. Dinner: 4:15 p.m. – 3:00 a.m.

Coffee Cart and Coffee Bar

You may also enjoy our Coffee Cart and Coffee Bar serving. The Coffee Cart is located on the 1st floor of the Main Hospital near the Security Desk.

Coffee Cart Hours: Monday-Friday, 7:30 a.m. – 1:00 p.m.

The Coffee Bar is located on the 2nd floor of the Diamond Head Tower near the public elevators.

Coffee Bar Hours: Monday-Friday, 6:30 a.m. – 7:00 p.m.
(Closed on weekends and hospital holidays.)

 

Entertainment

Televisions
The control for the TV is located on the pillow speaker with TV entertainment and information system. You can view movies free of charge.

The TV also provides valuable information, used as an educational tool about the hospital, services  provided and information on a variety of illnesses.

 Telephones
 Telephones are located in each patient room and can  be used internally to call other patient rooms,  departments or to make local calls.

 WiFi
 WiFi is available to Kapiolani visitors.

Family-Friendly Environment

Visiting Hours and Guidelines
General Visiting Hours: 11:00 a.m. – 8:30 p.m. Children 12 and under must be accompanied by an adult at all times. Please respect the privacy of others and keep noise to a minimum.

The Child Life Playroom
Games, arts and crafts, electronics, an outdoor patio and more! Located on the 2nd floor near the elevators, the playroom is available to pediatric patients daily from 9:00 a.m. to 12:00 p.m. and 1:00 p.m. to 5:00 p.m.

All patients are encouraged to borrow toys and activities for the bedside to provide distraction and recreational play throughout your child's admission. The Playroom is run by Child Life staff who promote positive social and emotional coping with hospitalization.

Education and School Support
Services are available to inpatients who miss two or more weeks of school due to their hospitalization. The Educational Liaison may assist families in communicating with the child's school. Tutoring and classroom time ("Brain Station") provides valuable cognitive stimulation, which empowers the patient for an easier transition back to school. "Brain Station" is available to all school age patients on a regular basis. For schedule times and to request for services, please call 983-6584.

Healing Touch and Reiki Therapy
Integrated services that focuses on relaxation using a holistic approach. These services can provide patients and families relief from pain, nausea, fatigue, anxiety and sleeplessness. Services are provided by trained volunteers who specialize in mind-body healing modalities which include:

Healing Touch: a nurturing energy therapy that promotes physical, mental, emotional and spiritual balance.
Reiki: a Japanese technique centered around the "life force energy" that reduces stress and promotes healing.
Aromatherapy: an intervention that uses the scent of essential oils to promote a greater sense of wellbeing by alleviating symptoms such as nausea, fatigue and anxiety.

Chapels

Hale Pule Chapel is located on the 2nd floor of the Main Hospital. Diamond Head Tower Chapel is located on the 2nd floor of the Diamond Head Tower. Our Chapels offer a contemplative setting for prayer or meditation and are open 24 hours a day.
More information about spiritual care at Kapiolani.

Therapy Dog

Therapy Dog provides comfort, smiles and love to patients at Kapiolani Medical Center most times at their bedside. Service dogs are donated by Assistance Dogs of Hawaii.

 

 

Additional Services

Outpatient Pharmacy
For the convenience of our patients and their family and friends, a pharmacy operated by Pharmacare is located on the 1st floor of the Main Hospital to fill your prescription and over-the-counter medication needs. Pharmacy Hours:

Monday-Friday, 8:30 a.m. – 5:00 p.m. Saturday, 8:30 a.m. – 12:30 p.m. Closed on Sundays.

ATM Machine
For your convenience, there is an ATM machine located on the 2nd floor outside the Dining Room.

Gift Shop
You can purchase gifts, flowers, novelties, greeting cards, candies and toiletries at our Gift Shop, located just off the Main Hospital lobby. Gift Shop Hours:

Monday-Friday, 9:00 a.m. – 7:20 p.m. Saturday, 9:00 a.m. – 12:30 p.m. Closed on Sundays and hospital holidays.

Newspapers
The Honolulu Star-Advertiser is available on the 2nd floor in the Dining Room. The daily paper costs $1.00 and the Sunday paper is $2.25.

Parking
Convenient valet parking is available for a fee of $8, Monday-Friday, 7:00 a.m. – 6:00 p.m. Enter off Bingham Street and see the valet at the hospital driveway entrance. Parking is also available at our Medical Center parking garage for $3 for the first two hours; $5 for 2-4 hours; $9 for 4-8 hours; $25 for 8-24 hours.

Hui Car
Hawaii Pacific Health has joined the Hui car share network as its health care mobility partner! Two cars are available in the Kapiolani Medical Center parking garage to patients, families, residents from the surrounding community for personal use (fees apply). Learn more.

Laundry Room
As a courtesy for families staying for an extended period of time, laundry rooms available.

MyChart Patient Portal
MyChart is a quick, convenient and free way to manage your health online. Learn more. 

Enewsletter Sign-up
Kapiolani Medical Center is pleased to provide monthly enewsletters for its patients and fans. Sign-up to receive important health news, exclusive healthy recipes, and fun and easy health tips and advice. Sign-up now.