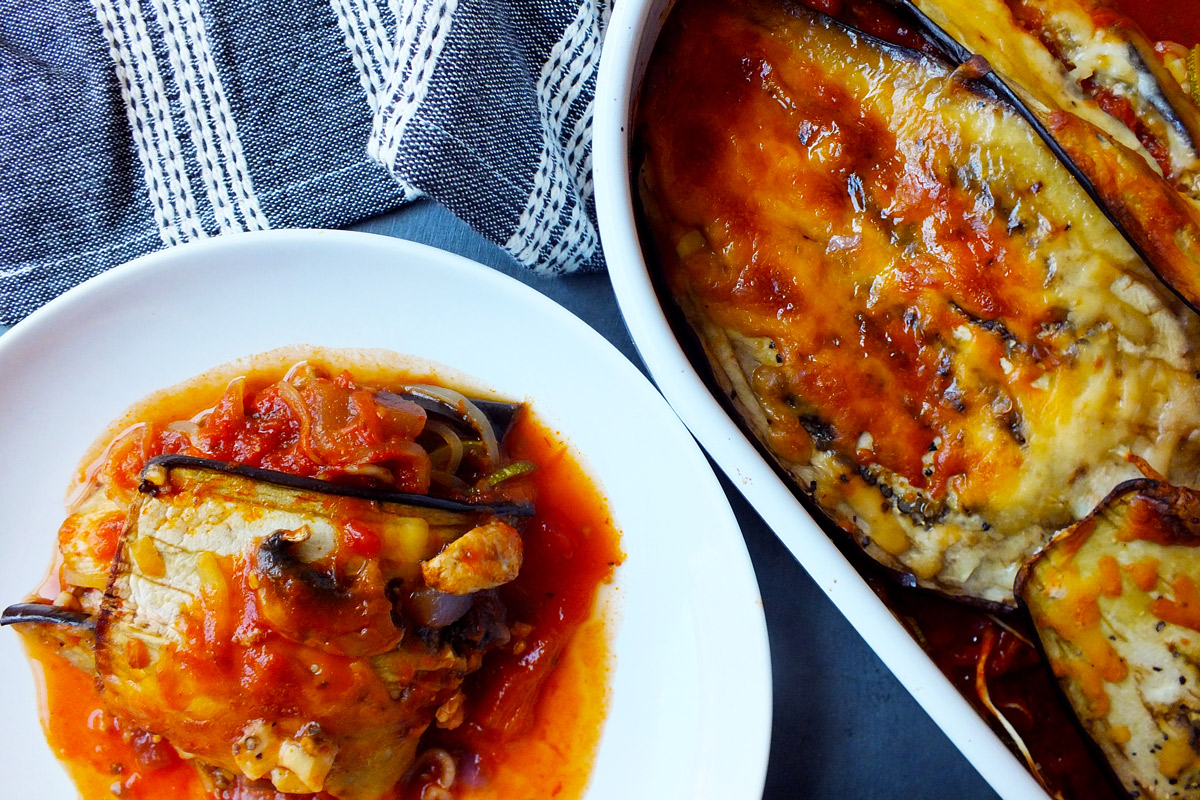 Baked Eggplant with Zucchini Spaghettini
One trick to enjoying your favorite restaurant meals for a fraction of the cost and calories – recreate them from the comfort of your own kitchen!
That's exactly what Straub Medical Center Ornish Reversal Program Director Raylene Nolan did with this recipe for Baked Eggplant with Zucchini Spaghettini.
"I actually had (a similar version) for dinner several times at the Elks Lodge. I really enjoyed it and tried to duplicate it on my own," says Nolan.
Similar to the Elks' version, Nolan's recipe calls for layers of eggplant, zucchini noodles, onions and mushrooms, covered in a rich marinara sauce and topped with a bit of cheese.
In order to remove the bitter taste from the eggplant and prevent the "itch" many people report experiencing, Nolan first soaks thin slices of the vegetable in a water bath for one hour before roasting them in the oven. This also helps the eggplant retain a firmer, meatier texture.
"Eggplant is a good source of fiber, vitamins, minerals and phytonutrients, and it's cholesterol-free," says Michelle Tom, a registered dietitian with the Ornish Reversal Program.
"Fiber is important for the digestive tract, and the phytonutrients found in eggplants have been linked to promoting brain health," Tom says.
Sneak more of this purple veggie into your diet by grilling it into a panini, adding chunks into some ratatouille or using it as a substitution for meat or tofu.
"I enjoy cooked eggplant with a teppanyaki sauce.  Sauces always add another dimension to dishes.  I also enjoy using eggplant along with other vegetables in my stir-fry dishes," Tom says.
Another smart ingredient swap Tom likes to make is replacing oil with vegetable broth when cooking.
"A single tablespoon of oil contains around 120 calories and around 14 grams of fat.  Instead of cooking with oil, use vegetable broth to cook with in a nonstick pan," Tom advises. 
Serve this easy meal with a light side salad or over a bed of quinoa.
Baked Eggplant with Zucchini Spaghettini
Serves 4
 
Ingredients:
2 large eggplants, sliced thin and soaked in cold water for 1 hour
Salt and pepper, to taste
2 zucchini, rinsed, ends removed
1 bottle marinara sauce (look for low-sugar, low-sodium varieties)
1 cup mushrooms, sliced
1 cup red onions, chopped
1/2 cup nonfat mozzarella cheese or nonfat Parmesan cheese
 
Directions:
1. Preheat oven to 400 degrees.
2. Lay eggplant on a cookie sheet or in the bottom of a baking dish. Sprinkle with a small amount of salt, to taste. Bake until browned, about 10-15 minutes. Remove from oven and reduce temperature to 350 degrees.
3. Spiral cut the zucchini.
4. Pour a small amount of sauce on the bottom of the baking dish, just enough to coat the dish.
5. Working in batches, place a layer of eggplant slices over the sauce. Layer eggplant slices with zucchini spirals, mushrooms and onions. Cover with a layer of sauce.
6. Repeat this process once more, ending with a layer of sauce. Sprinkle with cheese.
7. Cover and bake at 350 degrees for 45 minutes to 1 hour.
Nutritional information per serving:
Calories: 205; Carbohydrates: 38g; Protein: 12g; Total Fat: 3g; Cholesterol: 6mg; Dietary Fiber: 13g; Sodium: 172mg
Published on: April 10, 2017