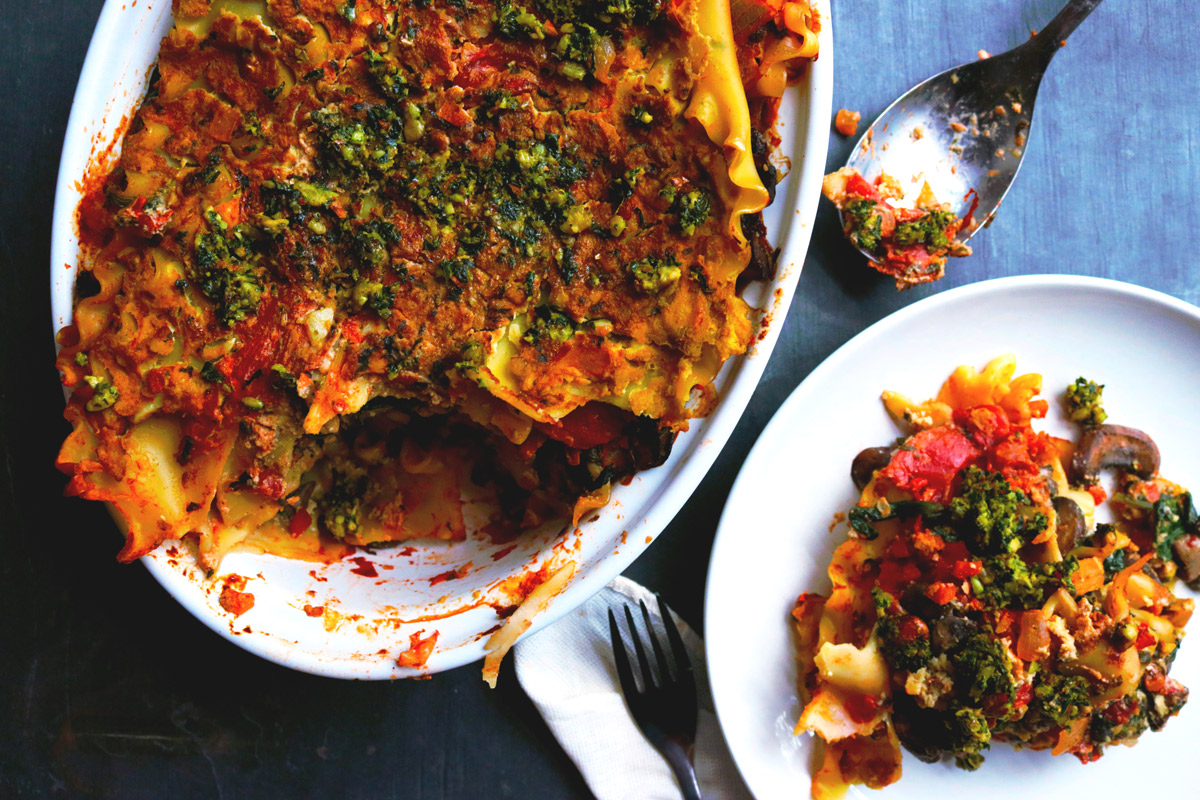 Spinach & Mushroom Lasagna
Healthy doesn't have to be boring, as this lasagna proves. 
From a homemade basil pesto to a "cheesy" tofu ricotta, this mammoth of a meal is loaded with a ton of good-for-you ingredients that happen to taste really, really good too! 
"I think it's fun to explore healthy food options," says Kate Deans, a nurse practitioner with the Pali Momi Medical Center Heart Center who recommends venturing out from your ho-hum health-food dishes and trying this Spinach & Mushroom Lasagna from Thug Kitchen instead. 
"There are many ways to use tofu instead of chopping it up into cubes," Deans says. "This lasagna recipe uses tofu as a replacement for ricotta cheese, and it always receives rave reviews." 
As a word of caution, to make the full recipe from scratch is an undertaking – be prepared to dedicate at least a few hours in the kitchen to complete. 
To save time, make the tofu ricotta and basil pesto one day ahead.
You also can opt to buy premade marinara sauce, but the house marinara is well worth the extra effort.
Spinach & Mushroom Lasagna
Recipes courtesy of Thug Kitchen
Serves 8
Ingredients:
1 pound lasagna noodles

For the tofu ricotta:
1/2 cup raw hulled sunflower seeds
2 blocks extra firm tofu
2 tablespoons olive oil
1 teaspoon grated lemon zest
2 tablespoons lemon juice
1/2 teaspoon salt
6-8 garlic cloves, roughly chopped
1/2 cup nutritional yeast
 
Directions:
1. Pour sunflower seeds into a food processor and chop until the seeds are in tiny pieces.
2. Take tofu out of packages and squeeze, with your hands, as much water as you can out of it. Discard the water.
2. Add the tofu to the food processor and process until mixture appears smooth.
3. Empty the tofu mix into a medium-size bowl and stir in the rest of the ingredients.
4. Store in the refrigerator until ready to assemble the lasagna.
For the basil pesto:
1/3 cup almonds, sliced
1 1/4 cups packed basil leaves
2 tablespoons olive oil
2 tablespoons water
1 tablespoon lemon juice
1/4 teaspoon grated lemon zest
1/2 teaspoon salt
2-3 garlic cloves, roughly chopped
 
Directions:
1. Put all ingredients into a food processor or blender and blend until the mixture forms a paste.
2. Store in the refrigerator until ready to assemble the lasagna.
For the house marinara:
1 large onion, chopped
2 carrots, diced
5 garlic cloves, minced
2 teaspoons olive oil
2 teaspoons dried thyme
Red pepper flakes, to taste
2 28-ounce cans whole tomatoes
 
Directions:
1. Heat oil in a medium sauce pan over medium heat. Sauté the onion 4-5 minutes. Add the carrot and sauté for another 2-3 minutes. Add the garlic, thyme and red pepper; sauté an additional 2-3 minutes.
2. Pour the tomatoes into a large bowl and, using well-washed hands, squeeze the tomatoes until they appear "crushed." Add the tomatoes to the pan with ¾ cup of the remaining juice from the cans.
3. Reduce heat to medium-low and simmer, uncovered, for 25-30 minutes.
For the spinach/mushroom filling:
16 ounces button or cremini mushrooms, tough stems removed and sliced into bite-size pieces
1 teaspoon olive oil
6 cups of fresh spinach
Salt, to taste
2 tablespoons of basil pesto
 
Directions:
1. Sauté the mushrooms in the oil for 2 minutes
2. Fold in the spinach with a pinch of salt until the spinach is wilted, about 3 minutes.
3. Turn off heat.
4. Stir in the two tablespoons of the basil pesto. Taste the mixture. If you need to add more pesto, do so until the taste is to your liking.
5. Set aside.
Putting it all together:
1. Pre-heat the oven to 375 degrees.
2. Spread 1 cup of marinara on the bottom of baking dish. Cover with a layer of lasagna noodles, making sure to cover with slight overlap (you may have to break one noodle into smaller pieces)
2. Spread a third of the ricotta mixture over the noodles.
3. Spread 1/3 of the mushroom filling over the ricotta.
4. Top with 1 cup marinara and 1-2 spoonfuls of the basil pesto over that.
5. Cover with a layer of noodles, and repeat steps 2-4 until you run out of room, with the top layer being noodles.
6. Top with any remaining marinara, ricotta and pesto. Cover with foil and bake for 30 minutes.
7. Remove foil and bake for another 25-30 minutes, until the noodles start looking golden brown.
8. Remove from oven and let stand for 10-15 minutes before serving. As an option, top with remaining pesto sauce or slices of fresh tomato and basil leaves. 
Nutritional information per serving:
Calories: 396; Carbohydrates: 53.6g; Protein: 20.1g; Total Fat: 13.4g; Saturated Fat: 1.5g; Cholesterol: 19mg; Dietary Fiber: 7.4g; Sodium: 343mg
Published on: March 12, 2018