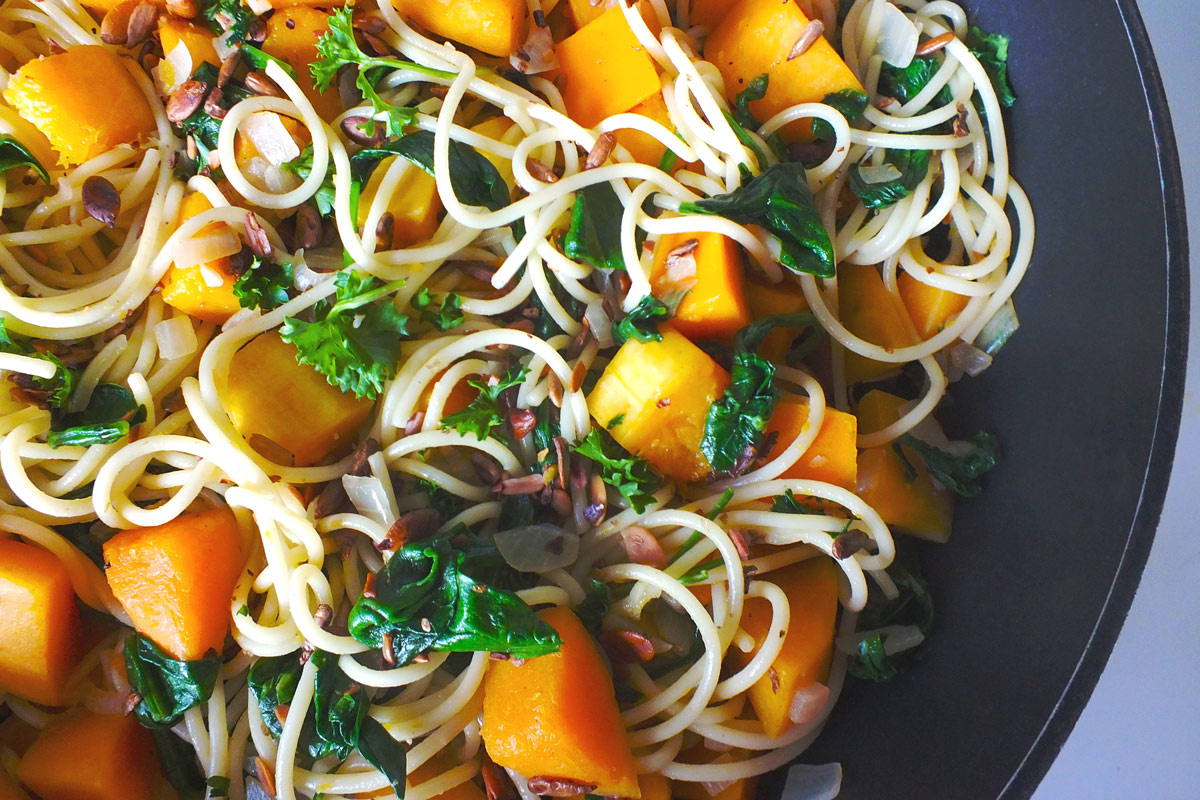 Simple Pasta with Butternut Squash & Spinach
What you eat before you exercise depends on the type of workout you're planning and when in the day you're exercising. 
Generally, it's good to test foods you plan on eating before a long workout to see how your stomach reacts, as each person's digestive system reacts differently to different foods. 
Experts recommend eating familiar foods that are easy on your system, low in fiber and high in carbs to boost your energy without upsetting your stomach. 
Also, avoid making any drastic changes to your diet the night before a long workout or a big race. 
Test out this recipe for Simple Pasta with Butternut Squash & Spinach during your training program. 
Pasta and butternut squash provide quick energy in the form of simple, easy-to-digest carbs, while pumpkin seeds give you a bit of protein to fuel muscles. 
Both long-term and short-term energy sources are needed during a long-distance run: The short-term energy sources will help you get going, but it's the long-term energy sources that will help see you to the end of the race. 
If you have a sensitive stomach, play with the amount of spinach and Parmesan cheese in your recipe – too much roughage or dairy and you may find yourself running to the nearest porta-potty rather than the finish line! 
Enjoying this meal as lunch the day before a big race gives your body time to process the nutrients and lowers your risk of stomach problems so you can be at your best. It's filling, but won't weigh you down before a race.
Simple Pasta with Butternut Squash & Spinach
Serves 4
Ingredients:
8 ounces spaghettini (1/2 box)
1-2 tablespoons extra virgin olive oil
5 cloves garlic, diced
1 medium onion, diced
1 large butternut squash (or 2 medium), chopped
3 cups spinach
1/3 cup Parmesan cheese, shredded (can be excluded, if dairy-free)
2 tablespoons pumpkin seeds, toasted
1/4 cup parsley, chopped
Salt and pepper, to taste
Directions:
1. Cook pasta in large pot of boiling salted water, until al dente. Reserve 1/4 cup of the pasta water.
2. In large sauté pan, heat 1 tablespoon of olive oil over medium-high heat. Add onions and garlic; sauté for 2-3 minutes.
3. Add butternut squash and season the pan with salt. Sauté until onions are browned and squash is tender.
4. Stir in reserved pasta water and spinach, and cook until spinach is wilted, about 2 minutes. Add parsley and add salt, to taste.
5. Add pasta to the pan. Toss with remaining 1 tablespoon of olive oil if pasta seems dry.
6. Serve immediately, topped with pumpkin seeds and shredded Parmesan cheese.
Nutritional information per serving (one cup):
Calories: 410; Carbohydrates: 56g; Protein: 17g; Total Fat: 13g; Cholesterol: 5mg; Dietary Fiber: 6g; Sodium: 170mg; Potassium: 550mg
Published on: April 26, 2016