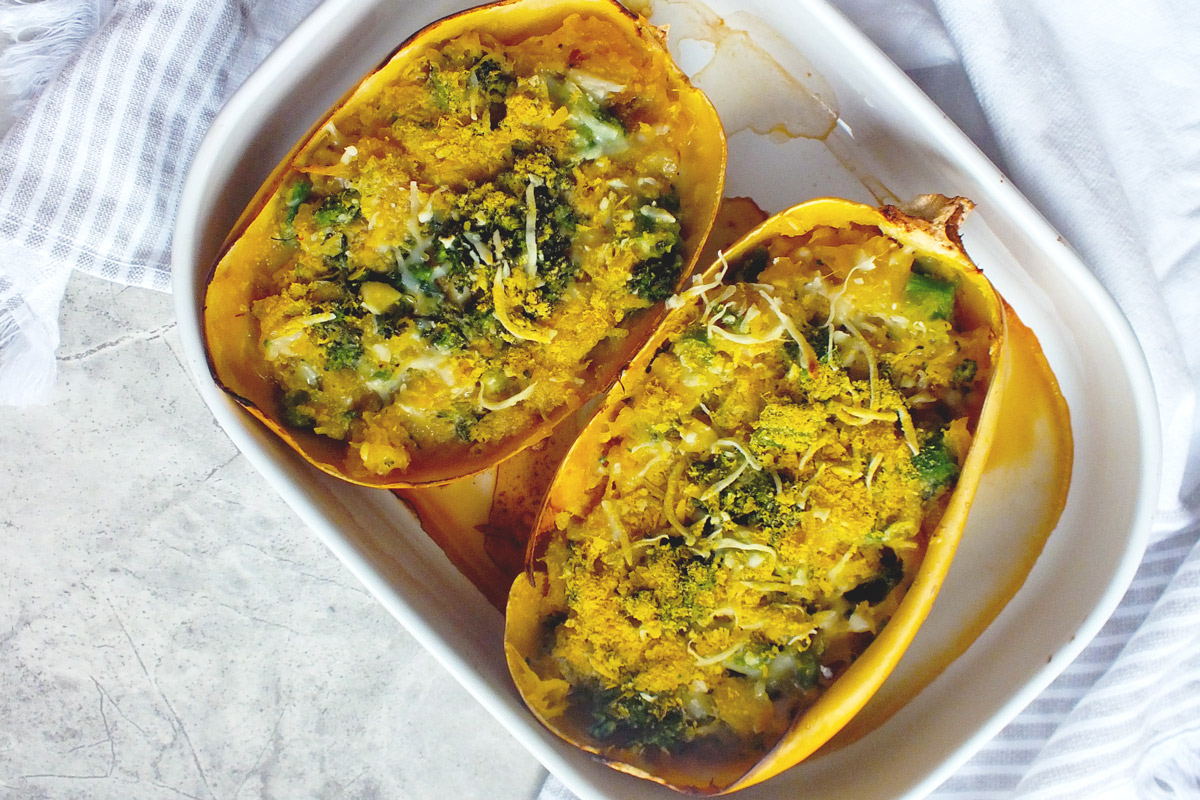 Spaghetti Squash Lasagna with Broccolini
A low-carb lasagna?! Though it sounds like an oxymoron, this recipe for Spaghetti Squash Lasagna with Broccolini proves you can enjoy this classic comfort food while still sticking to a healthy meal plan. 
"Substituting spaghetti squash for traditional pasta noodles can help reduce the total calories in this dish," says Lianne Metcalf, a registered dietitian with the Hawaii Pacific Health 360º Weight Management Program at Pali Momi Medical Center. 
"One cup of cooked pasta noodles has about 240 calories, while 1 cup of spaghetti squash has 42 calories," Metcalf says. "Traditional pasta is also a higher carbohydrate option (45 grams per 1 cup) compared to spaghetti squash (10 grams per 1 cup), so for those who love their Italian cuisine but are watching their carbohydrate intake, this is a great substitution." 
According to Metcalf, many store-bought lasagna noodles are made using bleached white flour, which lacks many of the vitamins, minerals and fiber that whole-wheat and whole-grain flours have. 
"Whole wheat and whole grain are both terms you want to look for in your grain products," Metcalf explains. "Whole grains are better sources of fiber, B-vitamins and minerals like selenium and magnesium, compared to refined grains." 
However, while a product may be marketed as containing whole grains, Metcalf says to make sure that the first ingredient in the ingredient list is the whole grain. Otherwise, you may have a product that is mostly refined grains with a small amount of whole grains sprinkled somewhere in the mix. 
"Multigrain may also not necessarily mean whole grain; it could just mean that multiple grains are used in the product, but none of which are actually whole grains," Metcalf says. "Your best bet is to look for 100 percent whole wheat or 100 percent whole grain, and check the ingredient list to ensure the first ingredient listed is a grain with the word 'whole' in front of it." 
Aside from this recipe's low calorie tally, Metcalf says that the reason she often recommends this recipe to patients is because it provides a balance of nutrients without omitting entire food groups.
"Oftentimes, as patients try to lose weight, they do so by cutting out certain food groups, like carbohydrates or fats. When we do this, we miss out on nutrients necessary for key bodily functions and often end up reverting back to old habits, as these diets are difficult to sustain long term," Metcalf explains. "This dish provides important nutrients from carbohydrate, dairy, protein, fat and vegetable food groups." 
Bake this lasagna right in the squash shells for a fun, festive presentation. Serve warm with a big green salad and some crusty whole-grain bread. 
Spaghetti Squash Lasagna with Broccolini
Recipe from EatingWell
Serves 4
 
Ingredients:
1 spaghetti squash, 2 1/2 to 3 pounds, halved lengthwise and seeded
1 tablespoon extra-virgin olive oil
1 bunch broccolini, chopped
4 cloves garlic, minced
1/4 teaspoon crushed red pepper (optional)
2 tablespoons water
1 cup shredded part-skim mozzarella cheese, divided
1/4 cup shredded Parmesan cheese, divided
3/4 teaspoon Italian seasoning
1/2 teaspoon salt
1/4 teaspoon ground pepper
 
Directions:
1. Position racks in upper and lower thirds of oven; preheat to 450 degrees.
2. Place squash cut-side down in a microwave-safe dish; add 2 tablespoons water. Microwave, uncovered, on high until the flesh is tender, about 10 minutes. Alternatively, place squash halves cut-side down on a rimmed baking sheet. Bake in a 400-degree oven until the squash is tender, about 40 to 50 minutes.
3. Meanwhile, heat oil in a large skillet over medium heat. Add broccolini, garlic and red pepper (if using); cook, stirring frequently, for 2 minutes. Add water and cook, stirring, until the broccolini is tender, 3 to 5 minutes more. Transfer to a large bowl.
4. When the squash is cooked, use a fork to scrape the squash from the shells into the bowl with the broccolini. Place the shells in a broiler-safe baking pan or on a baking sheet. Stir 3/4 cup mozzarella, 2 tablespoons Parmesan, Italian seasoning, salt and pepper into the squash mixture. Divide mixture between the shells; top with the remaining 1/4 cup mozzarella and 2 tablespoons Parmesan.
5. Bake on the lower oven rack for 10 minutes. Move to the upper rack, turn the broiler to high and broil, watching carefully, until the cheese starts to brown, about 2 minutes. 
Nutritional information per serving (1/2 stuffed squash):
Calories: 194; Carbohydrates: 15g; Protein: 11g; Total Fat: 11g; Saturated Fat: 5g; Cholesterol: 23mg; Dietary Fiber: 2g; Sugars: 5g; Sodium: 609mg
Published on: October 24, 2016