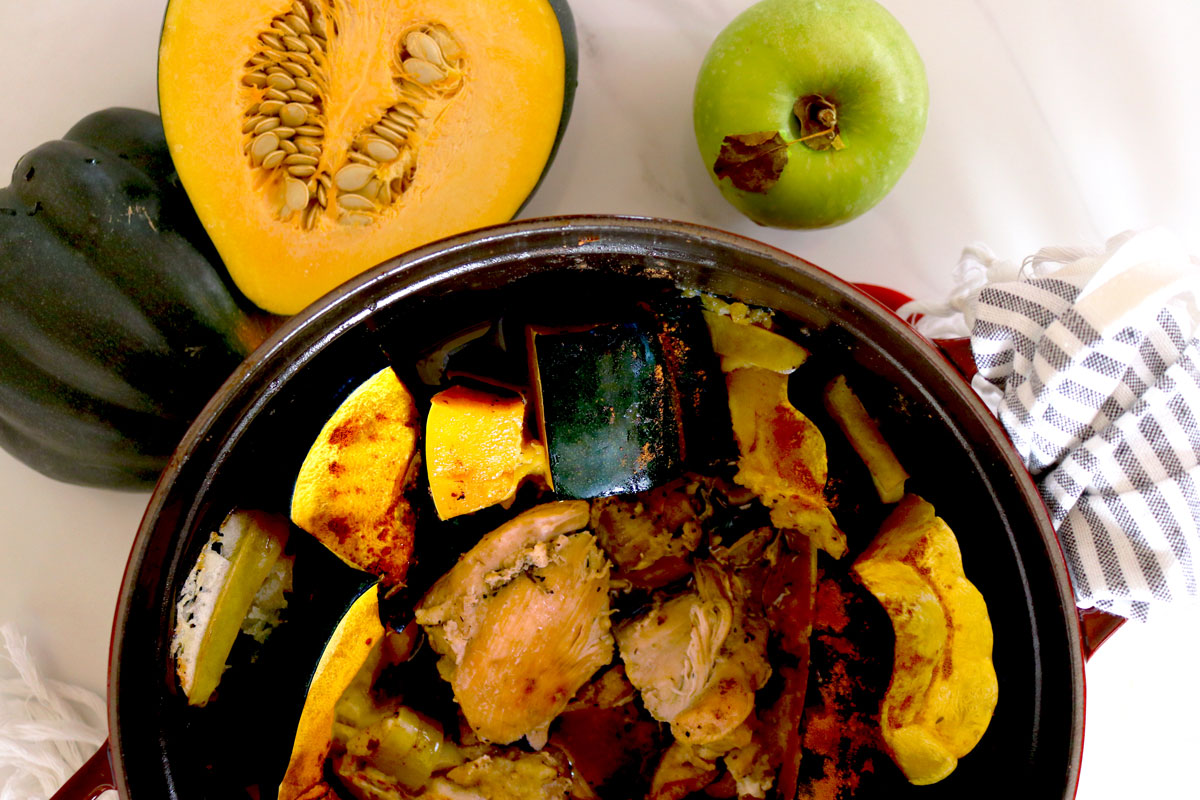 One-Pot Roasted Chicken with Acorn Squash
It's nice to have a few go-to recipes tucked away for times when life gets out of hand.
This recipe is one of them.
Full of hearty ingredients that also happen to be healthy, this one-pot meal takes under an hour to cook and requires minimal clean-up.
Tip: Double the recipe and store leftovers in the fridge for a quick lunch or dinner during the week. Just reheat and eat!
Serve with a side of Butternut Squash & Cranberry Quinoa Salad for a fall-inspired feast.
One-Pot Roasted Chicken with Acorn Squash
Recipe adapted from the American Diabetes Association
Serves 4
Ingredients:
4 (4-ounces) boneless, skinless chicken thighs
1 teaspoon dried rosemary
1 teaspoon dried thyme
1 teaspoon dried oregano
1/2 teaspoon dried lavender
2 teaspoons avocado oil
1 acorn squash (about 1 1/4 pounds)
1 Granny Smith apple, cored and sliced
1 tablespoon honey
1/4 teaspoon cinnamon
1/2 cup chicken bone broth (or low-sodium chicken stock)
Directions:
1. Preheat the oven to 375 degrees. 
2. In a small bowl, combine dried rosemary, thyme, oregano and lavender. Season the chicken with the herb blend.
3. In a Dutch oven or oven-safe pot, heat the oil over medium-high heat. Place the chicken in the pot and sear for 3 minutes per side.
4. Cut the acorn squash in half lengthwise and scoop out the seeds. Cut each half into quarters; discard ends.
5. Place the acorn squash and apple slices around the chicken. Drizzle the honey evenly over the squash and apple slices and then sprinkle them with cinnamon. Pour the broth over the chicken.
6. Bake for 45 minutes in the oven, uncovered. To serve, pour some of the juices over the chicken, squash and apples. 
Nutritional information per serving (one chicken thigh, two acorn squash wedges, about four slices of apple):
Calories: 240; Carbohydrate: 22g; Protein: 19g; Total Fat: 9g; Saturated Fat: 2.1g; Cholesterol: 105mg; Dietary Fiber: 5g; Sodium: 70mg
Published on: October 8, 2018