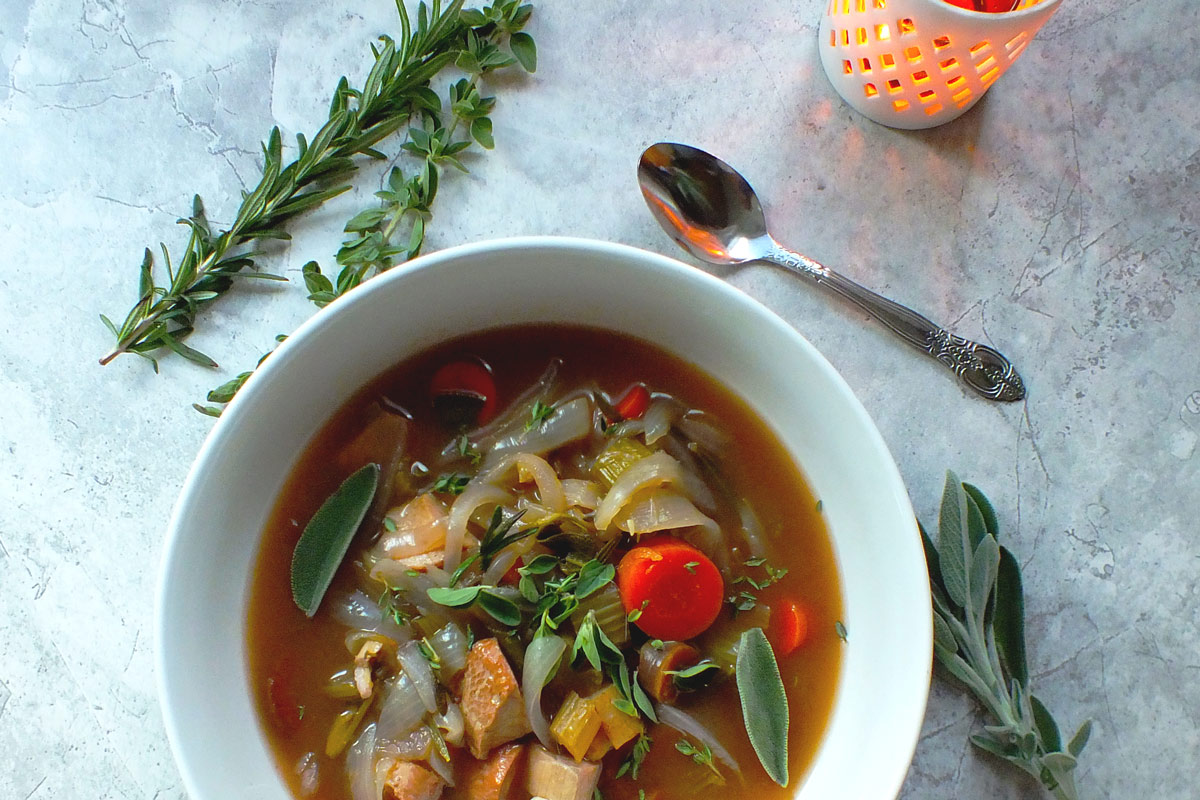 Turkey Soup with Turmeric, Ginger & Fresh Herbs
There's no taste like turkey for the holidays! 
It's estimated that roughly 46 million turkeys will be eaten this Thanksgiving, but this pheasant makes a fantastic addition to any meal, any day of the year. 
One way to make the most of this year's turkey-day spread? Turkey soup, of course. 
"Turkey sandwiches and turkey salad can get boring after a while, so soup is a good way to use up a lot of leftover turkey meat for a quick, no-fuss main dish," says Nicole Sievers, a registered dietitian at Wilcox Memorial Hospital. 
"Plus, you can save and boil the turkey bones to make your own, low-sodium broth!" Sievers adds. 
Use up extra vegetables like carrots, celery and onions and add in seasonal herbs such as rosemary, sage and thyme for added antioxidants. Fresh ginger and a sprinkle of turmeric gives this soup a slightly spicy kick, along with a warm yellow hue. 
Turkey Soup with Turmeric & Fresh Herbs
Serves 3
Ingredients:
1 yellow onion, sliced
3 cloves garlic, roughly chopped
1 tablespoon ginger, freshly grated
2 large carrots, chopped
2 celery stalks, chopped
1 tablespoon powdered turmeric
2 teaspoons fresh rosemary, chopped
1 teaspoon fresh sage, chopped
1 teaspoon fresh thyme, chopped
1/2 teaspoon sea salt
1 teaspoon black pepper
4 cups low-sodium turkey broth (may substitute with low-sodium chicken or vegetable broth)
2 cups water
6 ounces roasted turkey breast meat, roughly chopped
Directions:
1. In a large pot or Dutch oven, heat 2 tablespoons turkey broth over medium-high heat. Add onions and cook until slightly softened, about 5 minutes.
2. Add garlic and ginger and cook until fragrant, about 1 minute.
3. Add carrots, celery, turmeric and fresh herbs. Cook until fragrant, about 1 minute, stirring constantly so that vegetables do not stick and herbs do not burn.
4. Pour in broth and water; add turkey meat.
5. Bring soup to a rapid boil. Reduce heat to low, cover and simmer for 10 minutes.
6. Remove from heat and allow to cool slightly for 5 minutes before serving. 
Nutritional information per serving:
Calories: 169; Carbohydrates: 13.2g; Protein: 20.6g; Total Fat: 3.4g; Saturated Fat: 1.1g; Cholesterol: 43mg; Dietary Fiber: 3.3g; Sodium: 491mg
Published on: November 25, 2015