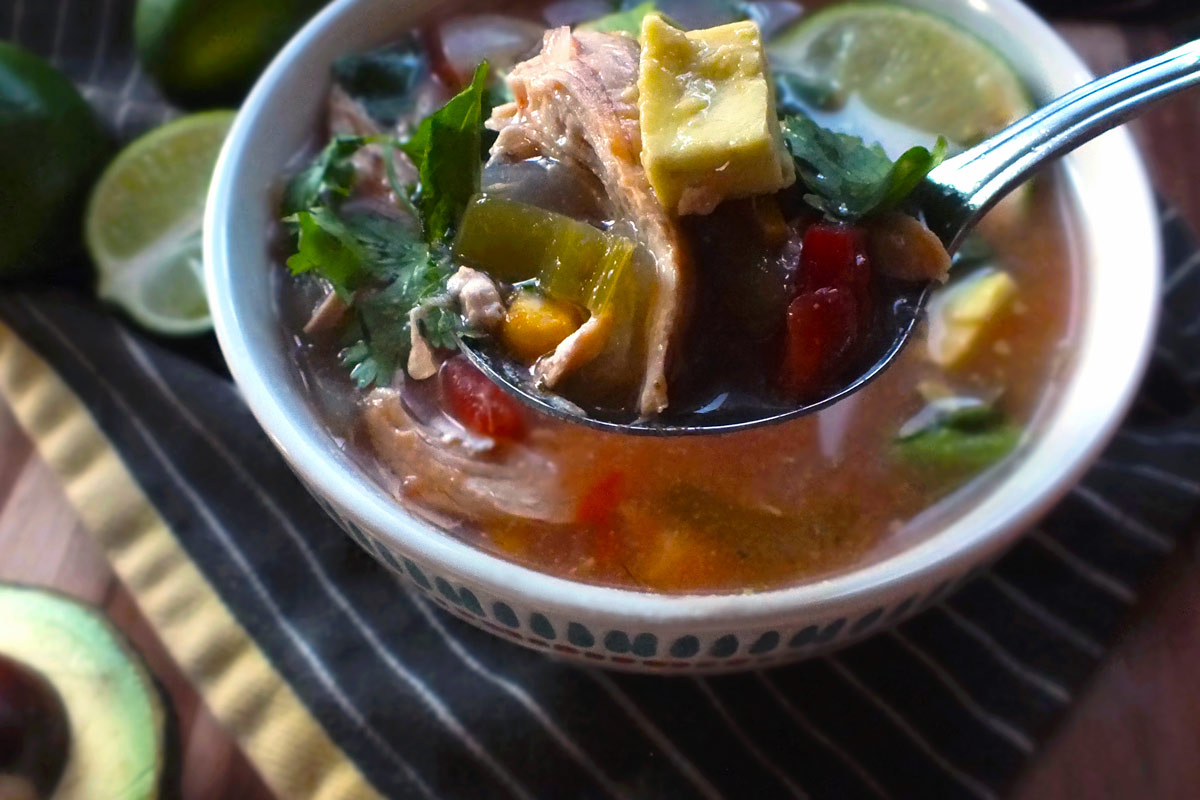 Lime & Chicken Soup with Avocado
When you hear the words "chicken soup," the last thing you think of is summertime. 
But one sip of this Lime & Chicken Soup with Avocado and you'll completely change your mind. 
Colorful veggies brighten up your bowl – yellow corn, orange carrots, bright-green cilantro and red tomatoes create a literal rainbow of flavors – while zesty lime and spicy jalapeno lend a lively, refreshing kick that is more than welcome on a hot summer day. 
These ingredients don't just look and taste amazing, they also help your body look and feel amazing as well. 
"Tomatoes, onion, cumin and oregano contain powerful antioxidants and phytochemicals that may help to protect against certain types of cancer and other conditions such as age-related eye damage," says Sally Belles, registered dietitian nutritionist and certified diabetes educator at Straub Medical Center. 
"Tomatoes also contain the antioxidant lycopene, which has protective properties against free radical damage to healthy cells. Free radical damage has a role in the development of dementia, particularly Alzheimer's," Belles adds. 
Garlic and celery may play a part in lowering blood pressure, while extra virgin olive oil provides a shot of brain-healthy monounsaturated fat. 
"Monounsaturated fat contributes to healthy blood flow to the brain, which reduces the risk for the development of Alzheimer's and also a stroke by helping to lower blood pressure," Belles explains. 
For even more brain-boosting benefits, top off your bowl with some creamy avocado chunks. 
"Avocados provide essential nutrients for brain health such as folate," Belles says. "Avocados also contain vitamins E, B6, B12 and folate, which are important to prevent oxidative damage to brain cells and lessen shrinkage of brain tissue." 
Lime & Chicken Soup with Avocado
Recipe adapted from the American Institute for Cancer Research
Serves 6
Ingredients:
2 tablespoons extra virgin olive oil
1 large yellow onion, chopped
3 stalks of celery, thinly sliced
1 medium jalapeño pepper, seeded and diced
5 cloves garlic, minced
1 pound boneless, skinless chicken breast
1 cup frozen corn
1 can (14.5 ounces) no salt-added diced tomatoes
6 cups reduced-sodium chicken broth
1 1/2 teaspoons Italian seasoning
1 teaspoon oregano
1/4 teaspoon cumin
3 medium limes, 2 cut in half, 1 cut into 6 wedges for garnish
1/2 bunch cilantro, rinsed and chopped
1 medium avocado, cut into 1/2-inch cubes 
Directions:
1. In a large soup pot, heat oil over medium-high heat. Sauté onion, celery, jalapeño and garlic for 6 minutes or until tender.
2. Add whole chicken breast, corn, tomatoes, broth, Italian seasoning, oregano and cumin to pot. Stir to mix ingredients.
3. Turn heat up to high and bring soup to a boil. Reduce heat, cover and simmer for 55 minutes.
4. Remove chicken breast to a large platter and shred using two forks. Return chicken to soup.
5. Using a strainer to catch any seeds, squeeze the juice of two limes into soup. Add cilantro and gently stir.
6. Ladle soup into serving bowls. Top each bowl with avocado and garnish with lime wedge. 
Nutritional information per serving:
Calories: 258 calories; Carbohydrates: 18g; Protein: 24g; Total Fat: 12g; Saturated Fat: 2g; Dietary Fiber: 4g; Sodium: 589mg
Published on: June 14, 2015