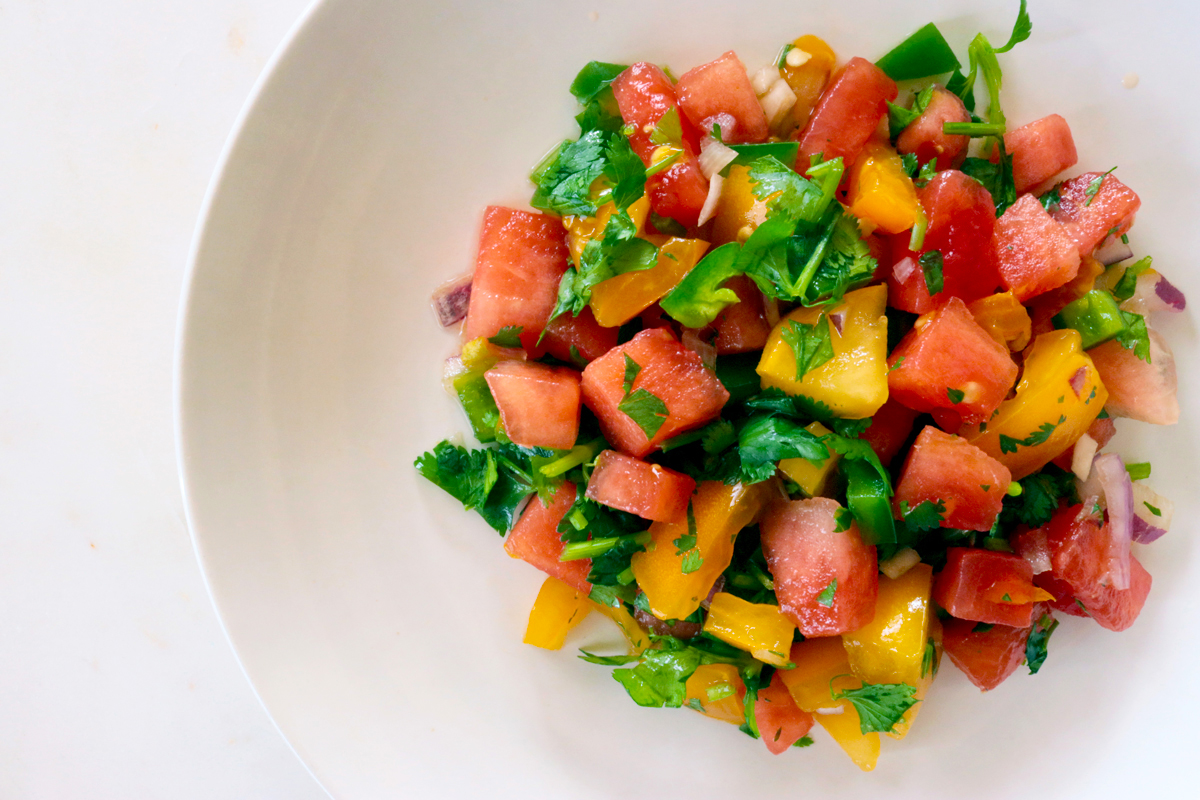 Watermelon & Tomato Salsa Fresca
Put a bright and refreshing spin on your classic chips and dip with this super simple Watermelon & Tomato Salsa Fresca. 
Though composed primarily of water, watermelon contains high amounts of lycopene – a compound researchers have found may help lower the risk of cholesterol, blood pressure and certain cancers. 
Watermelon also contains other heart-healthy vitamins and minerals, including potassium, magnesium and vitamins A, B6 and C. 
Plus, all that H2O makes watermelon ultra-hydrating, which is important during the hot and humid summer months.
Yellow tomatoes lend an unexpected pop of color to the plate, while jalapeno and cilantro create a mild heat that's tempered by the sweetness of the watermelon. 
As a tasty tip, allow your salsa to chill slightly in the refrigerator before serving. 
Watermelon & Tomato Salsa Fresca
Serves 8

Ingredients:
2 cups seedless watermelon, diced
2 cups yellow tomatoes, diced
2 jalapeno peppers, seeded and minced
1/3 cup cilantro, chopped
1/3 cup red onion, minced
1/4 teaspoon salt, to taste
1/4 cup fresh lime juice 

Directions:
1. Place watermelon, tomatoes, jalapenos, cilantro and onion in a medium bowl. Stir well to combine.
2. Season with salt and lime juice. Cover and refrigerate for 30 minutes. Serve chilled.
Nutritional information per 1/2-cup serving:
Calories: 20; Carbohydrates: 4.6g; Protein: 0.7g; Total Fat: 0.2g; Saturated Fat: 0g; Cholesterol: 0mg; Dietary Fiber: 0.7g; Sodium: 178mg
Published on: May 15, 2018