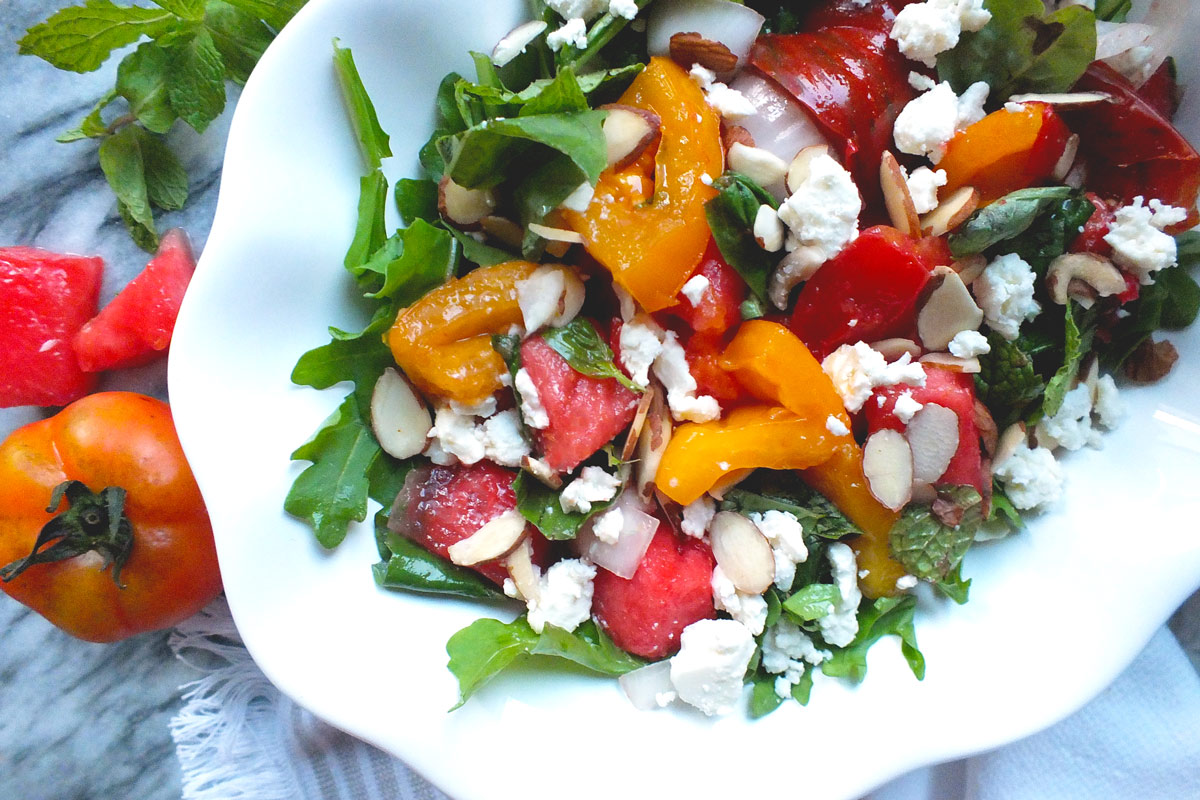 Watermelon, Tomato & Feta Salad
Princeville resident Diane Chait likes to entertain, but would rather spend time with her guests than in the kitchen.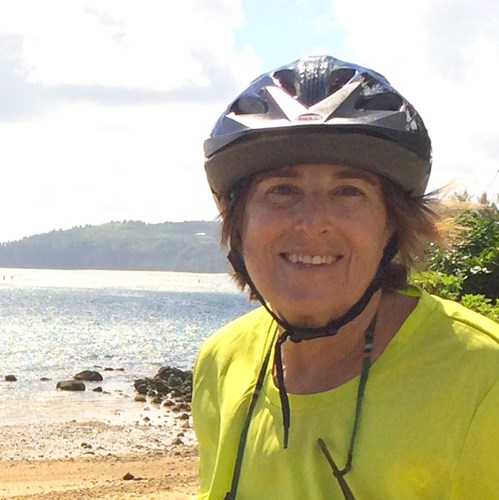 So when friends from the South Shore were making the trip up north for a day of fun and food, Diane turned to website Epicurious for a basic recipe she could put her own spin on. 
"I modified the recipe after reading other recipes for similar salads and trying various preparations," says Diane of her take on a Watermelon & Feta Salad. 
"I like this recipe because it is easy, can be made ahead of time, and is healthy," she says. "Most of the ingredients are grown locally, and the costs are not prohibitive. It is also refreshing on a hot day." 
"Diane's take on a watermelon salad is both beautiful and rich in nutritious foods, not to mention it's a breeze to make!" says Nicole Sievers, registered dietitian at Wilcox Medical Center. 
"The combination of sweet watermelon with ripe tomatoes, salty feta cheese, bitter greens such as arugula, savory herbs, and the sour punch from vinegar or citrus juice is like a party in your mouth!" Sievers adds. 
Another reason Sievers says this recipe is a winner is that many of the ingredients can be sourced locally, which helps to reduce your carbon footprint and support local businesses. 
"Sweet Maui onions, fresh greens, herbs, tomatoes, citrus juice and Hawaiian salt are widely available on all the islands," Sievers says. "If you're lucky, you may even be able to find a locally grown watermelon or feta cheese made from island goat's milk." 
If you're watching the sodium in your diet, Sievers suggests reducing the amount of added salt and relying solely on the saltiness of the feta to tickle your taste buds. 
Switch up the greens and herbs you use with each new season – mint and basil are fresh choices for summer months, while rosemary and thyme go great with the foods served during the holidays. 
"I loved that Diane gave suggestions for mixing things up. Even the watermelon could be omitted when out of season, and this recipe would make a delicious tomato salad," Sievers says. "No matter which combination of ingredients you choose, you're sure to impress friends and family with this simple-yet-complex watermelon salad." 
Besides trying out new recipes, Diane stays healthy by exercising regularly and by engaging in volunteer activities that keep both body and mind fit. 
"Friends and I often go for a walk or a bike ride as an alternative to meeting for coffee," Diane says. 
Watermelon & Feta Salad
Adapted from Epicurious.com
Serves 4
Ingredients:
4 cups seedless watermelon, cut into 1 1/4-inch chunks
1 1/2 pounds ripe tomatoes (in assorted colors, if possible), cored and cut into 1 1/4-inch chunks (about 3 cups)
1/2 cup sweet onion, cut in quarters and sliced thinly
1 teaspoon Hawaiian or coarse kosher salt
2 1/2 tablespoons extra-virgin olive oil
1 tablespoon combination as you wish of: red wine vinegar, balsamic vinegar, lemon juice and lime juice
2 tablespoons chopped assorted fresh herbs (such as dill, basil, parsley and mint)
3 cups fresh greens (arugula or watercress or any combination)
1/2 cup crumbled feta cheese
1/4 cup almonds, sliced, lightly toasted
Fresh ground pepper
Directions:
1. Combine melon, onion and tomatoes in large bowl. Sprinkle with 1 teaspoon salt and toss to blend; let stand 15 minutes.
2. Add oil, vinegar and herbs to melon mixture. Season to taste with pepper and more salt, if desired.
3. Add greens, toss and serve immediately on individual plates topped with cheese and almonds.
Nutritional information per serving:
Calories: 239; Carbohydrates: 20.7g; Protein: 6.6g; Total Fat: 16.3g; Saturated Fat: 4.4g; Cholesterol: 17mg; Dietary Fiber: 3.5g; Sodium: 804mg
Published on: September 2, 2015