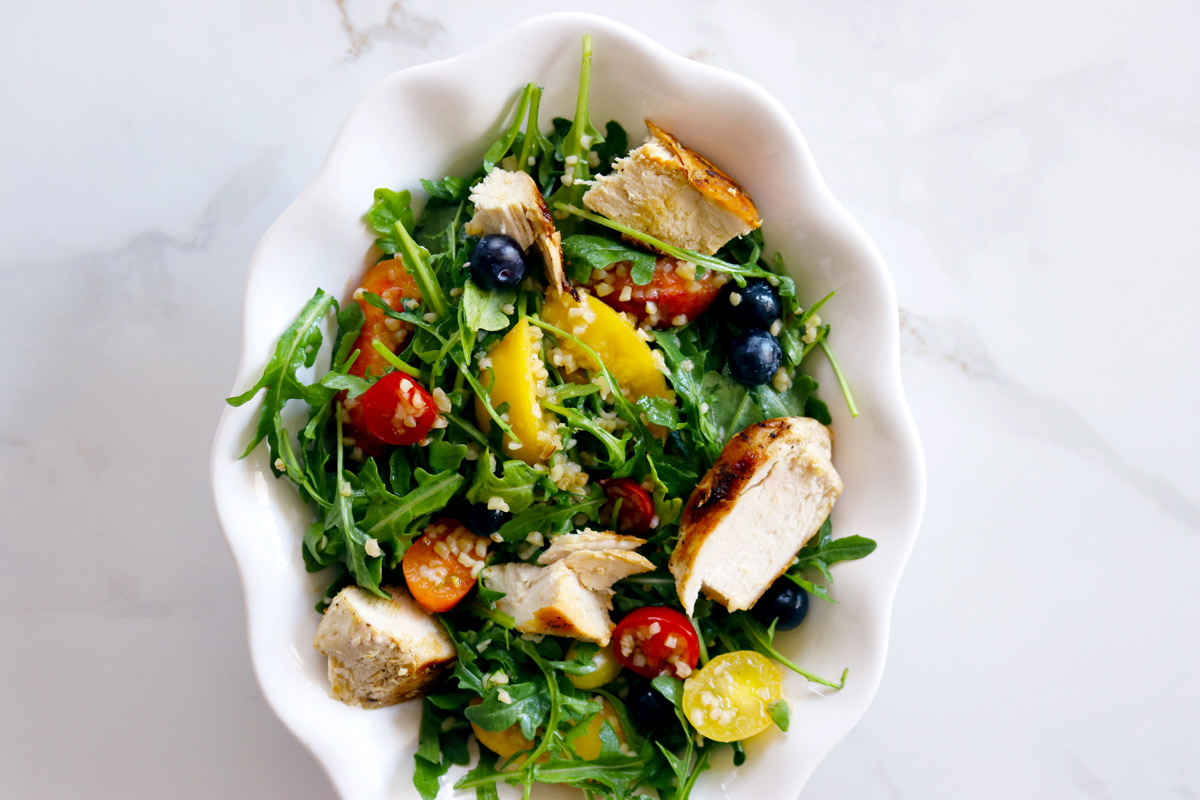 Chicken & Bulgur Salad with Summer Fruits
No one likes sweating away in the kitchen on a sweltering summer day, which is why this Chicken & Bulgur Salad with Summer Fruits should quickly become a mainstay in your recipe repertoire this season.
Bulgur is a quick-cooking whole grain that's a perfect substitution for rice or pasta. Rich in fiber, bulgur contains other important nutrients like folate, niacin, manganese, magnesium and iron.
As it is less processed than other grains, bulgur supports healthy blood sugar levels and in some studies has been shown to improve overall insulin sensitivity.
Its high content level also goes a long way to promote satiety, digestion and gut health.
Combine this whole grain with peppery arugula, grilled chicken breast and fresh, seasonal fruits like peaches, tomatoes and blueberries for an effortlessly pulled-together meal that only takes 20 minutes to make.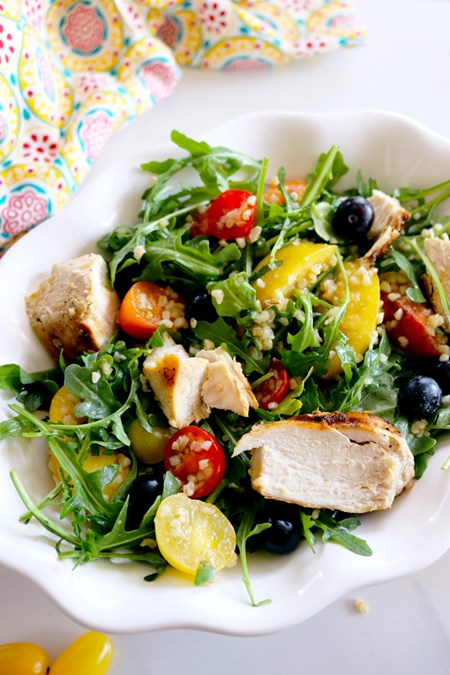 Chicken & Bulgur Salad with Summer Fruits
Recipes adapted from CookingLight
Serves 4

Ingredients:
1 1/3 cups water
2/3 cup bulgur
1 pound chicken breasts (boneless, skinless)
1 teaspoon sea salt, divided
1/2 teaspoon freshly ground black pepper
4 cups packed arugula
2 cups cherry tomatoes, halved
2 cups fresh peaches, sliced
2 cups fresh blueberries
2 tablespoons extra-virgin olive oil
2 tablespoons apple balsamic vinegar

Directions:
1. Combine water and bulgur in a small saucepan and bring to a boil over high heat. Reduce heat to medium-low, cover and simmer for 10 minutes. Drain any excess liquid and rinse bulgur under cold water. Drain well and let dry on a paper towel.
2. Heat a grill pan over high heat. Sprinkle chicken with 1/2 teaspoon salt and pepper. Grill chicken, turning occasionally, 6-7 minutes or until done. Remove to a cutting board and allow to rest for 3 minutes. Slice against the grain into strips.
3. Place bulgur, chicken strips, arugula, tomatoes, peaches and blueberries in a large bowl. Add remaining salt, oil and vinegar to salad and toss to coat. Divide evenly among 4 plates or bowls to serve.
Nutritional information per serving:
Calories: 453; Carbohydrates: 40.2g; Protein: 57.2g; Total Fat: 10g; Saturated Fat: 2.7g; Cholesterol: 130mg; Dietary Fiber: 8.5g; Sodium: 635mg
Published on: May 29, 2019