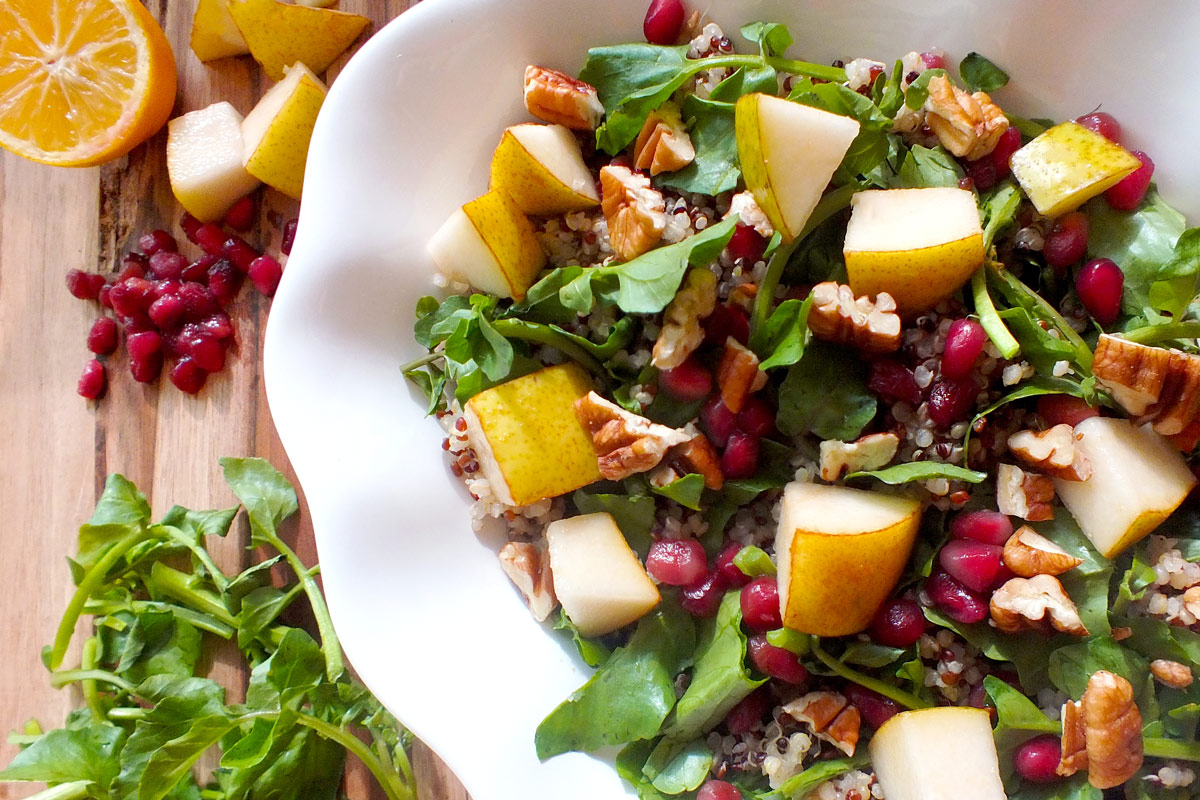 Quinoa with Watercress, Pomegranates & Pears
Feeling a little low on luck? Fill up on some good vibes – plus protein, fiber and antioxidants – with this Quinoa with Watercress, Pomegranates & Pears salad.
Pomegranates are believed to be good luck for many reasons – their red color represents life and fertility, while their abundant, round seeds symbolize prosperity.
Another good luck food that's also good for you are leafy green veggies due to their striking resemblance to paper cash. Included on this list are kale, collards, cabbage and watercress, to name a few.
Round out the dish with freshly toasted pecans, ripe pears and quinoa, an ancient seed rich in iron, B-vitamins, magnesium, potassium, calcium, vitamin E and fiber.
And lucky you! Quinoa is one of only a few plant foods considered a complete protein comprised of all nine essential amino acids, which the body uses to build and repair muscles and tissues.
Luckily, all of these good luck foods pair together perfectly for a flavorful dish that's sure to please.
Quinoa with Watercress, Pomegranates & Pears
Serves 4
Ingredients:
1 cup quinoa, thoroughly rinsed
1 bunch watercress, stems removed and leaves slices (about 1 1/2 cups packed leaves)
1/2 cup pomegranate seeds
2 ripe pears, peeled, cored and cut into 1/2-inch chunks
1/2 cup pecans, chopped and slightly toasted
2 tablespoons pomegranate juice
1 tablespoon lime juice
2 tablespoons red wine vinegar
Directions:
1. Combine 2 cups water and quinoa in a medium saucepan and bring to a boil. Reduce heat to a simmer, cover and cook until quinoa is tender and all of the water is absorbed, about 15-20 minutes.
2. Place quinoa in a large bowl with watercress, pomegranate seeds, pears, pecans, juices and vinegar. Stir to combine, then serve. 
Nutritional information per serving:
Calories: 330; Carbohydrates: 48g; Protein: 11g; Total Fat: 12g; Saturated Fat: 1g; Dietary Fiber: 7g; Sodium: 15mg
Published on: April 26, 2016