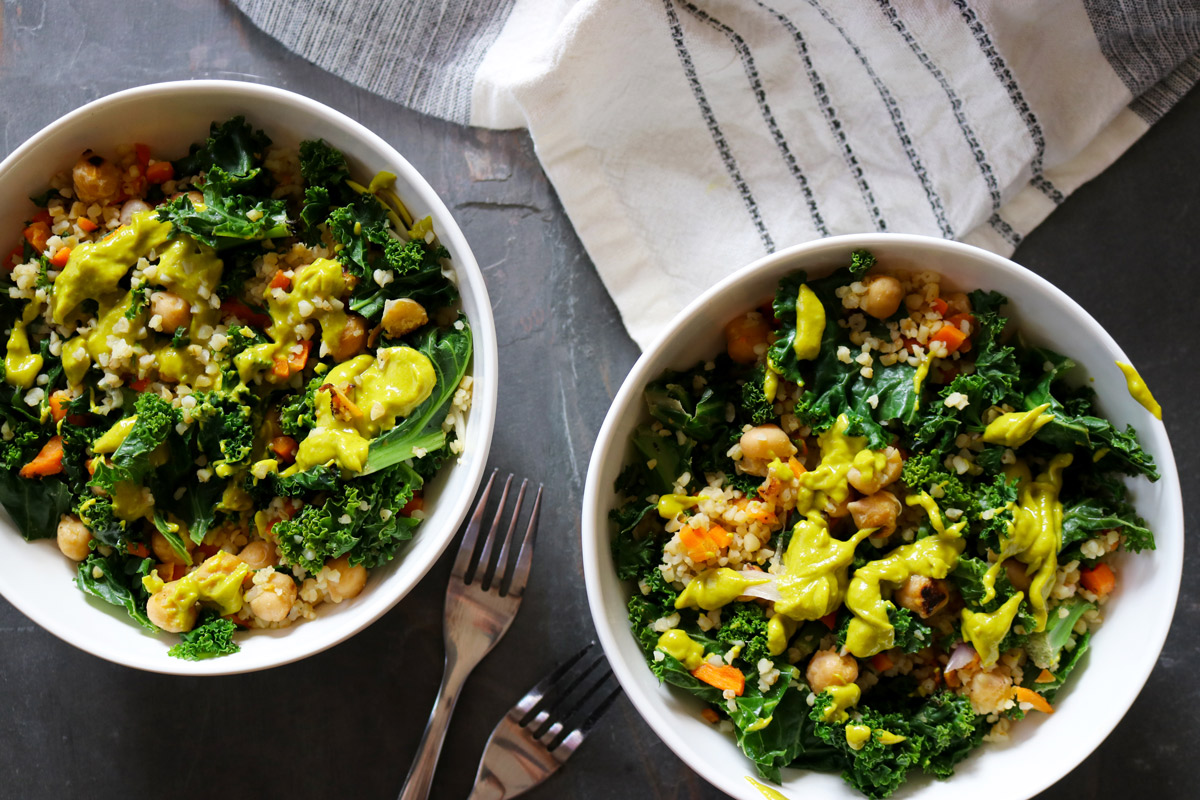 Kale & Chickpea Harvest Bowls with Avocado Dressing
Harvest bowls are an easy way to pack a variety of nutritional heavy-hitters into one delicious dish.
Case in point – these Kale & Chickpea Harvest Bowls that come with a vibrantly green Avocado Dressing.
Protein-rich chickpeas are roasted to bring out their nutty, savory flavor. Combine them with fiber-full veggies like carrots and kale, along with bulgur, a minimally processed whole grain that's lower in calories than quinoa and brown rice, and you've got the makings of a well-rounded one-bowl meal.
Drizzle with a generous serving of the homemade avocado dressing  for a dose of heart-healthy monounsaturated fat, plus a hit of flavor – taste-testers describe it as curry-like – that adds extra dimension to the dish.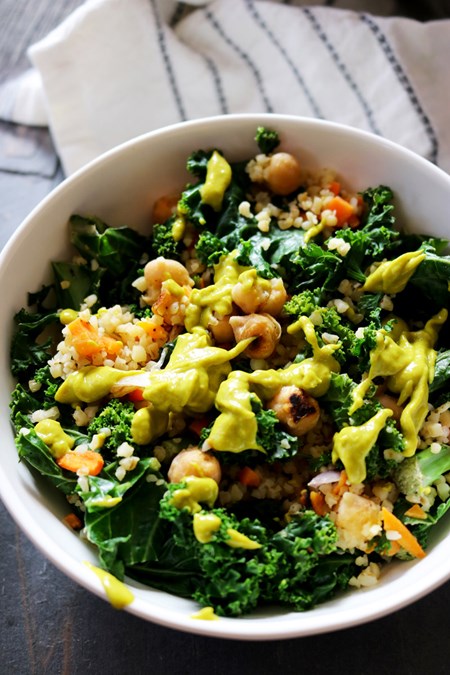 Kale & Chickpea Harvest Bowls with Avocado Dressing
Recipe adapted from CookingLight
Serves 4

Ingredients:
1 cup water
1/2 cup bulgur
2 (15-ounce) cans unsalted chickpeas, rinsed and drained
3 tablespoons avocado oil, divided
2 cups carrots, finely chopped
4 cups lacinato kale, roughly chopped
1/2 cup shallots, vertically sliced
1/2 cup fresh flat-leaf parsley leaves
3/4 teaspoon sea salt, divided
1/2 teaspoon black pepper
1/2 medium avocado, peeled and pitted
1 tablespoon fresh lemon juice
1 tablespoon water
1 tablespoon tahini, well stirred
1 garlic clove
1/4 teaspoon ground turmeric

Directions:
1. Combine 1 cup water and bulgur in a small saucepan over high heat and bring to a boil. Reduce heat to medium-low; cover and simmer 10 minutes. Drain off any excess liquid and rinse under cold water. Drain again and let dry on paper towels.
2. Drain chickpeas and pat dry with paper towels. Heat 1 tablespoon avocado oil in a large skillet over high heat. Add chickpeas and carrots; cook, stirring occasionally, until chickpeas are browned, about 6 minutes.
3. Add kale to chickpea mixture and cover. Cook until kale is slightly wilted and carrots are tender, about 2 minutes. Add chickpea mixture, shallots, parsley, 1/2 teaspoon salt and pepper to bulgur; toss.
4. Place avocado, remaining 2 tablespoons avocado oil, lemon juice, 1 tablespoon water, tahini, garlic, turmeric and remaining 1/4 teaspoon salt in a food processor and blend until smooth. (Dressing will be very thick. For a thinner dressing, add 1 tablespoon of water at a time and mix until desired consistency is reached.)
5. Divide bulgur mixture among 4 bowls and serve with a generous drizzle of avocado dressing.
Nutritional information per serving:
Calories: 402; Carbohydrates: 65.6g; Protein: 16.2g; Total Fat: 10.3g; Saturated Fat: 1.1g; Cholesterol: 0mg; Dietary Fiber: 17.8g; Sodium: 732mg
Published on: May 21, 2019