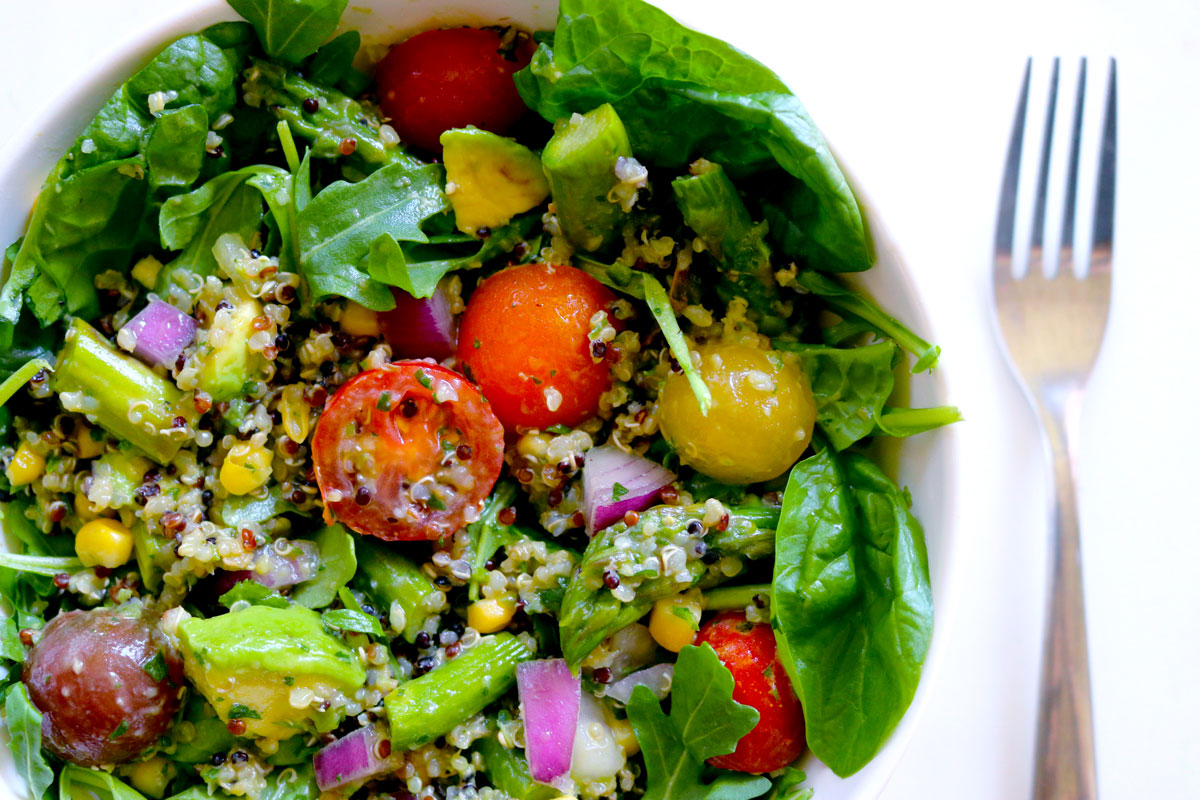 Quinoa Salad with Summer Vegetables
Summer's relentless heat calls for easy meals that aren't too filling, aren't too hot … they need to hit that Goldilocks juuuuussst-right sweet spot. 
This Quinoa Salad with Summer Vegetables achieves that perfect balance. 
Naturally gluten free, quinoa is a pseudo-grain that's high in protein and one of the few plant foods that contains all nine essential amino acids. 
Its nutty flavor and hearty texture make it the ideal base upon which to build. 
Grill up some asparagus, chop up an onion, add in juicy cherry tomatoes and some sweet corn kernels and you've got the makings of a summertime salad that's not too wimpy, not too skimpy, but juuuuussst right. 
If certain ingredients are out of season (for example, you can't find asparagus at the grocery store, or the tomatoes in stock don't look their freshest), you can mix in other seasonal produce that's available. 
Eggplant, zucchini, sweet bell peppers, radicchio, beets, dried cranberries, even nuts and seeds … the flavor combinations are endless! 
For extra protein points, add in black beans, garbanzo beans or oven-roasted chicken. 
Quinoa Salad with Summer Vegetables
Recipe adapted from Pinch of Yum
Serves 6

Ingredients:
2 cups tricolor quinoa
1 cup vegetable broth
1/2 bunch asparagus (about 10-12 spears), woody stems removed
1 cup cherry tomatoes, halved
1 cup corn
1/2 red onion, chopped
1/2 avocado, chopped
1 cup spinach leaves
1 cup arugula leaves
For the sauce:
1/2 avocado
1 cup packed cilantro leaves and stems
1/2 jalapeno, ribs and seeds removed
2 cloves garlic
Juice of 1/2 a fresh lime
1/4 cup water
1/4 cup lemon-infused olive oil
Salt and pepper, to taste

Directions:
1. Cook quinoa according to directions, using vegetable broth in place of water in the recipe. When cooked, allow to cool in the refrigerator for 1-2 hours.
2. Preheat oven to 375 degrees. Chop asparagus into 1 1/2-inch pieces and place on a foil-lined baking sheet. Season with a pinch or two or salt. Roast in the oven for 8-10 minutes. Asparagus should be tender but still crisp. Remove and let cool.
3. To make the sauce, pulse the avocado, cilantro, jalapeno, garlic, water, olive oil and salt together in a food processor until incorporated and mostly smooth. Add lemon juice and stir.
4. To assemble the salad, toss all quinoa, asparagus, tomato halves, corn, red onion and salad greens together in a bowl. Drizzle with sauce and stir a few times more to combine.
Nutritional information per serving:
Calories: 243; Carbohydrates: 22.3g; Protein: 5.8g; Total Fat: 16.5g; Saturated Fat: 2.7g; Cholesterol: 0mg; Dietary Fiber: 5.5g; Sodium: 142mg
Published on: June 18, 2018