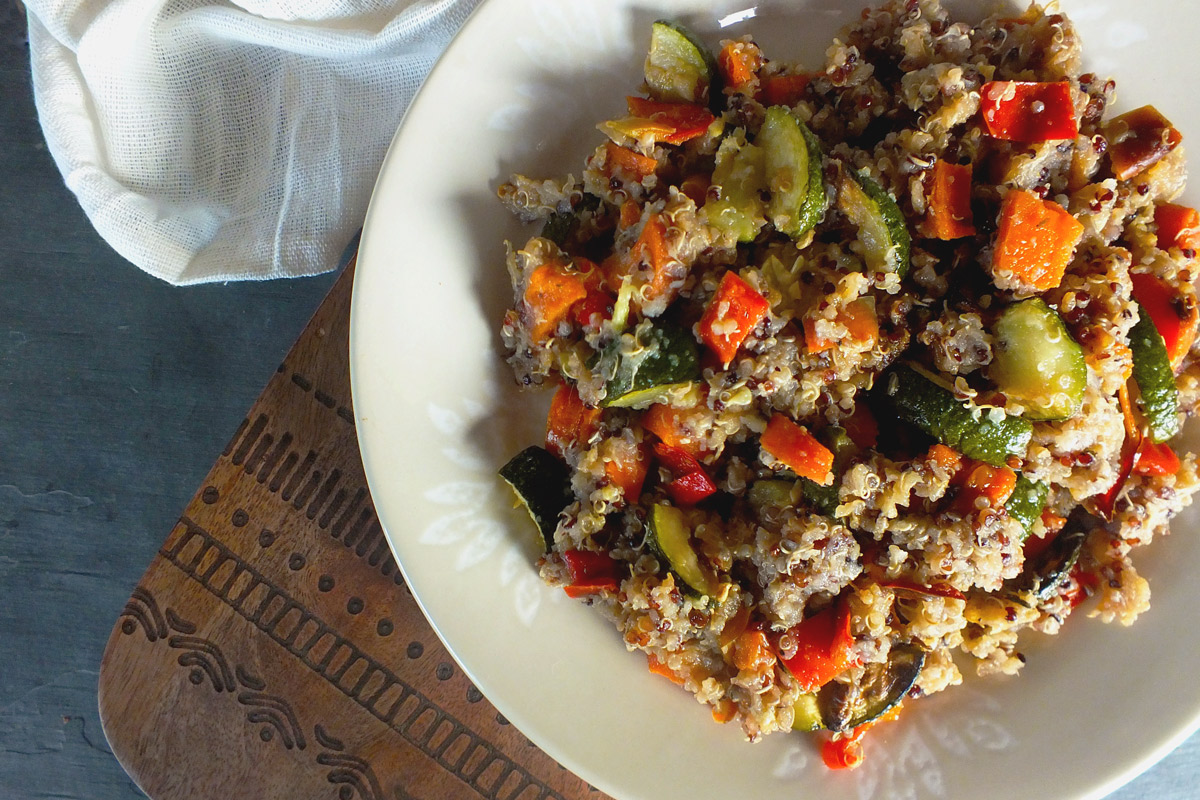 Tri-Color Quinoa with Roasted Vegetables
Step up your side-dish game with this protein-packed recipe for Tri-Color Quinoa with Roasted Vegetables. 
Quinoa is what's known as a "pseudo-cereal"; technically, it isn't a cereal grain, but rather it is a seed that is prepared and eaten in the same way you would a grain. 
In fact, quinoa is much higher in fiber than most grains. Plus, it's naturally gluten free, which makes it an excellent alternative for those with celiac disease or gluten sensitivities. 
But what really makes quinoa a "superfood" is that it is one of a handful of plant foods that contain all nine essential amino acids. 
Why is this important? Protein is made out of amino acids – some (called non-essential) our bodies make naturally, while others (called essential) we need to get from our diet. 
Meat, eggs and fish are considered "complete protein" sources, meaning that they contain all of the essential amino acids. However, plant foods often are deficient in certain essential amino acids, making it difficult for vegetarians or vegans to find a good-quality plant-based protein source. 
Quinoa is that rare exception, as it contains around 8 grams of protein per cup. 
In addition, quinoa is considered a good source of magnesium, iron, potassium, B-vitamins and various other beneficial antioxidants. 
Quinoa comes in three varieties – white, red and black. Combine all three together with a medley of seasonal vegetables and herbs for a truly colorful and flavorful accent to your main meal. 
Tri-Color Quinoa with Roasted Vegetables
Recipe adapted from Recipe Girl
Serves 5
 
Ingredients:
1 red bell pepper, seeded and chopped
1 zucchini, chopped
1 carrot, peeled and chopped
1 shallot, peeled and chopped
1 tablespoon olive oil
1 cup tri-color quinoa
2 cups low-sodium chicken or turkey broth 
For the dressing:
2 tablespoons lemon juice, freshly squeezed
1 1/2 tablespoons red wine vinegar
1 tablespoon extra-virgin olive oil
1/2 teaspoon oregano
Salt and ground black pepper, to taste
 
Directions:
1. Preheat the oven to 425 degrees. Place veggies in a bowl and toss with the olive oil. Place veggies on a baking sheet and roast for 30 minutes, or until softened and slightly charred. Remove from the oven and set aside to cool.
2. Meanwhile, rinse the quinoa well in a fine sieve. In a medium saucepan, bring the chicken or turkey broth to a boil. Add the rinsed quinoa, cover and reduce to a simmer. Cook for 20 minutes, or until the liquid is completely absorbed.
3. In a small dish, whisk together the dressing ingredients.
4. In a medium to large bowl, toss the roasted vegetables with the cooked quinoa and dressing. Serve immediately as warm, or cover and refrigerate and serve cold at a later time. 
Nutritional information per serving:
Calories: 202; Carbohydrates: 27g; Protein: 6.5g; Total Fat: 8g; Saturated Fat: 1g; Cholesterol: 0mg; Dietary Fiber: 3.6g; Sodium: 509mg
Published on: November 17, 2016