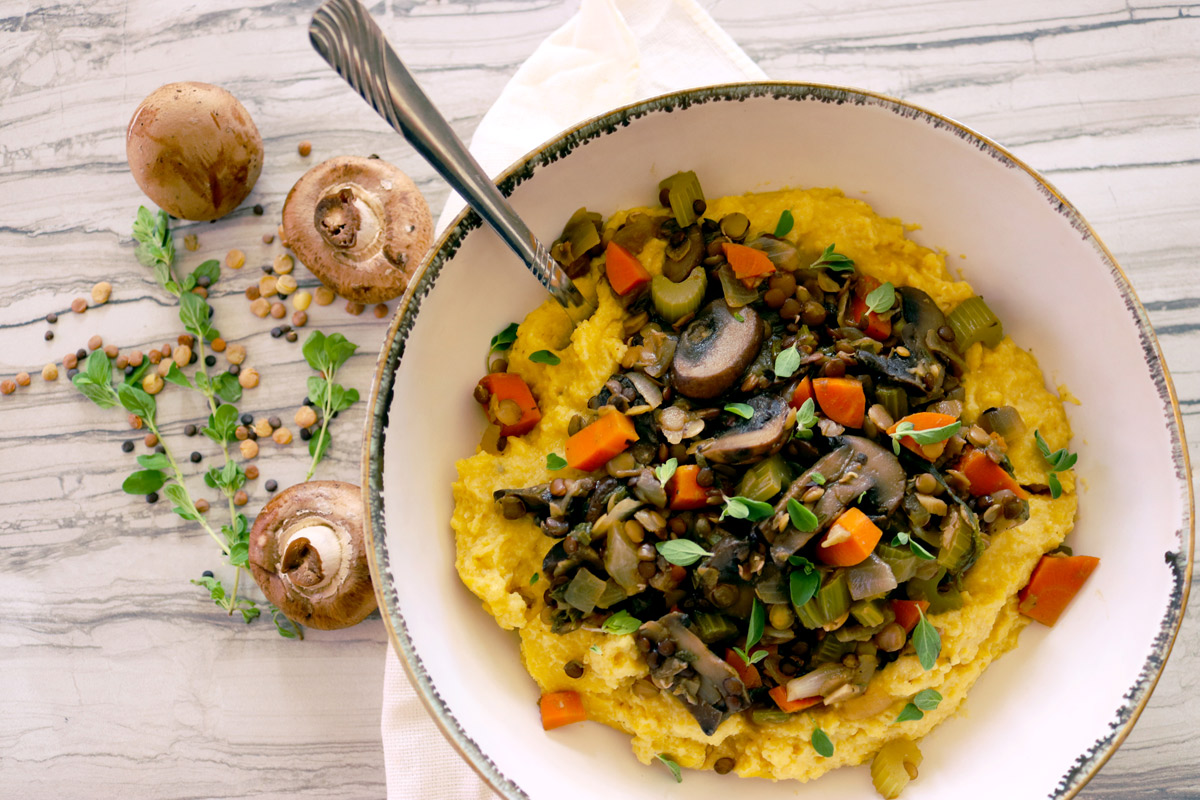 Lentil & Mushroom Stew with Creamy Polenta
Cozy up to fall flavors with this Lentil & Mushroom Stew with Creamy Polenta.
A healthier riff off traditional beef stew and mashed potatoes, this vegetarian recipe relies on lentils for a hearty plant-based source of protein.
If you're worried about missing meat, don't – earthy mushrooms add a savory taste and mouth-feel to the dish so you'll still feel satisfied.
Replacing starchy potatoes is polenta, a creamy porridge made from yellow cornmeal.
Naturally gluten-free, polenta is a good source of both fiber and protein, along with other beneficial vitamins and essential minerals like iron, magnesium and zinc.
When whisked together with nonfat Greek yogurt and a bit of flavorful Parmesan cheese, this complex carb provides a rich base to soak up the juices of the stew.
Lentil & Mushroom Stew with Creamy Polenta
Serves 4

Ingredients:
1 tablespoon olive oil
1 large white onion, chopped
2 cloves garlic, minced
2 cups baby Bella mushrooms, sliced
1 large carrot, chopped
3 celery stalks, chopped
1 cup dried lentils, rinsed and cleaned
3 cups low-sodium vegetable broth
1 tablespoon balsamic vinegar
2 tablespoons coconut aminos
1 teaspoon fresh parsley
1 teaspoon fresh thyme
1 teaspoon fresh oregano
2 tablespoons low-fat canned coconut milk
1/2 tablespoon cornstarch
For the creamy polenta:
4 cups water
1 cup cornmeal
1/4 cup plain nonfat Greek yogurt
1/4 cup Parmesan cheese, grated
Salt and pepper, to taste

Directions:
1. Heat oil in a large skillet or pan over medium heat. Stir in onion and garlic, and cook for 3 minutes.
2. Add mushrooms, carrots, celery, parsley, thyme, oregano, balsamic vinegar and coconut aminos and cook for another 3-5 minutes.
3. Add lentils and vegetable broth. Reduce heat to low-medium and cook until lentils are tender, about 20 minutes.
4. While the stew is cooking, bring water to a boil in a medium sauce pan. Whisk in cornmeal in a slow, steady stream, whisking constantly to prevent lumps. Continue whisking until the polenta begins to thicken, about 1-2 minutes. Add a pinch of salt.
5. Reduce heat to low and continue to cook, stirring occasionally, for about 20 minutes.
6. Remove from heat and add Greek yogurt, Parmesan, salt and pepper. Cover to keep warm. If the polenta is too thick, stir in a tablespoon or two of water to desired consistency.
7. Once lentils are tender, whisk coconut milk and cornstarch together in a small bowl to create a roux. Pour mixture into the stew. Cook for an additional minute or until desired thickness is reached.
8. Season with additional salt and pepper, to taste. Serve warm over creamy polenta and garnish with additional herbs, if desired.
Nutritional information per serving:
Calories: 473; Carbohydrates: 67.6g; Protein: 33.8g; Total Fat: 8.5g; Saturated Fat: 3g; Cholesterol: 12mg; Dietary Fiber: 19.2g; Sodium: 276mg
Published on: November 14, 2018