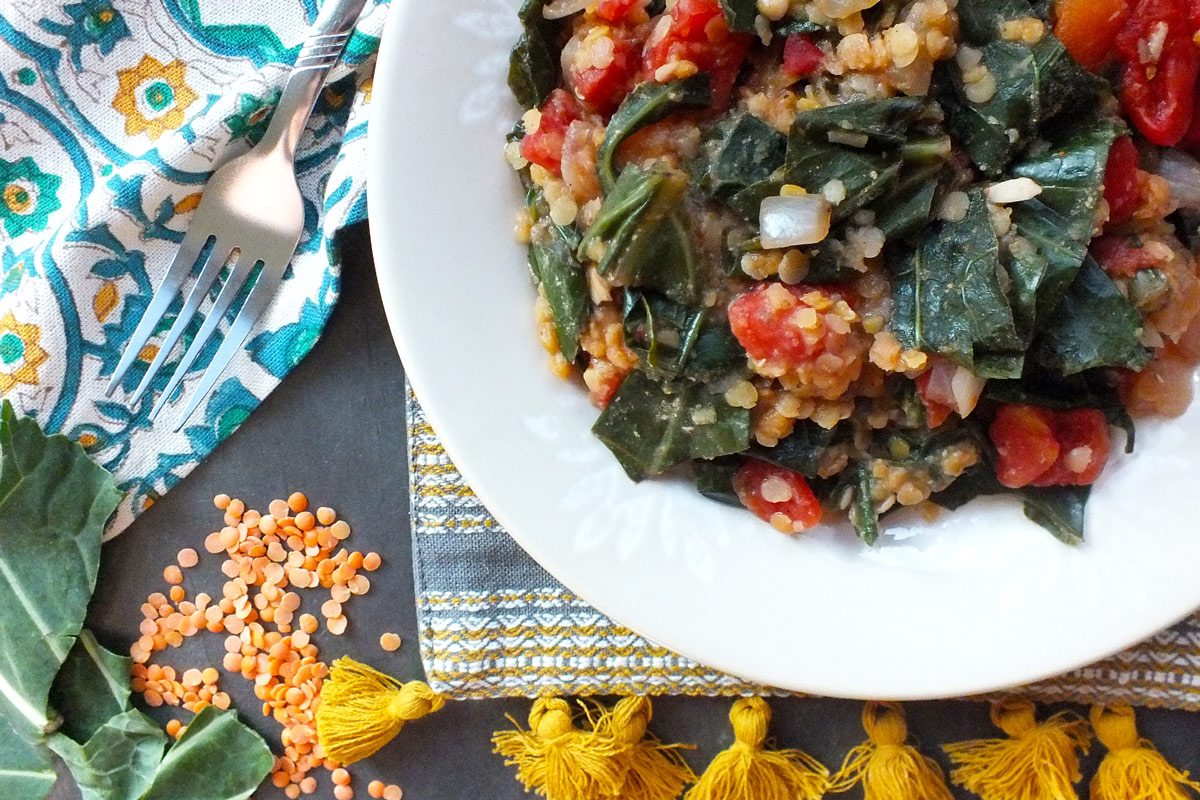 Collard Greens with Lentils, Tomatoes & Spices
If you find yourself in a flavor rut, turn to spices for a wake-up call. 
"Herbs and spices are a quick, easy way to transform a simple dish from ordinary to extraordinary," says Nicole Sievers, a registered dietitian with Wilcox Memorial Hospital. 
"The flavor combinations are endless, and spices add a ton of taste for few calories and zero fat," Sievers adds. 
Literally meaning "warm spice mix," garam masala is an aromatic blend of Indian spices that can include cloves, cinnamon, nutmeg, cumin, cardamom and black pepper, just to name a few.
Its sweet, slightly warm flavor pairs well with everything from vegetables to meats. 
For an easy, exotic dish that's a welcome addition to the dinner table, try this recipe for Collard Greens with Lentils, Tomatoes & Spices. 
The bitter bite traditionally associated with collard greens is tempered by the mixture of spices, which bring out the sweetness of the tomatoes. 
Rounding out the dish are red lentils, which provide a hearty hit of plant-based protein, fiber and rich, meaty texture.
Collard Greens with Lentils, Tomatoes & Spices
Recipe from Whole Foods Market
Serves 4
Ingredients:
1 medium onion, chopped
4 cloves garlic, thinly sliced
2 teaspoons garam masala
1 15-ounce can no-salt-added diced tomatoes
1 bunch collard greens, thick stems removed and leaves sliced into 1-inch-thick ribbons
1 cup red lentils
Directions:
1. Bring 1/2 cup water to a simmer in a large, deep skillet over medium-high heat. Add onion and garlic and cook for 5 minutes or until onion is translucent.
2. Stir in garam masala and cook 1 minute. Add tomatoes, with juices plus 1 cup water, and bring to a boil.
3. Reduce heat to medium-low and stir in collards. Cover and simmer 20 minutes.
4. In a medium pot, combine lentils and 2 cups water. Bring to a boil; reduce heat to a simmer and cook about 8 minutes or until lentils are tender.
5. Stir lentils into skillet with collards and tomatoes. Serve while still warm.
Nutritional information per serving:
Calories: 210; Carbohydrates: 37g; Protein: 15g; Total Fat: 0g; Cholesterol: 0mg; Dietary Fiber: 7g; Sodium: 130mg
Published on: April 26, 2016