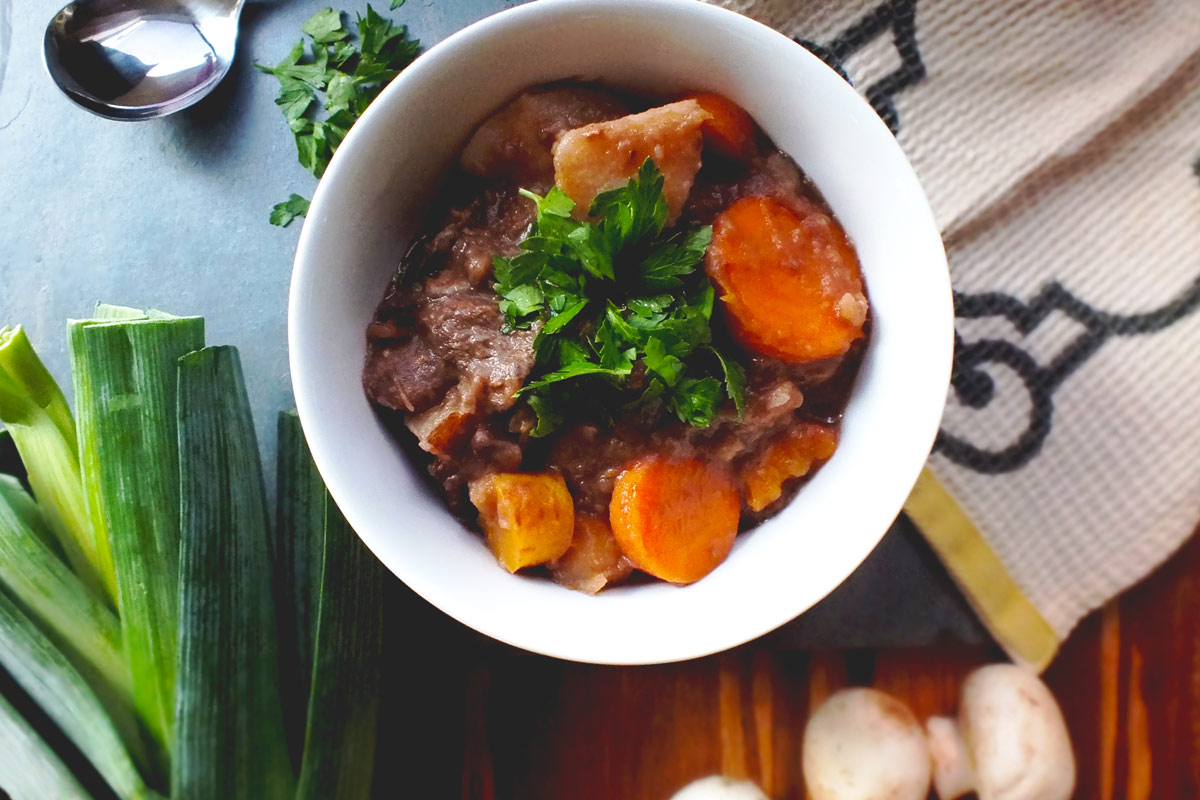 Yabba Dabba Stew
Sometimes, there's nothing like a bowl of slow-cooked stew to satisfy a dinosaur-sized appetite.
Though many traditional stews contain meat as the main ingredient, this one-pot meal is the perfect way to use up extra vegetables. Just chop, cover and cook! 
Using a low-sodium broth and lots of fragrant herbs – think garlic, cloves, parsley and bay leaves – adds flavor and richness to the dish, while top sirloin steak supplies a mega dose of protein guaranteed to make your hunger extinct. 
This recipe calls for top sirloin, one of the leaner cuts of steak that is high in protein, iron and vitamin B-12, which keeps your immune system and red blood cells healthy. It can be tough, but when cooked over a low, slow heat, it becomes super tender and soaks up the juices from the broth and vegetables. 
Set your stove on simmer this weekend and whip up a batch of stew to tide you over through the workweek. Your stomach will roar with thanks. 
Yabba Dabba Stew
Recipe from "Looneyspoons" by Janet and Greta Podleski
Serves 6
 
Ingredients:
1 1/2 pounds boneless top sirloin steak, cut into 1-inch cubes
2 cups sliced leeks
2 cloves garlic, minced
2 1/2 cups low-sodium, reduced-fat beef broth
1 whole clove
1 bay leaf
3 cups carrots, chopped
3 cups mushrooms, sliced
3 cups potatoes, peeled and cubed
1 teaspoon ground thyme
1/3 cup tomato-based chili sauce
1 cup light beer
2 tablespoons cornstarch
1/4 cup fresh parsley, chopped
1/2 teaspoon black pepper
 
Directions:
1. Spray a large saucepan with non-stick spray. Add beef cubes and cook over medium-high heat until no longer pink, about 10 minutes.
2. Add leeks and garlic. Cook and stir for 5 minutes.
3. Stir in 1/2 cup of the beef broth. Reduce heat to medium and cook, uncovered, until liquid has evaporated, about 15 minutes. Stir occasionally.
4. Stir in remaining beef broth, clove and bay leaf. Bring to boil. Reduce heat to medium-low. Cover and simmer for 40 minutes (stir every once in a while to prevent sticking).
5. Add carrots, mushrooms, potatoes and thyme. Stir well. Cover and simmer another 40 minutes, until vegetables and meat are tender.
6. Stir in chili sauce. Combine beer and cornstarch in small bowl. Add to stew. Cook and stir until sauce pan thickens, 1-2 minutes.
7. Stir in parsley and pepper. Remove bay leaf and serve immediately. 
Nutritional information per serving:
Calories: 368; Carbohydrates: 39.8g; Protein: 29g; Total Fat: 10g; Cholesterol: 68mg; Sodium: 328mg
Published on: November 12, 2015