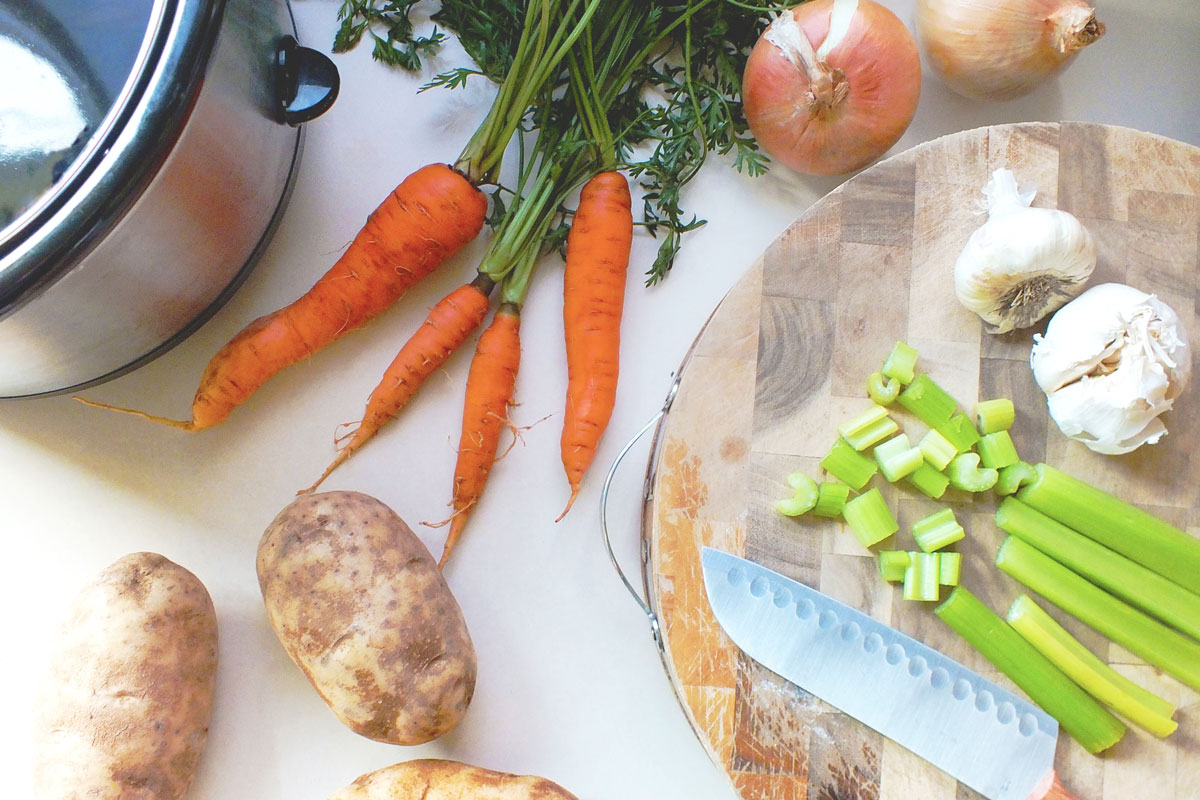 Slow Cooker Beef Stew
It's easy to turn to fast-food fare during the hectic workweek, but all that grease and salt can leave you feeling sluggish the next day. However, preparing a home-cooked meal when you're already strapped for time can seem near impossible. 
That's where a slow cooker comes in. 
"The benefits of one-pot meals is the convenience and little preparation," says Lauren Yasui, a clinical dietitian with Kapiolani Medical Center for Women & Children. 
"If you have time the night before, you can prepare everything and put it in the slow cooker and just turn it on before you leave for work. When you come home, the meal is already prepared!" Yasui says. 
Here, Yasui shares her recipe for Slow Cooker Beef Stew for busy moms and dads on the go. 
"This stew is a better alternative than picking up fast food because it saves money and will likely be healthier than fast food," Yasui says. 
Pack in more veggies by serving this stew over a bed of kale, or add other root vegetables like parsnips, beets and rutabaga for a seasonal and tasty twist. 
As this recipe makes a large number of servings, consider freezing the leftovers to use as a quick dinner or lunch later in the week. Just heat and serve! 
Slow Cooker Beef Stew
Serves 15
Ingredients:
4 pounds chuck roast, cut into 1/2-inch cubes
1/2 cup vegetable oil
All-purpose flour
5 cloves garlic, minced
2 medium onions, chopped
5 cups low-sodium beef broth
2 cups low-sodium chicken broth
1 1/2 small cans of tomato paste 
1 packet beef stew seasoning
1/2 cup baby carrots
1/2 cup celery, chopped
3 potatoes, diced
Directions:
1. Coat a medium-size skillet with oil and heat over medium heat.
2. Dust meat with a light coat of flour. Add meat to skillet and brown with garlic and one of the onions.
3. Pour broths into a slow cooker. Mix in beef stew seasoning and tomato paste.
4. Add meat once browned.
5. Cook on low for 8 hours, adding the vegetables in at the last 3 hours.
6. Add salt and pepper to taste. 
Nutritional information per serving:
Calories: 510; Carbohydrates: 14g; Protein: 35g; Total Fat: 33g; Sodium: 475mg
Published on: November 4, 2015