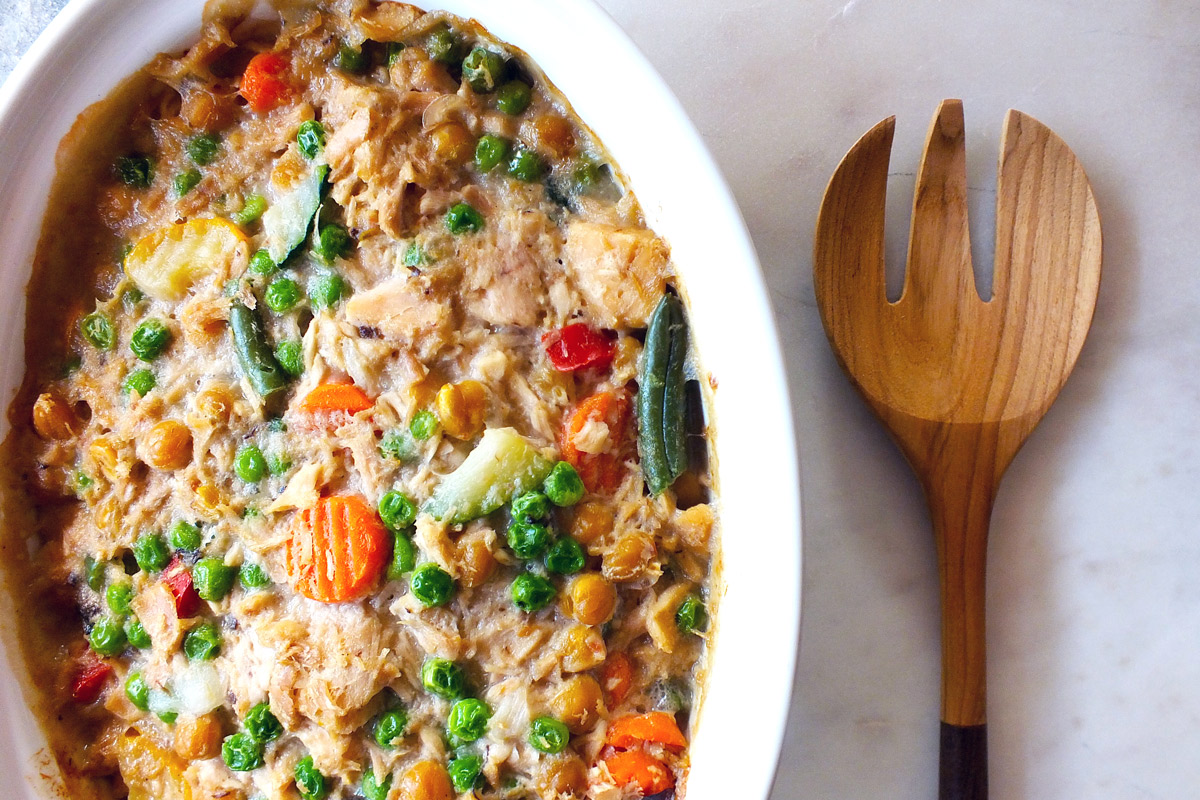 Joseph's Healthier Tuna Casserole
Aiea resident Joseph Blunt crafted this healthier alternative to a comfort food classic after undergoing bariatric surgery in 2016.
"I now have a new relationship with food," the 35-year-old says.
In his version of Healthier Tuna Casserole, Blunt replaces noodles with protein-rich chickpeas, black beans or any other legume he has on hand. He also ups the nutritional ante by adding in a mix of veggies.
"This recipe is nutritionally superior to the traditional tuna casserole," says Lianne Metcalf, a registered dietitian with the Hawaii Pacific Health 360º Weight Management Center at Pali Momi Medical Center.
"Chickpeas, which replace the usual refined white macaroni noodles, are an excellent source of fiber and protein, which will help keep you full longer and prevent dramatic increases in your blood sugar," Metcalf explains. "This recipe is also lower in total fat than the traditional tuna casserole, which helps to keep the calories low. This would be a great recipe alternative for anyone trying to manage their weight or their blood sugars."
Feeling inspired? Try out this easy-peasy one-dish meal for yourself, then click here to read more about Blunt's transformation.
Joseph's Healthier Tuna Casserole
Serves 6
 
Ingredients:
3 cans tuna, packed in water
1 can low-sodium cream of celery soup (or 98% fat-free)
2 cups mixed vegetables of choice, chopped (peas, carrots, broccoli, cauliflower, zucchini, etc.)
2 cups chickpeas (can also substitute black beans, cooked red lentils or other legume of choice)
 
Directions:
1. Preheat oven to 350 degrees.
2. In a large bowl, combine tuna and soup. Mix until combined.
3. Add vegetables and chickpeas. Mix well.
4. Pour tuna mixture into a casserole dish and bake in oven for 35-45 minutes until bubbling. Remove and let cool before serving.
Nutritional information per serving:
Calories: 164; Carbohydrates: 26g; Protein: 10g; Total Fat: 3g; Saturated Fat: 1.3g; Cholesterol: 9mg; Dietary Fiber: 7g; Sodium: 352mg
Published on: May 9, 2017