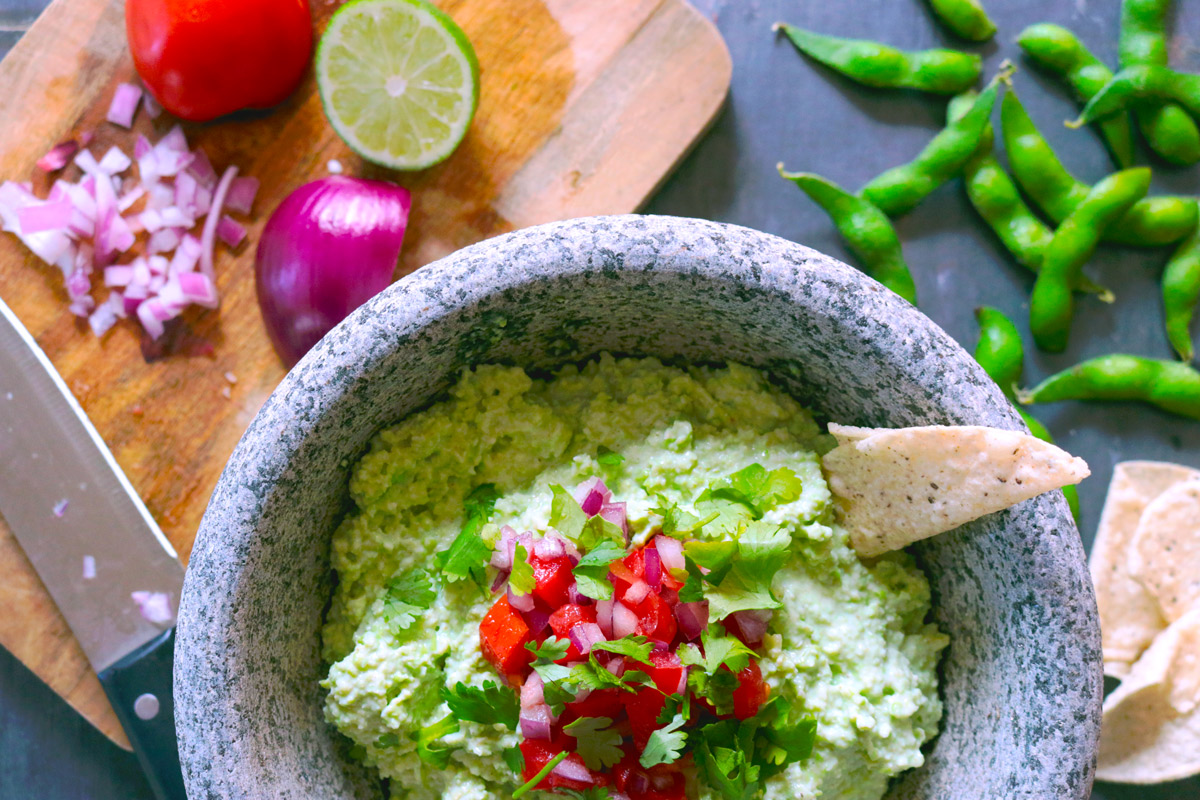 Edamole
Avocados are nutrient-dense powerhouses loaded with potassium, good-for-you fats, fiber and vitamins C, E and K, just to name a few. 
However, for some cardiac patients, even the monounsaturated fat found in avocados can be too much for their overall daily intake. 
To provide its participants with the same great taste and richness of guacamole at a fraction of the fat, the Ornish Lifestyle Medicine Program created this recipe for Edamole. 
"In this recipe, we use edamame in place of avocado. This helps lower the total fat content of the recipe, which is important for our cardiac participants," explains Maria Tointon, a registered dietitian with the Ornish program at Straub Medical Center. 
Edamame – green soybeans – is a good source of calcium, iron, potassium, fiber and vitamin K. It also contains a fair amount of plant-based protein (11 grams per half cup!) as well as plant compounds that may help reduce the risk of heart disease and improve cholesterol. 
"Edamame is packed with nutrition. It is rich in plant-based protein, potassium, calcium, iron, essential omega 3 fatty acids and beneficial plant compounds called isoflavones," Tointon says. "This recipe delivers all the fun without the added calories and fat. It also lasts a lot longer in the refrigerator than traditional guacamole."
Dress up veggies with this festive dip, or use it as a spread on a sandwich in place of high-calorie, high-fat mayo.
It's also great as a topper for these Ornish-approved Grilled Portobello Mushroom Burger and Tex-Mex Tortilla Pie.
Edamole
Serves 6-8

Ingredients:
2 cups frozen edamame, thawed
3/4 cup silken tofu
1-2 cloves garlic, freshly pressed
1/2 teaspoon cumin, ground
2 tablespoons lime juice, freshly squeezed
1/2 teaspoon salt, to taste

Directions:
1. Place all ingredients in a food processor and blend to desired texture, from chunky to very smooth, based on your preference.
2. Remove from the food processor and pour into a bowl.
3. Top with diced tomato, red onion, cilantro and a squirt of fresh lime juice, and serve with extra edamame or whole-wheat chips of choice.
Nutritional information per serving:
Calories: 152; Carbohydrates: 10.3g; Protein: 14.7g; Total Fat: 6.7g; Cholesterol: 0mg; Dietary Fiber: 4g; Sodium: 217mg
Published on: February 2, 2023