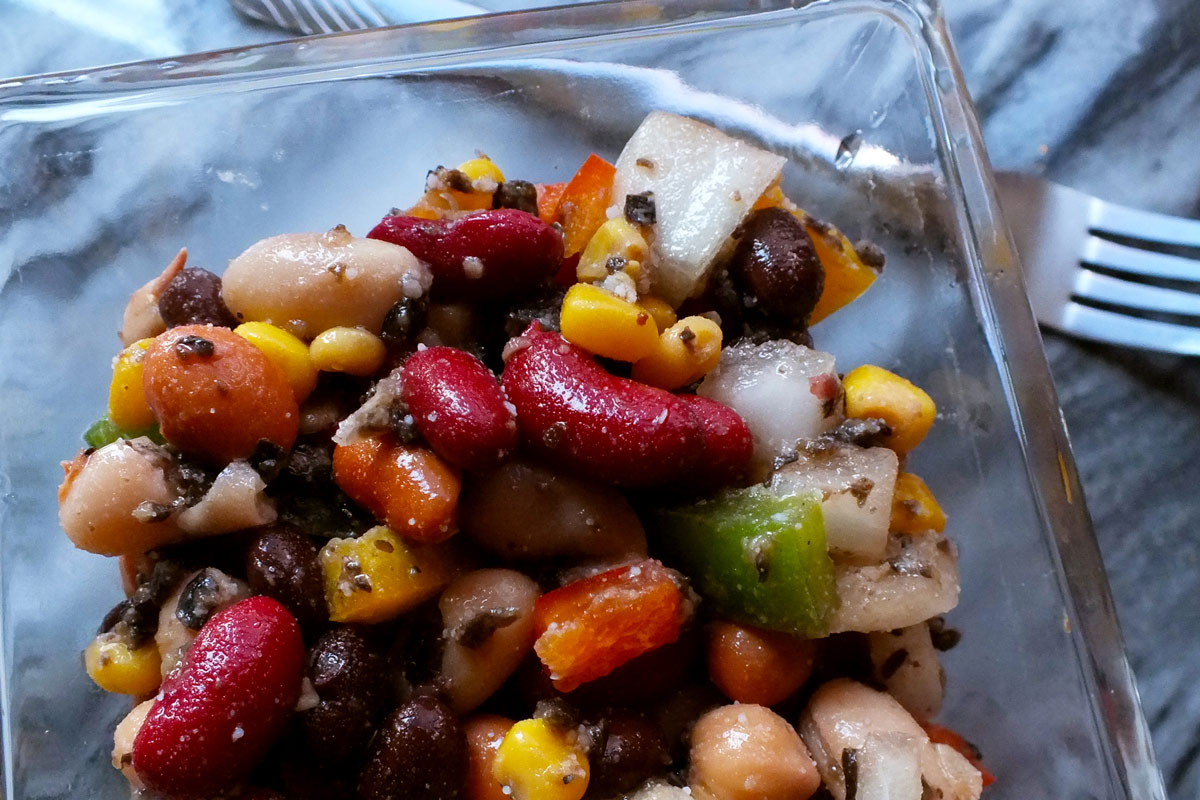 Pali Momi's Bean Salad Dip
Beans, beans, the musical fruit. The more you eat, the more you … 
Don't let this high-fiber food's musical qualities dissuade you from incorporating more beans into your diet. 
In fact, fiber is one of the reasons beans are being hailed this year as the food to eat more of. 
Why? Because beans, along with lentils, chickpeas and split peas, belong to the pulse family. 
"Pulses are an excellent low-fat source of vegetable-based protein and are an easy, cheap way to add more protein into your diet," says Miriam Tcheng, registered dietitian and director of Food and Nutritional Services at Pali Momi Medical Center. 
Here, Tcheng shares Pali Momi's Bean Salad Dip, an original recipe that calls for five different types of beans, along with corn, olives and bell peppers. 
"This colorful bean salad dip is a quick, refreshing side dish that can be enjoyed on its own or as a dip for pita chips or whole-wheat crackers," Tcheng says. "It would even be great served alongside grilled fish or chicken." 
Pali Momi's Bean Salad Dip
Courtesy of Amelia White
Serves 26
Ingredients:
1 15-ounce can white beans*
1 15-ounce can kidney beans*
1 15-ounce can garbanzo beans*
1 15-ounce can black beans*
1 15-ounce can pinto beans*
1 15-ounce can corn
1 3-ounce can olives, diced
1 green bell pepper, diced
1 red bell pepper, diced
1 yellow bell pepper, diced
1/2 red onion, diced
1/3 cup extra virgin olive oil
1/3 cup white vinegar
1/2 cup white sugar
2 teaspoons garlic powder
1 teaspoon black pepper 
*low- or reduced-sodium
Directions:
1. Rinse and drain all canned beans. Drain corn and olives. Mince canned olives
2. In a medium bowl, dissolve sugar in white vinegar. Add oil, garlic powder and pepper. Whisk well.
3. Combine all ingredients in a large bowl and mix well. Refrigerate before serving to let flavors meld. 
Nutritional information per 1/2-cup serving:
Calories: 139; Carbohydrates: 22.5g; Protein: 5.2g; Total Fat: 4g; Dietary Fiber: 4.3g; Sodium: 182.3mg
Published on: April 26, 2016