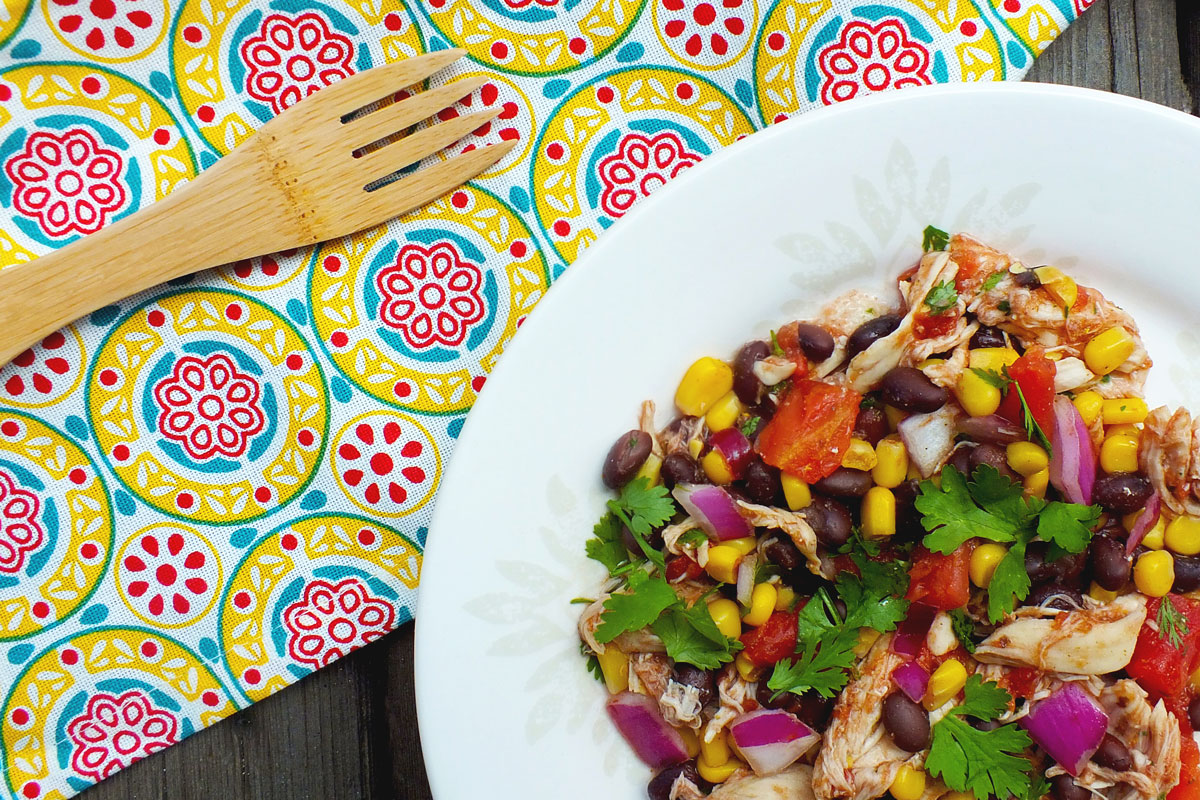 Cool Chick Salad
Wow guests at your next summer cookout with this Cool Chick Salad. 
What makes it so ah-mazing? For starters, this salad is packed with lean, high-quality protein – one 1/2-cup serving is loaded with a whopping 27 grams! 
In addition to protein, meat, poultry, fish, beans, eggs, nuts and seeds have other great nutrients like B vitamins, vitamin E, iron and zinc. 
However, not all protein is created equal. 
Highly marbled, fatty cuts of meat and processed meats are high in saturated fat. Too much saturated fat in your diet can raise your "bad" cholesterol, or LDL, which increases your risk of heart disease. 
Aim to get your protein from lean sources like chicken breast or fish. If you're looking for a vegetarian option, beans are a nice alternative because they're high in protein and can also provide a great source of fiber. 
A colorful assortment of ingredients – think red tomatoes, purples onions, yellow corn and even green cilantro – only adds to this salad's cool factor. 
Different fruits and vegetables contain different types of vitamins, minerals and phytochemicals that work together to ward off diseases and keep you healthy. The more color you have on your plate from vegetables and fruits, the better. 
Cool Chick Salad
Serves 6
 
Ingredients:
For the salad
2 cups chicken breasts, chopped and cooked
1 cup canned low-sodium black beans, drained and rinsed
1 1/2 cups tomato, diced
1 cup whole kernel corn
1/2 cup red onion, diced
1/4 cup fresh cilantro, chopped 
For the dressing
2 tablespoons lime juice
1 tablespoon olive oil
1/2 teaspoon ground cumin
1/2 teaspoon sugar (Splenda can be substituted)
1/4 teaspoon salt (can be omitted)
1/4 teaspoon black pepper
 
Directions:
1. Combine the chicken, black beans, tomatoes, corn, red onion and cilantro in a large bowl and mix well.
2. In a small bowl, whisk together dressing ingredients. Pour over chicken and bean mixture and stir until dressing is evenly distributed.
3. Cover and refrigerate until ready to serve. 
Nutritional information for 1/2-cup serving:
Calories: 220; Carbohydrates: 15g; Protein: 27g; Total Fat: 5g; Saturated Fat: 5g; Cholesterol: 65mg; Dietary Fiber: 4g; Sodium: 310mg
Published on: May 24, 2016