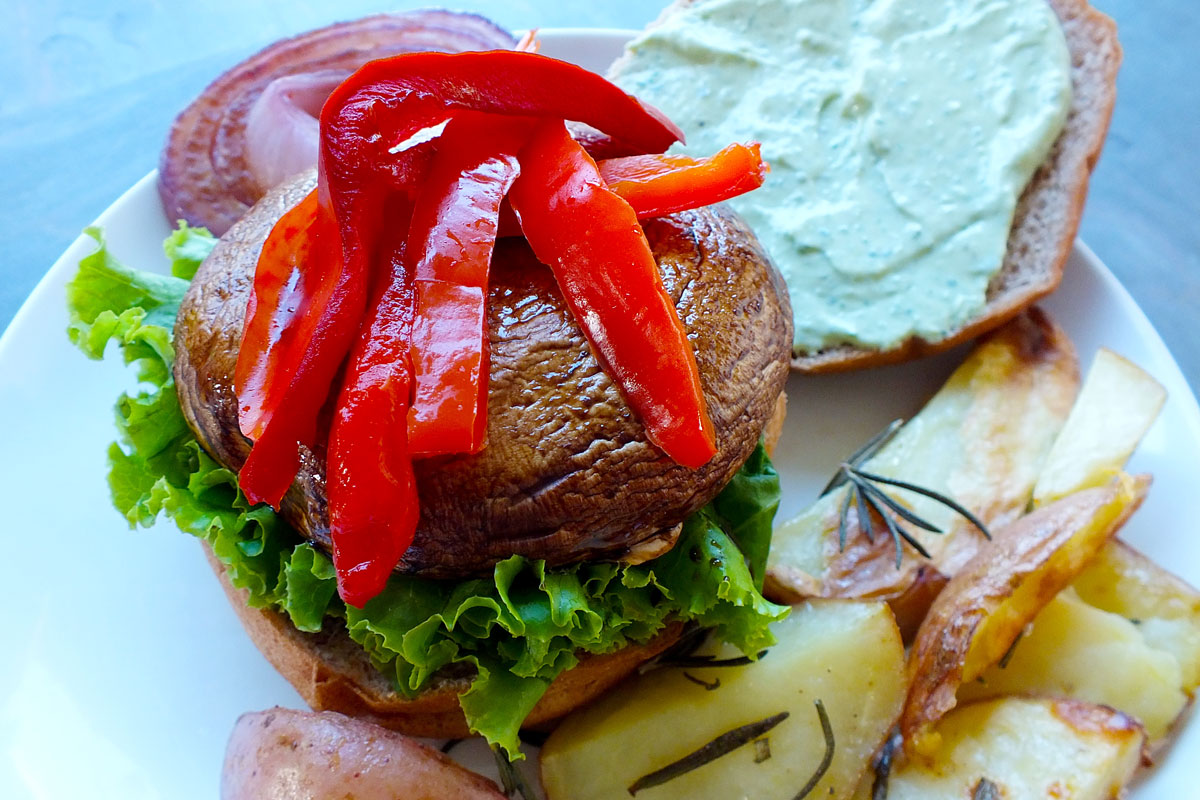 Grilled Portobello Mushroom Burgers
Summer's here, and it's time to fire up the grill! 
Rather than your standard barbecue fare, why not try something different that's also healthier? 
These satisfying Grilled Portobello Mushroom Burgers from the Dr. Ornish's Program for Reversing Heart Disease™ (Ornish Lifestyle Program) are the perfect way to incorporate more veggies into your diet. 
"The texture of Portobello mushrooms is very similar to meat, making them a great low-calorie alternative to hamburgers or other grilled meat," says Michelle Tom, a registered dietitian with the Ornish Reversal Program at Straub Medical Center. 
"Mushrooms provide a number of essential nutrients, including fiber, potassium, selenium and B-complex vitamins," Tom adds. 
Top your burgers with grilled onions, peppers and a lively, vibrant green Basil Mayonnaise. 
"Made from silken tofu, this mayonnaise makes a great sandwich spread or vegetable dip," Tom says. "Silken tofu is a healthy alternative to make dishes creamy without the excessive amount of added fat." 
Enjoy these burgers hot off the grill with a side of colorful coleslaw, a fresh and vibrant salad, or a pile of Ornish-approved Rosemary Roasted Steak Fries. 
Grilled Portobello Mushroom Burgers
Serves 4
 
Ingredients: 
For the marinade:
1/4 cup balsamic vinegar
1 tablespoon plus 1 teaspoon Bragg Liquid Aminos
1 tablespoon water
1 teaspoon fresh rosemary
1/2 teaspoon garlic, finely chopped or minced
1/8 teaspoon freshly ground pepper 
For the burgers:
4 medium Portobello mushrooms, stems removed (approximately 4 ounces each, 4 inches in diameter)
4 1/2-inch slices red onion
2 red peppers, quartered with stems, ribs and seeds removed
4 tablespoons Basil Mayonnaise (see directions below)
4 whole-wheat or gluten-free buns, sliced
4 lettuce leaves 
 
Directions:
1. Prepare the grill at medium-high heat or preheat the oven to 400 degrees. Line a baking sheet with parchment paper.
2. To make the marinade, in a small bowl, whisk together balsamic vinegar, liquid aminos, water, rosemary, garlic and pepper.
3. Wipe the mushroom caps with a damp paper towel. Place mushrooms, red onion slices and bell peppers on prepared baking sheet. Brush the marinade on both sides of the vegetables.
4. If using the grill, grill the mushrooms, onions and peppers, until tender and lightly browned, about 10-15 minutes. Turn and baste with marinade after 5-7 minutes. Remove the vegetables from the grill and baste again with remaining marinade.
5. Alternatively, if using an oven, bake the vegetables for 10 minutes, baste, and continue baking for another 10 minutes, until tender and golden brown. Remove from the oven and baste again with remaining marinade.
6. Slice red peppers into strips. Separate onion slices into rings.
7. Toast buns until golden brown. To assemble, place the bottom half of each bun on a plate. Spread 1 tablespoon of Basil Mayonnaise over the bun. Save remaining mayonnaise for another use.
8. Top with a mushroom, red pepper slices, onion rings and a lettuce leaf. Cover with the top of the bun. Serve immediately. 
Nutritional information per serving (1 burger):
Calories: 270; Carbohydrates: 51g; Protein: 14g; Total Fat: 4g; Cholesterol: 0mg; Dietary Fiber: 13g; Sodium: 470g
For Basil Mayonnaise:
12 ounces firm silken tofu, patted dry
2 tablespoons fresh lemon juice
1 1/2 teaspoons pure maple syrup
1 teaspoon Dijon mustard
1 teaspoon onion powder
3/4 teaspoon garlic powder
1/4 teaspoon fine sea salt
1/8 teaspoon freshly ground pepper
3/4 cup fresh basil leaves, firmly packed
 
Directions:
1. Place tofu, lemon juice, onion powder, mustard, maple syrup, garlic powder, salt and pepper in a blender or food processor fitted with a metal blade. Blend on medium speed until mixture is creamy.
2. Add basil and blend or process again until basil is completely pureed and mixture is bright green. If mayonnaise seems too thick, add 2 to 3 tablespoons water. Cover and refrigerate until needed. 
Nutritional information per serving (1 tablespoon):
Calories: 10; Carbohydrates: 1g; Protein: 1g; Total Fat: 0g; Cholesterol: 0mg; Dietary Fiber: 0g; Sodium: 30g
Published on: July 1, 2016