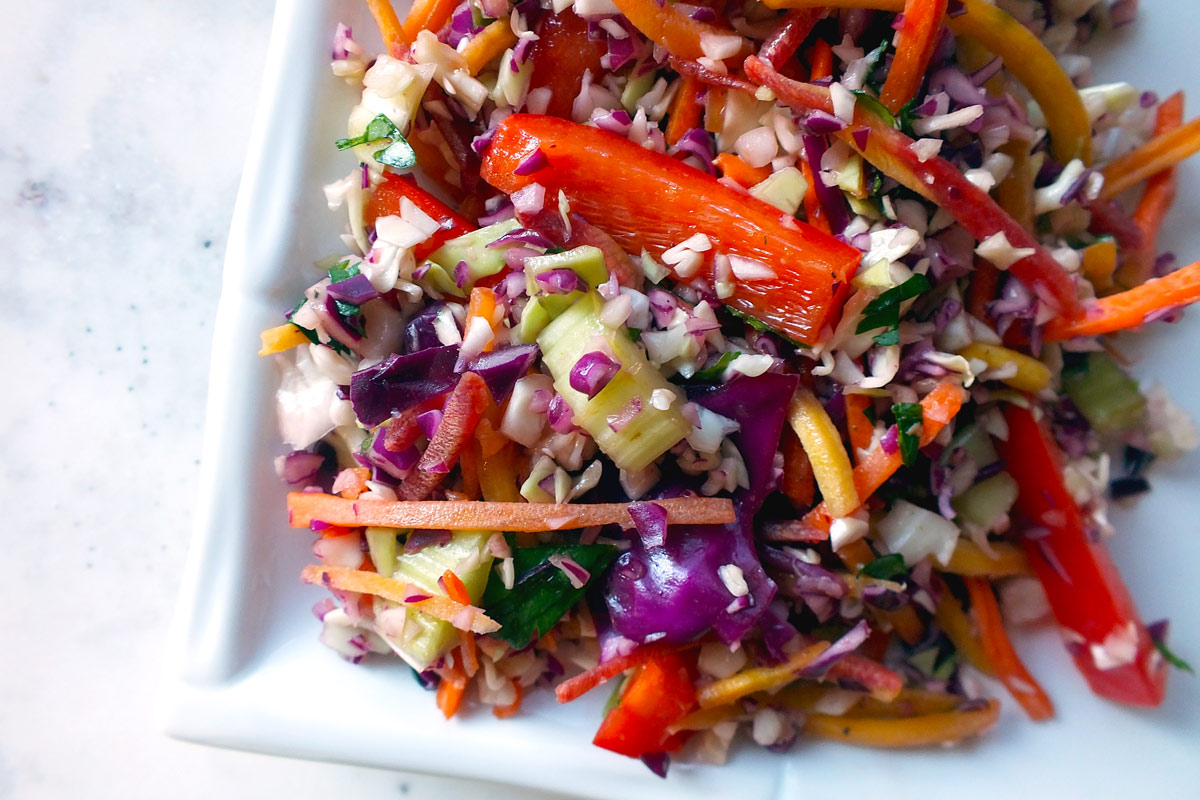 Rainbow Coleslaw
A healthy diet is one rich in vibrant color, and there's no better source to color your plate with than fruits and vegetables. 
"Try to incorporate lots of different-colored fruits and vegetables, because they all contain different phytochemicals and antioxidants that help in the prevention of certain diseases and cancers," says Michelle Stanley, a registered dietitian at Pali Momi Medical Center. 
Think about eating all the colors of the rainbow, Stanley suggests: 
Red – tomatoes, strawberries, beets, raspberries.


Orange – oranges, papaya, peaches, persimmons.


Yellow – bell peppers, lemons, corn.


Green – dark green leafy vegetables, celery, zucchini.


Blue or Purple – blueberries, blue potatoes, grapes, prunes, blackberries.


To ensure you get your daily serving of ROYGBIV, Stanley shares this recipe for Rainbow Coleslaw from the Heart and Stroke Foundation. 
Low in fat but high in fiber, cabbage is a powerful vegetable that, unfortunately, often is overlooked in favor of trendy greens like kale and collards. 
The reasons why you should include more cabbage into your diet are vast:
It's full of vitamin K and anthocyanins, which help feed your brain and help prevent Alzheimer's disease and dementia.


A high sulfur content means this cruciferous veggie is a natural beautifier – it helps dry up oily and acne-prone skin; contributes to healthy hair, nails and skin; and detoxifies the body.


Potassium, which cabbage has a lot of, helps open blood vessels to keep blood pressure at a healthy level.


Cabbage is loaded with the chemical sulforaphane, which scientists have determined boosts your levels of cancer-fighting enzymes.
 
"Cabbage is such a versatile vegetable – it's easily included in salad to give it an extra crunch, and it holds up well in soups and stir-fry," says Stanley. 
Use both green and red cabbage to increase both the color quota and the nutritional content of this recipe – betalains, the natural red pigments in red cabbage, have powerful anti-inflammatory properties similar to beets and are said to lower blood sugar levels and boost insulin production. 
"What I also love about this recipe is it won't get as soggy as regular coleslaw because it doesn't have the mayo in it," Stanley adds. "Traditional coleslaw tends to be high in fat because of the mayo. Instead, we are able to add a lot of flavor to this with the addition of the cider vinegar and spices." 
Rainbow Coleslaw
Recipe from the Heart and Stroke Foundation
Serves 6
Ingredients:
Half a small cabbage, about 1 pound
2 carrots, shredded
2 stalks celery, finely diced
Half a red bell pepper, thinly sliced
3 tablespoons fresh parsley, chopped
3 tablespoons apple cider vinegar
1 tablespoon canola oil
2 teaspoons packed brown sugar
1 small clove garlic, minced
1/2 teaspoon dry mustard
1/2 teaspoon celery seed
Pinch ground black pepper 
Directions:
1. Thinly slice the cabbage or chop in a food processor to yield 4 cups.
2. Scrape cabbage into a large bowl. Add carrots, celery, red bell pepper and parsley.
3. In small bowl, whisk together vinegar, oil, sugar, garlic, mustard, celery seed and pepper. Pour over cabbage mixture and toss to coat. 
Nutritional information per 3/4-cup serving:
Calories: 65; Carbohydrates: 10g; Protein: 2g; Total Fat: 3g; Sodium: 45mg; Potassium: 313mg
Published on: July 3, 2015