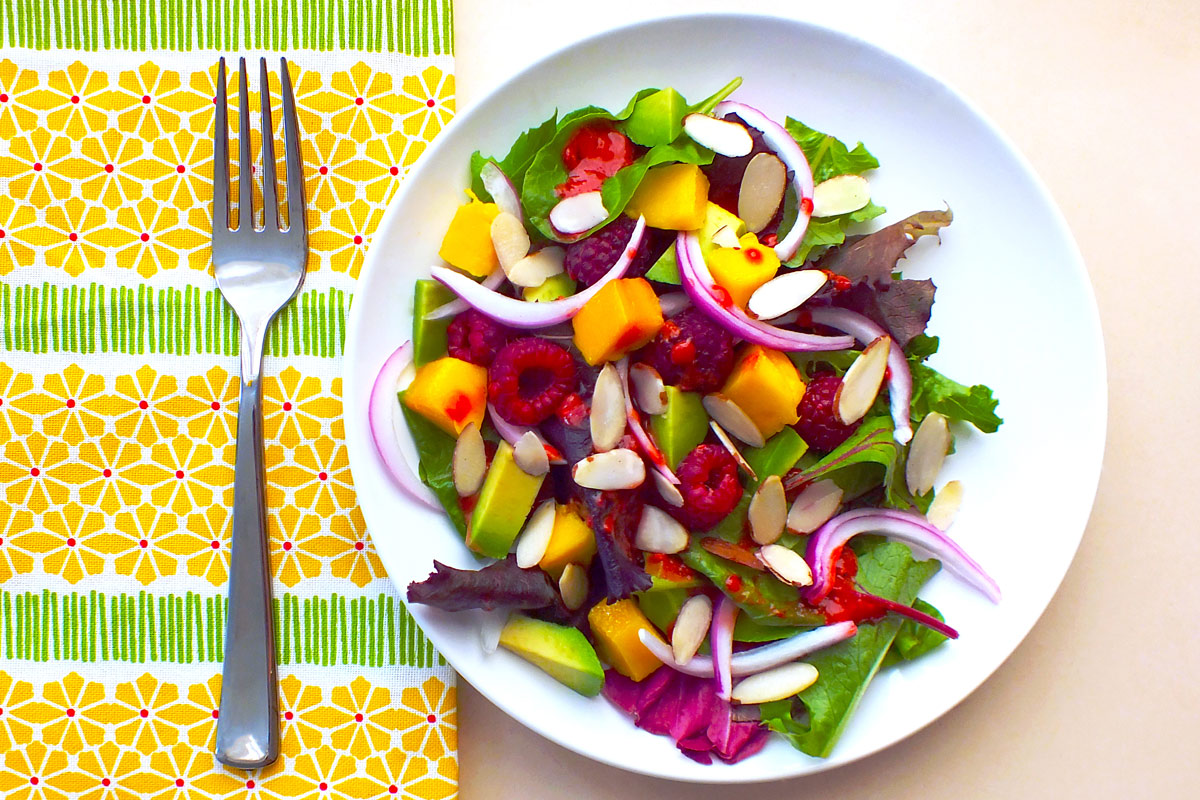 Raspberry, Avocado & Mango Salad
A salad is a no-brainer when it comes to a quick, healthy lunch or dinner.
But did you know that, depending what you put on top of your greens, a salad also can be powerful fuel for your brain? 
It's important to get a rainbow of fruits and vegetables – red, yellow, green, blue, purple and so on – rather than concentrate on a single source of plant power. 
When in a pinch for a brain-boosting meal, turn to this Raspberry, Avocado & Mango Salad from EatingWell. 
Though simple, this recipe incorporates a variety of fruits and vegetables to help fuel our brains. 
Avocados are high in monounsaturated fat, a healthy type of fat that actually helps decrease LDL "bad" cholesterol and increase HDL "good" cholesterol, which can help reduce your risk for a possible stroke. 
Raspberries, or berries in general, are a great source of phytochemicals that act as antioxidants and have anti-inflammatory affects. Some studies are starting to show that berries may help in protecting the brain against signs of aging, like forgetfulness. 
For even more brain health benefits, pair this salad with a side of Mango Barbecue Salmon or Lime & Chicken Soup with Avocado. 
Raspberry, Avocado & Mango Salad
Recipe adapted from EatingWell
Serves 5
Ingredients:
1 1/2 cups fresh raspberries, divided
1/4 cup extra virgin olive oil
1/4 cup red wine vinegar
1 small clove garlic, finely chopped
1/4 teaspoon kosher salt
Pinch of freshly ground pepper
8 cups mixed salad greens
1 ripe mango, diced
1 small ripe avocado, diced
1/2 cup red onion, thinly sliced
1/4 cup toasted chopped hazelnuts or sliced almonds (optional)
Directions:
1. Puree 1/2 cup raspberries, oil, vinegar, garlic, salt and pepper in a blender until combined.
2. Combine greens, mango, avocado and onion in a large bowl. Pour the dressing on top and gently toss to coat.
3. Divide among five salad plates. Top with the remaining raspberries and sprinkle with nuts, if using. 
Nutritional information per 2-cup serving:
Calories: 229; Carbohydrates: 21g; Protein: 3g; Total Fat: 16g; Dietary Fiber: 8g; Sodium: 82mg; Potassium: 613mg
Published on: June 9, 2015