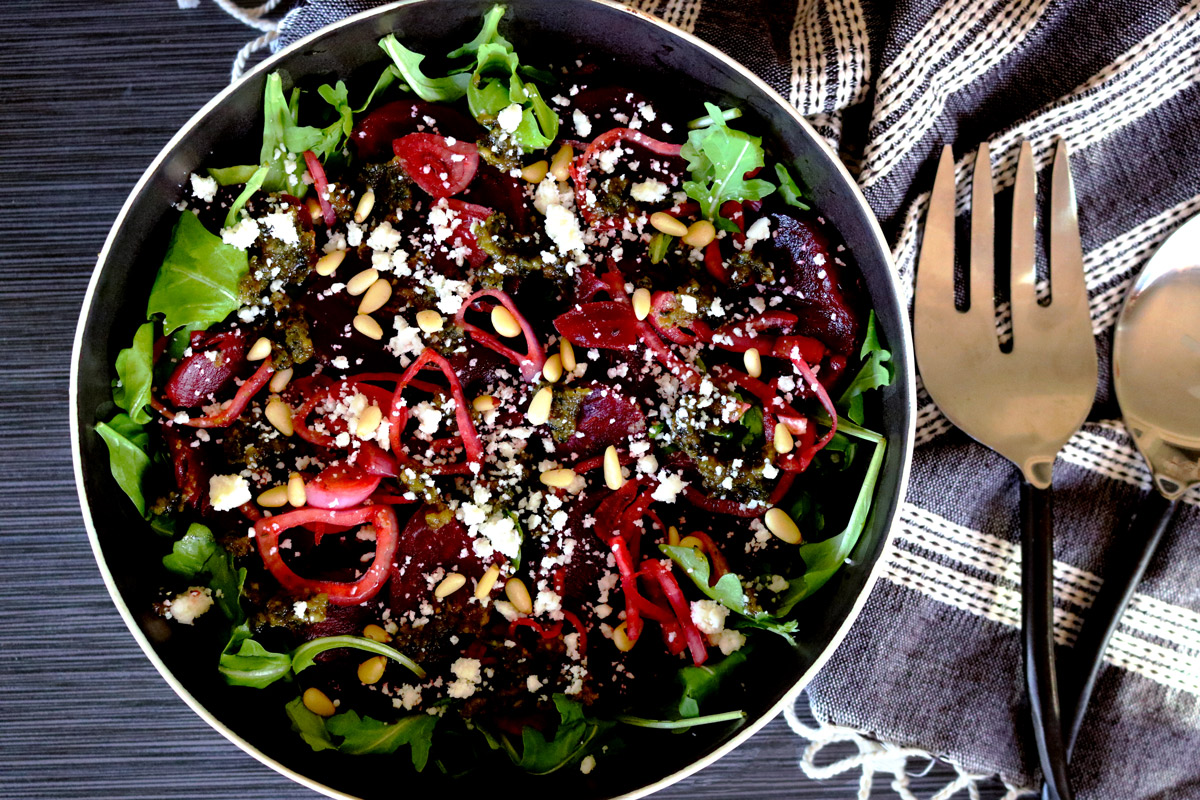 Roasted Beet Salad with Basil-Lemon Pesto
Vibrant red beets pop against a bed of bright-green arugula, making this Roasted Beet Salad with Basil-Lemon Pesto a festively appropriate dish for your next holiday gathering.
Roasting beets brings out their naturally sweet, earthy flavor, which is only enhanced by the balsamic marinade you'll be soaking them in overnight. (You can marinate the beets for an hour if you're short on time, but the real magic happens the longer the beets are allowed to chill out in the fridge.)
Peppery arugula and a fresh citrus pesto provide a tangy bite that prevents this dish from becoming cloyingly sweet.
Creamy crumbles of cheese and a sprinkle of toasted pine nuts round out the flavor profile and add further visual interest to the overall plate.
Roasted Beet Salad with Basil-Lemon Pesto
Serves 6

Ingredients:
2 pounds red beets, scrubbed
2 shallots, thinly sliced
1/2 teaspoon salt, divided
1/8 teaspoon white pepper
1/2 teaspoon Greek seasoning
2 tablespoons balsamic vinegar
1/8 teaspoon black pepper
1/3 cup fresh basil, roughly chopped                      
2 cloves garlic, coarsely chopped
1/2 cup pine nuts, plus 2 tablespoons for garnish
2 tablespoons lemon juice
3 tablespoons avocado oil
4 ounces baby arugula
4 ounces Feta or goat cheese, crumbled

Directions:
1. Heat oven to 375 degrees. Pierce beets and individually wrap each beet in foil. Place on a baking sheet and roast until beets are tender and easily pierced with a fork, about 55 minutes. Unwrap and cool.
2. Peel and cut beets into thin slices. Combine 1/4 teaspoon salt, white pepper, Greek seasoning and balsamic vinegar in a bowl. Toss in beets and shallots. Cover and allow to marinate 8 hours or overnight.
1. Heat oven to 350 degrees. Pour pine nuts on a baking sheet and toast for 10 minutes, until fragrant and slightly brown. Remove from oven and allow to cool completely.
4. In a food processor, puree remaining 1/4 teaspoon salt, black pepper, basil, garlic, 1/2 cup pine nuts, lemon juice and avocado oil.
5. Put the arugula on a serving platter or large bowl and arrange the beets and shallots on top. Sprinkle on cheese and remaining pine nuts, and garnish with pesto.
Nutritional information per serving:
Calories: 198; Carbohydrates: 12.1g; Protein: 6.7g; Total Fat: 15g; Saturated Fat: 3.8g; Cholesterol: 17mg; Dietary Fiber: 2.6g; Sodium: 477mg
Published on: November 6, 2018