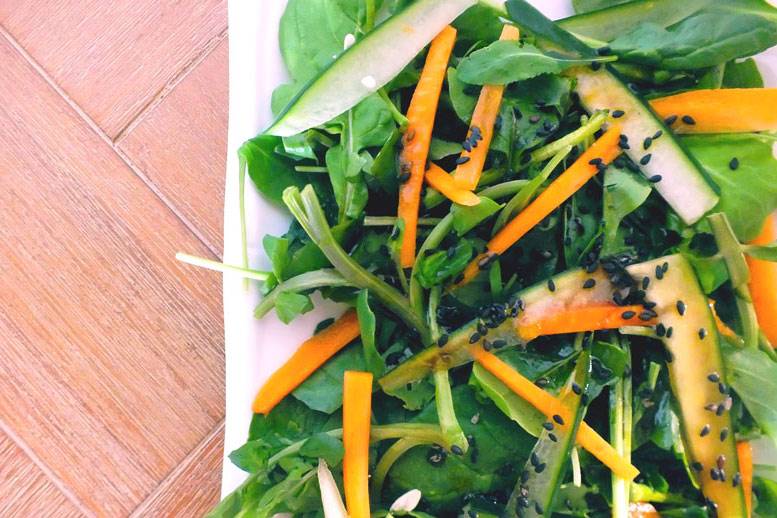 Asian Baby Greens Salad
When it comes to getting in your greens, sometimes it's best to keep things simple. 
This original recipe for Asian Baby Greens Salad is a testament to that. 
Don't let their name fool you – baby greens equal big nutrition and cancer-fighting potential. That's because dark, leafy greens provide an excellent source of vitamin A, folate, fiber and a variety of cancer-protective carotenoids, which are a group of phytochemicals found in fruits and vegetables that are deep-yellow, orange, red and green in color. 
In fact, a recent study published in the American Journal of Clinical Nutrition found that women with higher circulating levels of carotenoids in their bloodstream were at a reduced risk for a certain type of breast cancer called estrogen receptor (ER) negative. 
This is a good reason to change up your usual salad routine. By eating a variety of vegetables and fruits, you'll get more phytochemicals in your diet than by sticking with the same handful of foods. 
By the way, the tangy sesame dressing in this salad pairs well with grilled salmon or chicken to create an elegant dinner.
What could be simpler? 
Asian Baby Greens Salad
Serves 4
Ingredients: 
For the dressing:
3 tablespoons canola oil
2 teaspoons sesame oil
2 tablespoons rice wine vinegar
1 tablespoon organic blue agave syrup
2 teaspoons reduced-sodium soy sauce or Braggs liquid aminos
2 teaspoons fresh ginger, finely minced
1/2 teaspoon sea salt
For the salad:
4 cups baby spinach
2 cups baby arugula
2 cups watercress, chopped
1 large carrot, peeled and julienned (grated carrots work also)
1 Japanese or seedless cucumber, julienned
Toasted black and white sesame seeds
Directions:
1. Prepare the dressing by whisking canola oil, sesame oil, vinegar, agave, soy sauce, ginger and salt in a medium-size bowl. Whisk briskly until the dressing emulsifies and thickens.
2. Place the greens, carrots and cucumber in a large bowl. Mix gently using your hands. Toss the mixture with the dressing.
3. Serve on salad plates and sprinkle with toasted sesame seeds. 
Nutritional information per serving:
Calories: 183; Carbohydrates: 14g; Protein: 7g; Total Fat: 8g; Cholesterol: 0g; Sodium: 448mg
Published on: April 26, 2016