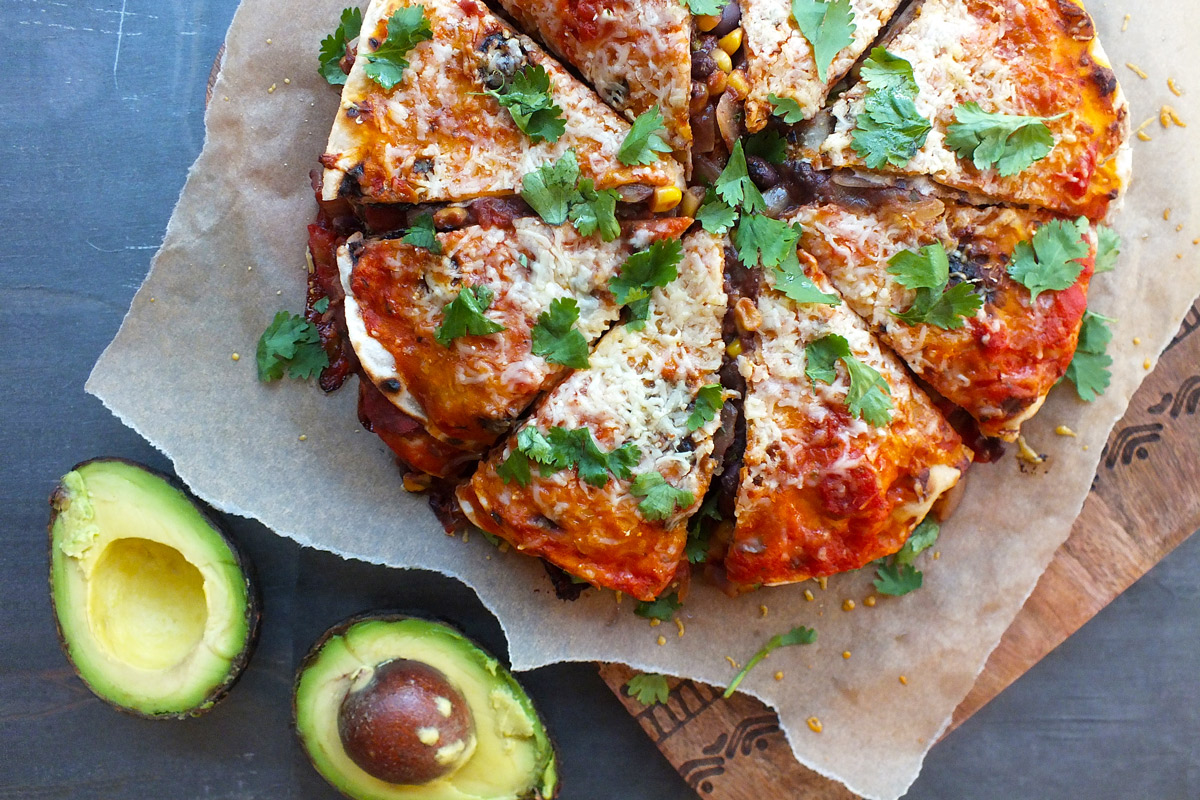 Tex-Mex Tortilla Pie
This Tex-Mex family favorite gets a healthy update from the Ornish Lifestyle Program.
A filling mixture of poblano peppers, chipotle chiles, fire-roasted tomatoes, corn and black beans take the place of traditional ground beef, ensuring this tantalizingly tasty savory pie isn't lacking in flavor.
"Instead of using ground beef in recipes, substitute beans as your protein source. Beans are a great source of protein and don't come with the high fat and cholesterol content of ground beef," says Michelle Tom, a registered dietitian from the Ornish Lifestyle Program at Straub Medical Center.
"Another benefit of this recipe is its fiber content," Tom explains. "With the ingredients ranging from whole-wheat tortillas to vegetables and beans, this recipe is packed with all of the health benefits that come with fiber, including maintaining bowel health and aiding in blood-sugar management."
Enjoy this meal with a giant scoop of fresh pico de gallo or homemade guacamole*.

*Ornish tip: While healthy in moderation, avocadoes can be high in fat and calories. A recommended serving size is 1/3 of a medium avocado or 2 tablespoons guacamole.
Tex-Mex Tortilla Pie
Serves 8
 
Ingredients:
Nonstick cooking spray
2 cups yellow onions, chopped
2 cups fresh poblano peppers, stem and seed removed, finely chopped
1 tablespoon garlic, pressed or minced
1 1/2 teaspoons ground cumin, divided
2 teaspoons fresh oregano, chopped, divided
1/2 cup water
1 (14.5-ounce) can diced fire-roasted tomatoes
1 1/2 cups cooked black beans (or 1 15-ounce can no salt-added black beans, rinsed and drained)
1 cup yellow corn, fresh or frozen (thawed)
1 teaspoon chipotle chiles in adobo sauce, plus more to taste, finely chopped
1/3 cup cilantro, finely chopped, plus more for garnish
1 tablespoon lime juice
5 (10-inch round) whole-wheat tortillas
1 (24-ounce) jar low-fat, low-sodium marinara sauce
1 cup nonfat mozzarella cheese, grated (optional)
 
Directions:
1. Preheat oven to 375 degrees. Line a sheet pan with parchment paper and spray lightly with cooking spray.
2. In a large, 12-inch, heavy-bottomed sauté pan, combine onions, peppers, garlic, 3/4 teaspoon cumin powder, 1 teaspoon oregano and water. Bring to a boil over high heat. Reduce heat to medium and simmer, stirring occasionally, until onions are translucent and water has evaporated, about 10 minutes.
3. Add tomatoes (including juice), black beans, corn and chipotles. Cook, stirring frequently, until liquids evaporate, about 10 minutes. Remove from heat and allow to cool slightly.
4. Stir in remaining 3/4 teaspoon cumin and remaining 1 teaspoon oregano. Add cilantro and lime juice. Taste for seasoning. Using a large spoon or a potato masher, mash mixture roughly so it will stick together and be easier to spread.
5. Measure out 1 cup of marinara sauce and place in a small bowl. To assemble the pie, place one tortilla in the center of the prepared baking sheet. Using the marinara sauce in the bowl, spread 3 tablespoons evenly over the tortilla (use a pastry brush if you have one). Next, spread 1 cup of the bean mixture evenly over the tortilla, making sure to spread it out to the edges.
6. Top with a second tortilla. Spread with 3 more tablespoons marinara and 1 cup filling. Repeat two more times, layering the tortilla, marinara and beans for a total of four layers.
7. Top with remaining tortilla. Spread remaining marinara sauce from the bowl over the top tortilla. Sprinkle cheese evenly over the top, if using. Bake until golden brown on top and warmed through, about 15-20 minutes. (Tip: To ensure that the cheese is golden brown, you may need to increase the oven temperature to broil for the last 2-3 minutes of cooking.)
8. While tortilla pie is baking, heat remaining 1 1/2 cups marinara sauce in a small saucepan until warm.
9. When pie is ready, pick up both sides of the parchment paper and transfer pie, still on parchment paper, onto a cutting board. Cut into eight wedges. Serve each portion topped with 2-3 tablespoons warm marinara sauce. Garnish with cilantro.
Nutritional information per serving:
Calories: 250; Carbohydrates: 44g; Protein: 10g; Total Fat: 4g; Saturated Fat: 1g; Cholesterol: 0mg; Dietary Fiber: 18g; Sodium: 609mg
Published on: August 7, 2017