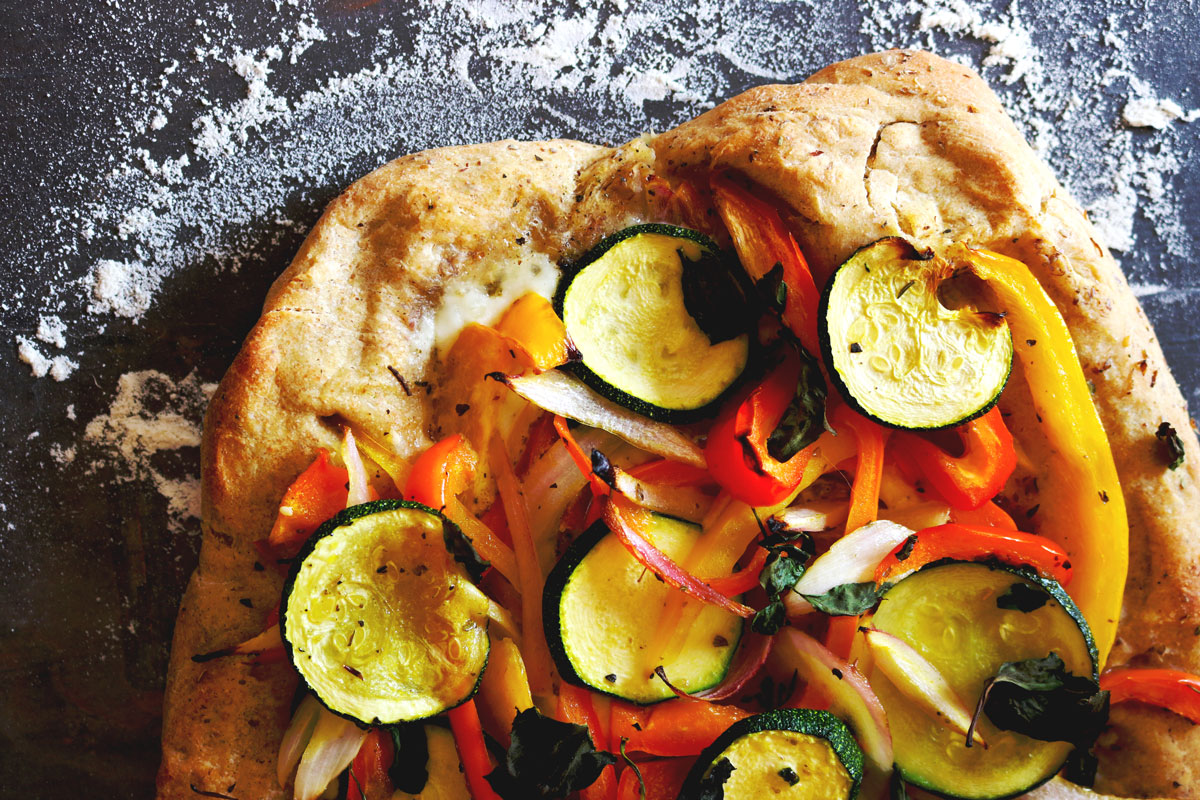 Pizza with Peppers & Zucchini
Not many foods are more perfect than pizza, and this Pizza with Peppers & Zucchini proves that the popular Italian dish also can be incredibly healthy!
A thin and crisp homemade dough is the base for a pile of fresh, colorful veggies. Add as much as you please – in our opinion, the more the better! We chose red, yellow and orange bell peppers, green zucchini and red onion slices, but feel free to play with different combinations, depending on your taste preferences and what's in season. 
Another classic combo? Tomatoes, basil and arugula with fresh burrata and a drizzle of balsamic vinegar. 
Save us a slice!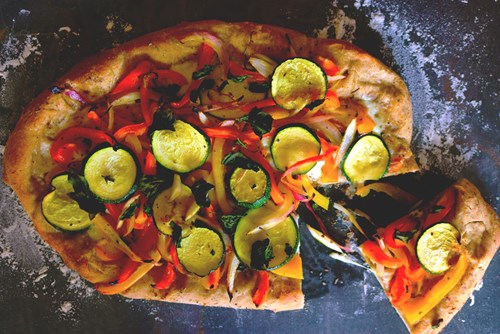 Pizza with Peppers & Zucchini
Recipe adapted from Smitten Kitchen
Serves 4

Ingredients:
1/2 red bell pepper, thinly sliced
1/2 orange bell pepper, thinly sliced
1/2 yellow bell pepper, thinly sliced
1/2 small red onion, thinly sliced
1/2 large zucchini, thinly sliced
1/4 cup fresh basil leaves, roughly torn
1 tablespoon avocado oil
1 teaspoon malt vinegar
1/2 tablespoon Italian seasoning
Salt and pepper, to taste
2 ounces fresh mozzarella cheese, roughly torn
For the pizza dough:
1 cup all-purpose flour, plus more for dusting
1/2 cup red wheat flour (can also use whole-wheat flour)
1 teaspoon table salt
3/4 teaspoon active dry yeast
1/2 cup lukewarm water (may need up to 1 or 2 tablespoons more)
1 tablespoon avocado oil
Ground flaxseeds, for dusting

Directions:
1. Preheat the oven to 450-500 degrees and position a baking rack on the top-most position.
2. To make the dough, stir dry ingredients, including yeast, in a large bowl. Add water and avocado oil, and knead mixture into a ball. (Hint: If the dough becomes too sticky, take a breather. Leave the dough in the bowl, put a dishtowel over it, and walk away. Come back in 2-5 minutes, at which point the dough will be much more workable.)
3. Dump the dough out onto a lightly floured surface and knead it for a minute or two more. Lightly spritz the bowl with cooking spray and put the dough back in, turning it over a few times so all sides are coated with oil. Cover the top of the bowl with plastic wrap and a dishtowel, and leave it undisturbed for an hour or two, until the dough has doubled in size.
4. Dump the dough back onto the floured counter and gently press the air out of the dough with the palms of your hands. Fold into an approximate ball shape and let it sit under that plastic wrap for an additional 20 minutes.
5. Meanwhile, toss the peppers, zucchini, onion and basil leaves together in a large bowl with the avocado oil and vinegar. Season with salt and pepper to taste.
6. Use your hands to gently work the pizza dough into a circle about 12-14 inches in length. Place the dough onto the back of a baking sheet sprinkled with cornmeal or ground flaxseeds.
7. Spray the dough with nonstick cooking oil and sprinkle with Italian seasoning, leaving about a 1/2-inch border.
8. Evenly distribute pieces of mozzarella cheese atop the oiled dough. Spread the pepper mixture over the cheese. Top with extra pieces of torn basil.
9. Place the baking sheet into the oven and bake for 12-15 minutes, or until the dough is crispy and thoroughly cooked. Slice and serve immediately.
Nutritional information per serving (2 slices of pizza):
Calories: 215; Carbohydrates: 35g; Protein: 9.5g; Total Fat: 4.4g; Saturated Fat: 1.9g; Cholesterol: 9mg; Dietary Fiber: 3.4g; Sodium: 697mg
Published on: June 21, 2018