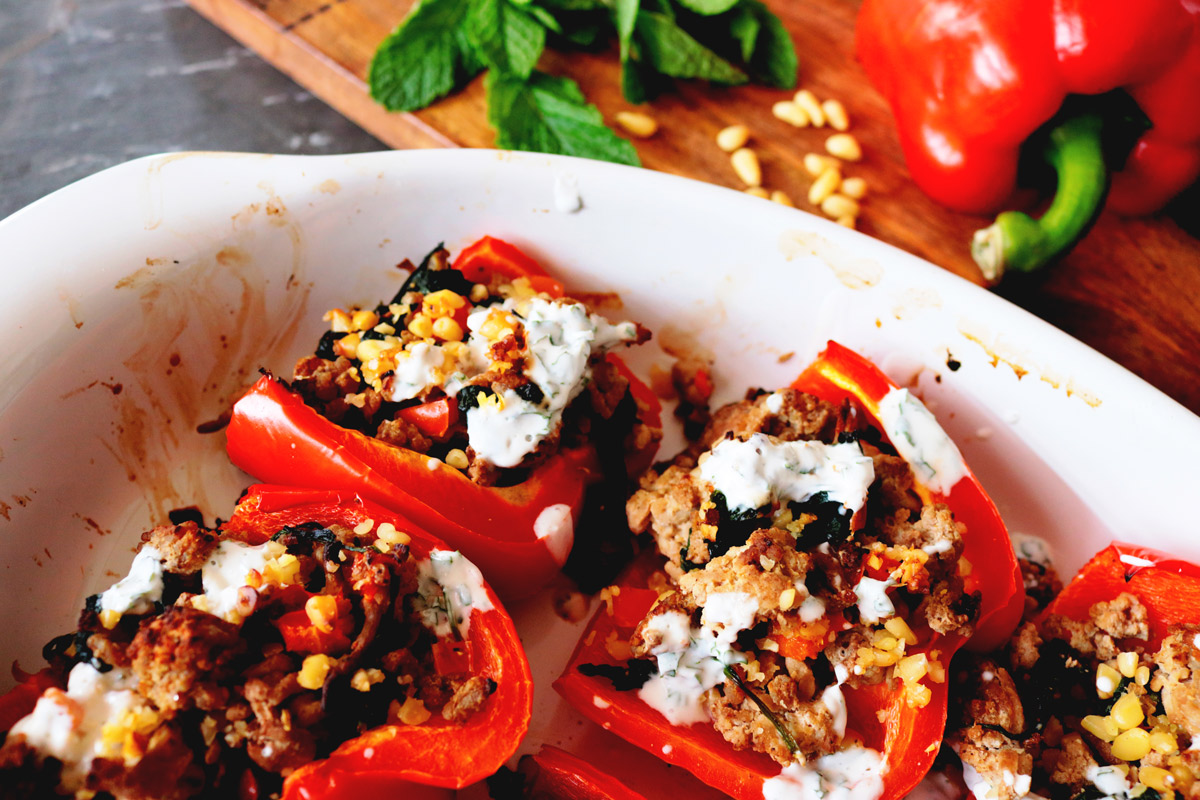 Turkey Masala Stuffed Peppers
Jam-packed with rich flavor and good-for-you ingredients, these Turkey Masala Stuffed Peppers make for a great go-to meal any time of day. 
These low-carb stuffed peppers don't require much to make an impact. Simple ingredients like ground turkey, spinach and red bell peppers get a delicious dose of flavor from a blend of rich spices inspired by Indian cuisine. 
One key spice – or, to be more precise, group of spices – is garam masala. 
The word "masala" refers to a mixture of many spices. Typically, this mix may include peppercorns, cloves, cinnamon, cardamom, bay leaf, cumin, coriander and mace – all of which when combined results in an aromatic seasoning that imparts big flavor into any dish. 
Pine nuts add a welcome crunch, while a drizzle of freshly made mint-yogurt sauce provides a bit of coolness to combat the heat of the spices. 
Enjoy as a side or small appetizer, or double your serving for a satisfying main meal. 
Turkey Masala Stuffed Peppers
Serves 8
Ingredients:
1/2 tablespoon fennel seeds
1/2 tablespoon caraway seeds
1 teaspoon paprika
1 tablespoon garam masala
1/2 teaspoon cumin
1 tablespoon avocado oil
1 pound ground turkey
5 whole red bell peppers
1 cup spinach
1 teaspoon red pepper flakes
1 teaspoon sea salt
2 garlic cloves, minced
1 tablespoon pine nuts, crushed
½ cup plain nonfat Greek yogurt
1 tablespoon fresh mint leaves, finely minced
2 teaspoons almond milk (or water)
Pinch of sea salt
Directions:
1. Preheat oven to 425 degrees.
2. Using a pestle or the back of a heavy spoon, grind the fennel seeds and caraway seeds until they are aromatic. Combine in a small dish with the paprika, garam masala and cumin. Set aside.
3. Add oil to a medium skillet and heat over medium-high heat; brown the ground turkey.
4. While the turkey is cooking, cut the peppers in half length-wise. Clean out the middle and discard the seeds. Place eight halves in a baking dish and set aside.
5. Finely chop the remaining bell pepper and add to the cooked turkey, along with the spinach, red pepper flakes, salt, garlic and spice mixture. Cook for an additional 2-3 minutes, until the spinach is just wilted and the spices are fragrant.
6. Stuff each pepper half with the turkey mixture; top with crushed pine nuts.
7. Bake for 20 minutes, or until the peppers are nearly soft. Remove and allow to cool for 5 minutes.
8. To make the yogurt sauce, combine the Greek yogurt, mint leaves and almond milk in a small bowl and whisk until smooth. You may need to add more liquid, depending on your preference. Season with salt to taste.
7. Drizzle over bell peppers and serve.
Nutritional information per serving (1 pepper half):
Calories: 161; Carbohydrates: 4.5g; Protein: 18g; Total Fat: 9.2g; Saturated Fat: 1.6g; Cholesterol: 58mg; Dietary Fiber: 1.3g; Sodium: 306mg
Published on: February 13, 2018