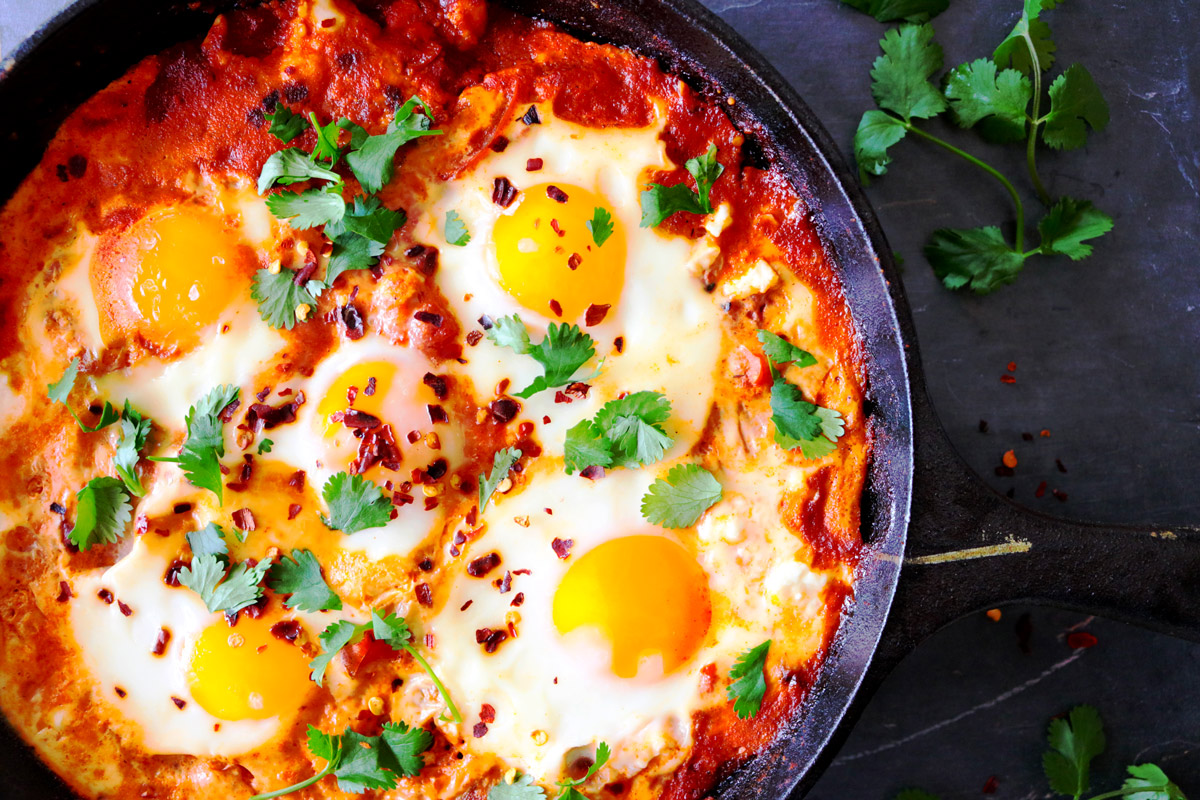 Shakshuka
Shakshuka is a popular Middle Eastern dish that has made its way to all corners of the globe. 
A classic Israeli breakfast with origins in Libya, Shakshuka is a simple one-skillet meal you can serve any time of day. 
The sauce is a mixture of onions, red peppers, tomatoes and spices, including paprika and cumin. 
Once these ingredients simmer over the stove and thickens into a rich, flavorful sauce, the real fun begins. 
Crack a few eggs into the pan, then move to the oven to finish. 
The end result is a mouthwatering plate of deliciousness that is just as beautiful as it is tasteful. 
Serve with a generous sprinkling of cilantro and slices of warmed pita for mopping up every last bit of tomatoey goodness. 
Shakshuka
Serves 5
Ingredients:
2 tablespoons avocado oil
1 medium-large yellow onion, thinly sliced
1 large red bell pepper, seeded and thinly sliced
2-3 garlic cloves, thinly sliced
1 teaspoon ground cumin
1 teaspoon sweet paprika
1/2 teaspoon Harissa seasoning
1 (28-ounce) can whole plum tomatoes with juices
1 teaspoon sea salt
1 teaspoon red pepper flakes
1/2 cup feta cheese, crumbled
5 large eggs
Cilantro, for serving
Directions:
1. Heat oven to 375 degrees.
2. Heat oil in a 12-inch skillet over medium-low heat. Add onion and bell pepper; cook until very soft, about 15 minutes.
3. Add garlic and cook until tender, 1-2 minutes. Stir in cumin, paprika and Harissa seasoning and cook 1 minute more.
4. Pour in tomatoes with their juices and crush them gently with the back of a wooden spoon. Season with salt and red pepper flakes; simmer until mixture has thickened, about 10 minutes. Stir in crumbled feta.
5. Using the back of a tablespoon, create five "wells" in the tomato mixture. Gently crack the eggs into each well. Season with additional salt and pepper.
6. Transfer skillet into the oven and bake until eggs are just set, about 8-10 minutes. Remove from oven and sprinkle with cilantro to serve. 
Nutritional information per serving:
Calories: 229; Carbohydrates: 13.4g; Protein: 10.7g; Total Fat: 14.1g; Saturated Fat: 4.6g; Cholesterol: 199mg; Dietary Fiber: 4g; Sodium: 867mg
Published on: February 7, 2018