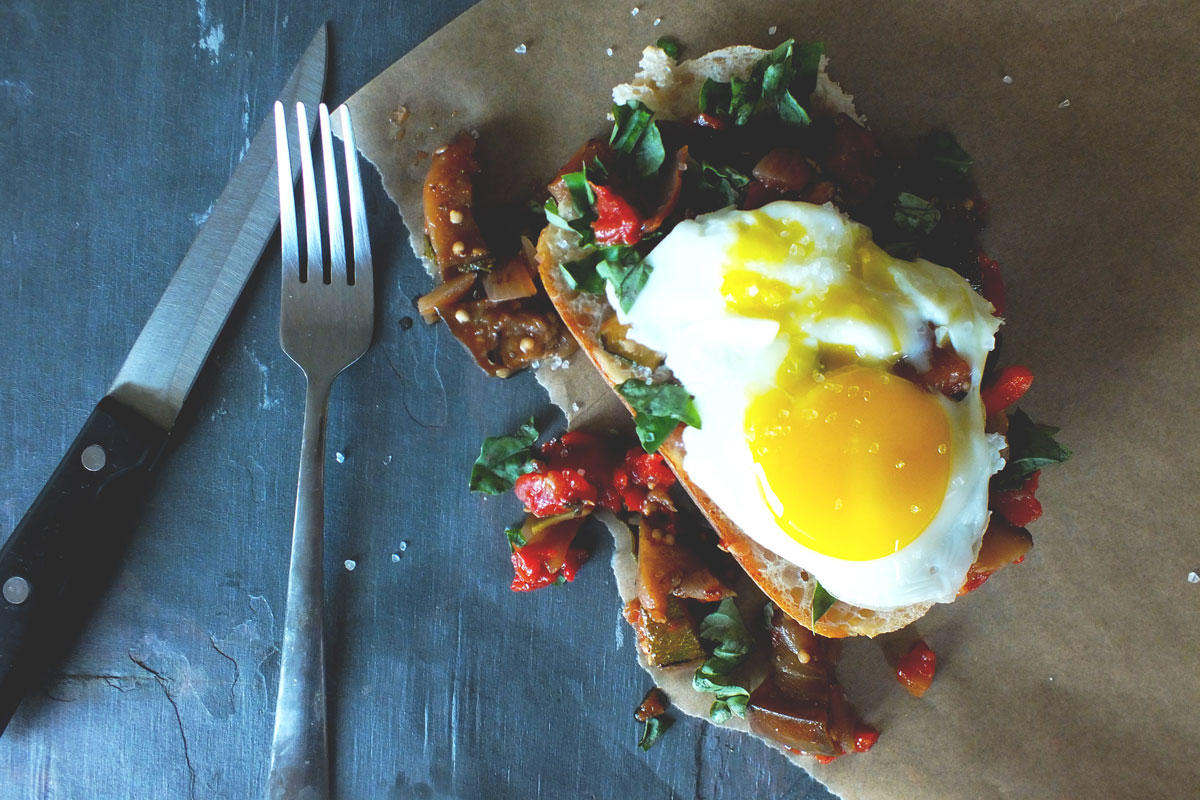 Ratatouille Toasts
Before, it used to be that peanut butter and jelly were the go-to toppings for toast.
These days, the combinations are virtually endless! 
"Fancy toast, as I like to call it, is a simple and satisfying way to make a more nutritious and complete meal out of something we all have in our fridge – bread," says Nicole Sievers, a registered dietitian at Wilcox Medical Center. 
According to Sievers, fancy toast swaps out the usual butter or jelly and instead can include nutrient-rich vegetables, protein-packed lean meats, and even some fruit. 
"These ingredients make a more balanced meal and keep the hungry monsters at bay for longer than the usual toast with jelly," Sievers says, adding that toppings like hummus, mashed avocado and even seasoned soft tofu are much more heart-healthy and diabetic-friendly than the high-sugar jellies and high-fat butter or margarine typically used. 
"The possibilities are endless, so get creative and try out a fancy toast for breakfast, lunch or any time you need a quick and healthy bite to eat!" Sievers says. 
Ready to think outside the bread box? This recipe for Ratatouille Toasts is an ideal make-ahead brunch or light dinner. 
Made using fresh, seasonal vegetables like eggplant, zucchini and bell peppers, the luscious ratatouille tastes even better when made the day before. Spoon on top a lightly toasted piece of sourdough and top with a sunny-side-up egg for a well-rounded meal. 
Ratatouille Toasts
Recipe adapted from Delish
Serves 6
 
Ingredients:
5 tablespoons extra-virgin olive oil
2 cups tomatoes, diced
5 cloves of garlic
1 1/4 teaspoons crushed red pepper flakes
Sea salt, to taste
1 eggplant, diced
2 small zucchini, diced
2 large red onions, diced
1 medium red bell pepper, diced
1 bay leaf
1 cup basil, roughly chopped, plus extra for garnish
Freshly ground black pepper
6 large eggs
6 slices of sourdough bread
 
Directions:
1. In a large skillet, heat 1 tablespoon of olive oil. Add tomatoes, 1 garlic clove and 1/4 teaspoon of crushed red pepper and season with salt. Cook tomatoes over moderate heat, stirring occasionally, until just softened, about 5 minutes. Scrape tomatoes into a medium saucepan and discard garlic clove. Wipe out skillet.
2. Repeat Step 1 with eggplant, zucchini, onions and red bell pepper, cooking each vegetable separately in 1 tablespoon of oil with 1 garlic clove, 1/4 teaspoon of crushed red pepper and a generous pinch of salt until just tender and lightly browned, about 7 minutes per vegetable. Add cooked vegetables to tomatoes in saucepan.
3. Add bay leaf, 1/2 cup of basil and 1/3 cup of water to saucepan with vegetables. Cover and cook over moderately low heat, stirring occasionally, until vegetables are very tender, about 20 minutes. Discard bay leaf and stir in the remaining 1/2 cup of basil. Season with salt and pepper and let cool slightly.
4. Meanwhile, spray a large nonstick skillet with cooking spray and heat over moderate heat. Crack 3 eggs into skillet and cook until whites are firm and yolks are runny, 3 to 5 minutes. Transfer eggs to a plate, season with salt and pepper and keep warm. Repeat with remaining 3 eggs.
5. To serve, spoon ratatouille onto toasts and top with eggs. Sprinkle with chopped basil and serve. 
Nutritional information per serving:
Calories: 332; Carbohydrates: 34g; Protein: 13g; Total Fat: 18g; Saturated Fat: 3.4g; Cholesterol: 186mg; Dietary Fiber: 6.3g; Sodium: 290mg
Published on: September 8, 2016