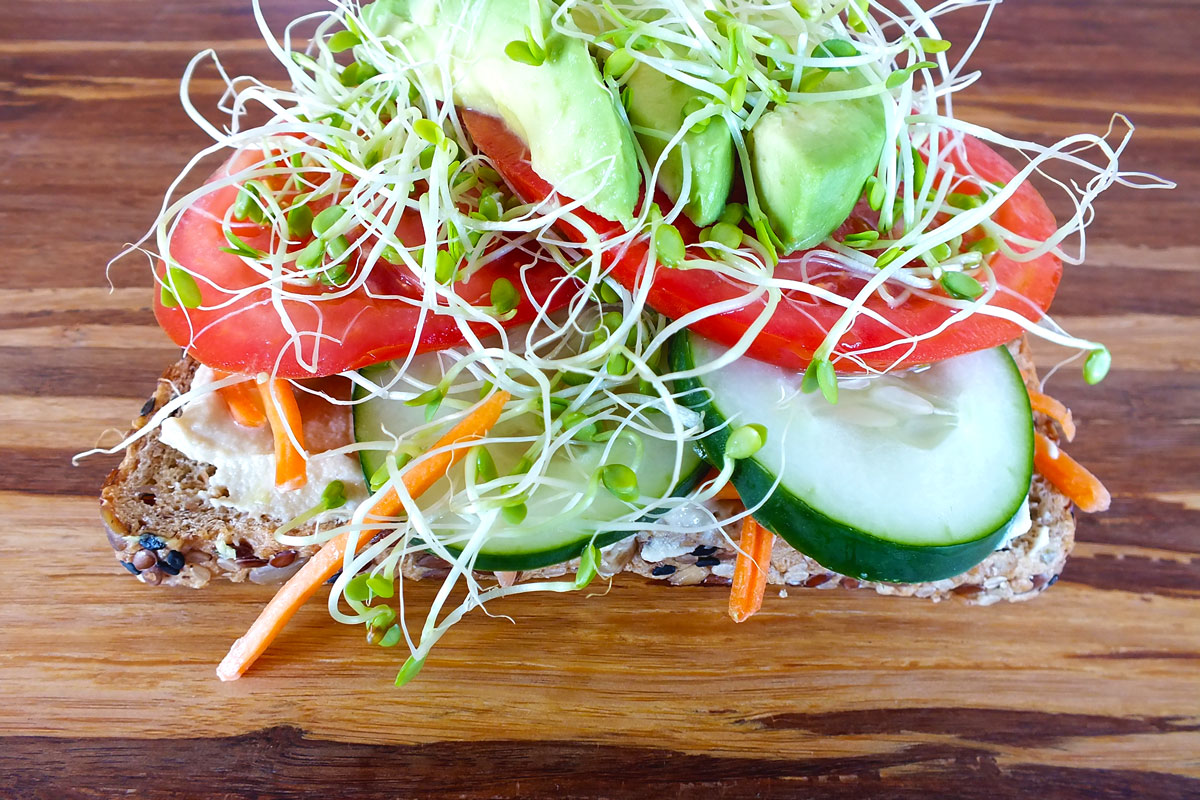 Hummus & Veggie Toast
Toast is a breakfast staple, but the usual toppings of butter and jam can get a little stale.
Freshen up your morning routine with these Hummus & Veggie Toasts!
Feel free to pile on as much produce as you want. According to experts, having a meal that consists predominately of vegetables is a great way to start the day. 
Why? Vegetables are low in calories and high in vitamins, minerals and fiber. 
Another benefit of veggies is that they are rich in phytochemicals, which research is showing have various health benefits, like acting as an antioxidant in the prevention of cancer. 
One common phytochemical is lycopene, which is found in tomatoes and papaya. Studies suggest that eating lycopene-rich foods may help reduce the risk of cancer, heart disease and age-related eye disorders. 
Lycopene also makes tomatoes red and gives other orange fruits and vegetables their color.
Different colors of vegetables contain various types of phytochemicals, so make sure to aim to eat a rainbow of colors!
Hummus & Veggie Toast
Serves 2
 
Ingredients:
2 slices of sprouted whole-grain bread
2 tablespoons hummus
6 thin slices of cucumber
4 thin slices of tomato
6 slices of avocado
1/2 cup sprouts (alfalfa, clover or radish)
1/2 cup carrots, grated
 
Directions:
1. Toast bread.
2. Spread one tablespoon of hummus on each slice of bread.
3. Layer carrots, cucumber, tomato, sprouts and avocado in any order you choose.
4. Enjoy!
Nutritional information per serving:
Calories: 162; Carbohydrates: 22g; Protein: 6.2g; Total Fat: 6.4g; Saturated Fat: 1.2g; Cholesterol: 0mg; Dietary Fiber: 6.2g; Sodium: 145g; Potassium: 225mg
Published on: May 12, 2016