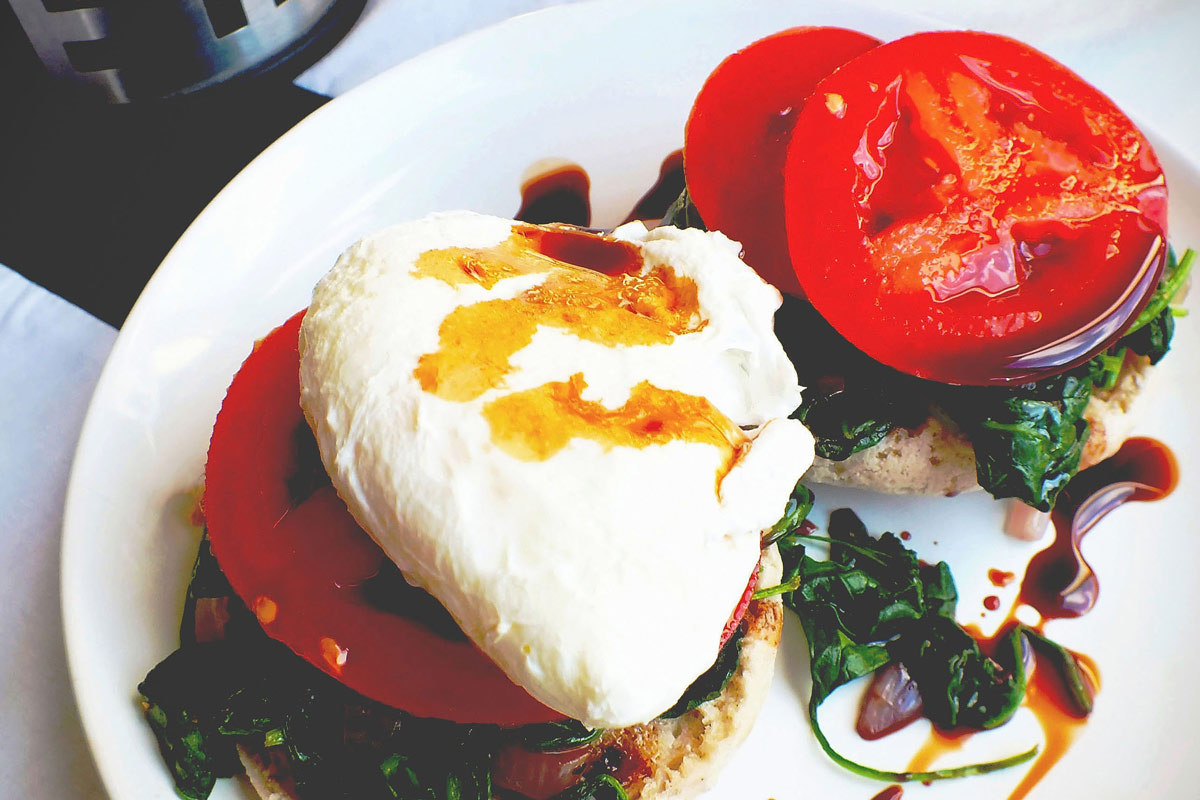 Elegant Eggs Florentine in Four Easy Steps
If your Easter basket runneth over, try this egg-cellent recipe.
As easy to prepare as they are beautiful, these Elegant Eggs Florentine are packed with lean protein and other nutritional goodies thanks to the incredible, edible egg.
Eggs are a good low-calorie source of protein and important nutrients such as vitamins A, B6, B12 and iron.
If you're worried about the fat or cholesterol in the egg yolks, don't be. A recent report from the Dietary Guidelines Advisory Committee says dietary cholesterol (what you consume from eggs, meats and dairy) isn't likely to raise your risk of heart disease.
Plus, egg yolks contain choline, which may have inflammation-lowering and memory-improving benefits.
Extra-virgin olive oil is a healthy monounsaturated fat that can help increase our levels of good cholesterol, while fresh baby spinach, plum tomatoes and whole grains from the English muffin provide an excellent amount of dietary fiber and age-fighting antioxidants.
For those watching their portions, cut the serving size in half; while this recipe serves two, it easily could serve four.
Elegant Eggs Florentine in Four Easy Steps
Serves 2
Ingredients:
1/4 cup white distilled vinegar
2 teaspoons extra virgin olive oil
1 small shallot, minced
1 small clove garlic, minced
4 cups fresh baby spinach
Freshly ground pepper, to taste
Red pepper flakes, to taste (optional)
4 large free-range eggs
2 whole-wheat English muffins, split and toasted (make sure they are 100% whole wheat)
1 small plum tomato, sliced thin
Balsamic vinegar, to taste
1 tablespoon freshly grated Parmigiano Reggiano cheese
Directions:
1. Fill a large skillet or shallow pot with 2 inches of water; bring to a boil. Add white vinegar.
2. Heat olive oil in a large nonstick skillet over medium-high heat. Add shallot and garlic and stir until fragrant, about 1 minute. Add the fresh spinach and cook until the spinach is wilted, about 5-7 minutes. Remove from the heat; season with freshly ground black pepper and red pepper flakes.
3. Reduce the boiling water to a gentle simmer. The water should be steaming and small bubbles should come up from the bottom of the pan. Crack each egg into a small bowl and slip them one at a time into the simmering water, taking care not to break the yolks. Cook for 4 minutes for soft-, 5 minutes for medium-, and 6-8 minutes for hard-set eggs. Use a slotted spoon to transfer the eggs to a paper towel-lined plate to drain.
4. To serve, layer each toasted muffin half with some of the spinach mixture and 1-2 thin slices of plum tomato. Drizzle the tomato slices with balsamic vinegar. Add the poached egg, another drizzle of balsamic vinegar and a sprinkling of grated Parmigiano Reggiano cheese.
Nutritional information per serving:
Calories: 330; Protein: 22.5g; Carbohydrates: 29g; Total Fat: 14g; Saturated Fat: 4g; Cholesterol: 422mg; Dietary Fiber: 5g
Published on: April 8, 2015