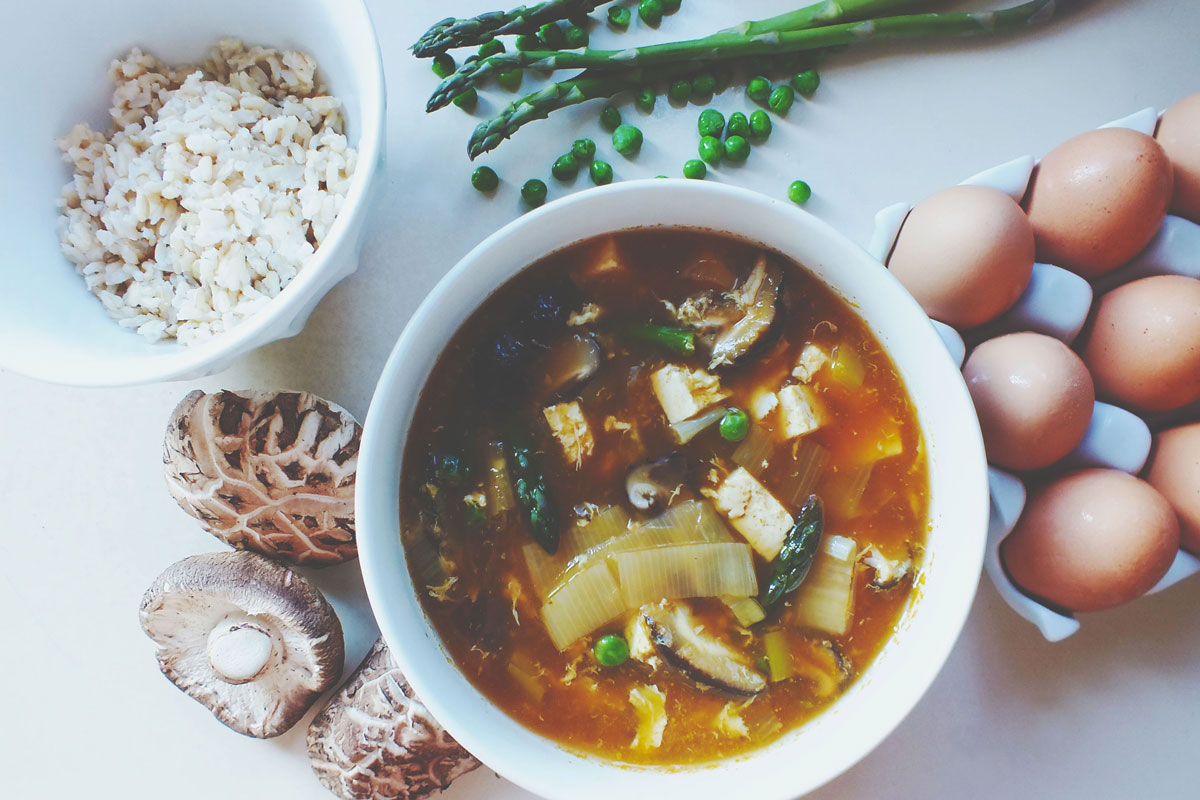 Springtime Egg Flower Soup
Soup is the ideal meal for those too busy to slave away over a hot stove all day. Just throw the ingredients in a pot of boiling broth, let simmer and voila – soup's on!
This Springtime Egg Flower Soup is the perfect departure from the heartier soups and stews most people turn to during the chillier winter months.
Seasonal produce such as asparagus, green peas and leeks give this soup its light, fresh flavor, but the secret to this soup's staying power is eggs.
"Eggs are good for you because there are 7 grams of protein in one egg, and the yolk is high in B vitamins," states Rebecca Izawa, a registered dietitian at Kapiolani Medical Center for Women & Children.
Protein is the body's building block. Everything from bones to muscles, cartilage, skin, blood, even your hormones, rely on protein for proper development.
Protein also gives us energy in the form of calories, and B vitamins, like the ones found in egg yolks, help the body release that energy. B vitamins (niacin, thiamin, riboflavin and B6) also aid in the formation of red blood cells, nervous system functions and tissue growth.
"This soup recipe is also high in fiber because of the vegetables and has an additional protein source from the tofu," Izawa notes.
Fiber, along with protein, helps fill you up without filling you out, meaning you'll be satisfied long after the last spoonful.
Springtime Egg Flower Soup
Serves 6
Ingredients:
1 large leek, white and light green parts only, cleaned and thinly sliced
6 cups low-sodium vegetable broth
1 package firm tofu, sliced into thin, 2-inch long sticks
1 bunch asparagus, cut into 1-inch pieces, woody stems removed
1 cup cremini mushrooms, thinly sliced
1 cup frozen green peas, defrosted
1 tablespoon reduced-sodium miso paste
1/4 teaspoon fine sea salt
1/4 teaspoon ground black pepper
2 eggs, beaten
Directions:
1. Spray a large soup pot or Dutch oven with non-stick cooking spray and heat to medium-high heat.
2. Add leek and cook, stirring constantly to prevent sticking, until just softened.
3. Pour in broth and bring to a rapid simmer. Stir in tofu, asparagus, mushrooms, peas and miso. Season with salt and pepper. Simmer for 5 minutes.
4. Stir soup and pour spoonfuls of the egg into the swirling soup. As soon as egg is cooked, serve soup hot. Ladle over 1/2 cup brown rice, if desired.
Nutritional information per serving:
Calories: 140; Carbohydrates: 12.8g; Protein: 11.2g; Total Fat: 5g; Saturated Fat: 0.7g; Cholesterol: 91.7mg; Sugars: 5.3g; Dietary Fiber: 3.8g; Sodium: 886.8mg; Potassium: 270.1mg
Published on: April 1, 2015