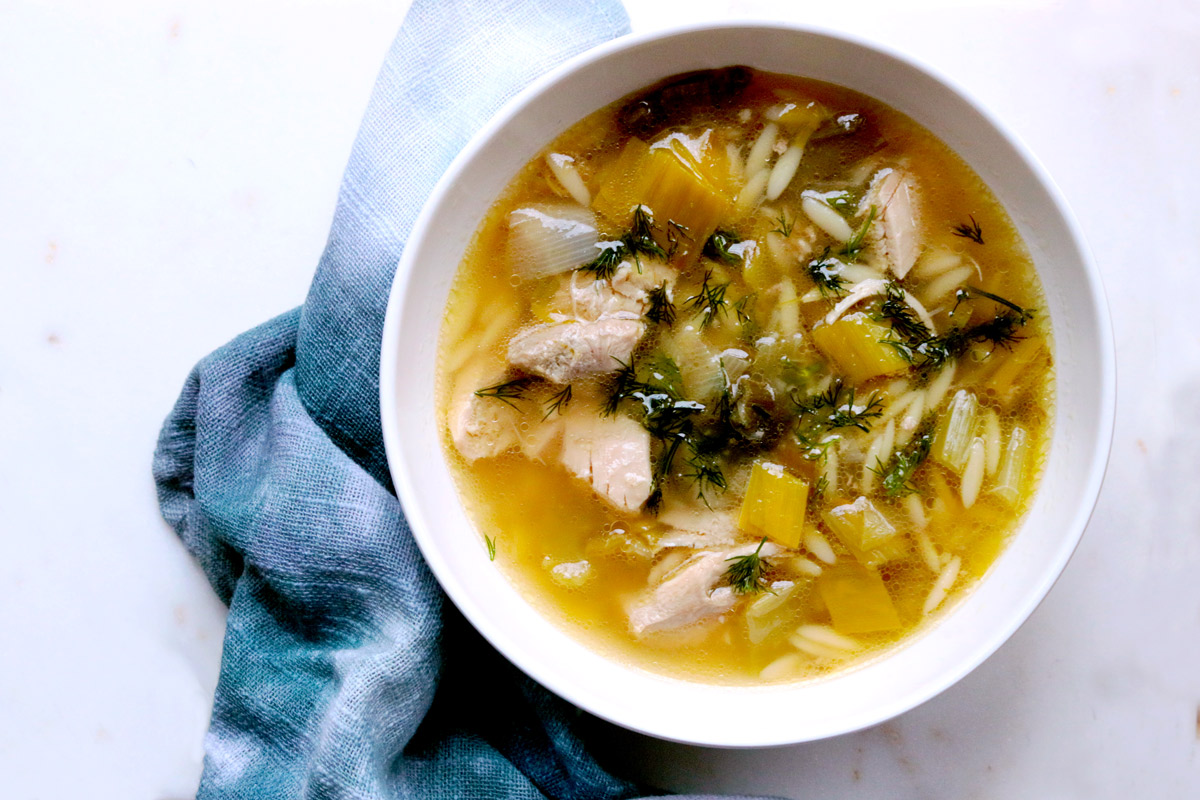 Lemony Chicken & Orzo Soup
Transport yourself to Greece in spring with this soup that draws inspiration from the famous Mediterranean isles. 
Chicken, orzo and bright, citrusy lemon are staples in Greek cuisine, but did you know that ancient Greeks highly valued leeks for their many health benefits? In fact, it is said that the Roman emperor Nero ate large quantities of this vegetable to improve his voice. 
Studies have since shown that eating leeks can help improve eye health, lower blood pressure, support kidney function, manage type 2 diabetes and support cardiovascular health. 
A close relative of onions, garlics and shallots, leeks possess a mild flavor that complements, rather than overpowers a dish. 
Their edible white and light-green stalks are excellent for adding fiber to salads and soups, along with a good dose of vitamins, minerals and polyphenols. 
Enjoy this soup as a light lunch, or create a heartier meal by adding a leafy green salad (with olives, tomatoes and Feta, of course!) and fresh slices of warm, garlicky pita. 
Lemony Chicken & Orzo Soup
Recipe courtesy of Bon Appetit

Serves 4
Ingredients:
1 tablespoon extra-virgin olive oil
1 medium leek, white and pale-green parts only, halved lengthwise and sliced crosswise 1/2-inch thick
1 celery stalk, sliced crosswise 1/2-inch thick
12 ounces skinless, boneless chicken thighs
6 cups low-sodium chicken broth
Sea salt, to taste
Freshly ground pepper, to taste
1/2 cup orzo
1/4 cup fresh dill, chopped
Lemon halves (for serving)
Directions:
1. Heat oil in a large, heavy pot over medium heat. Add leek and celery and cook, stirring often, until vegetables are soft, 5-8 minutes.
2. Add chicken and broth; season with salt and pepper. Bring to a boil, cover, reduce heat and simmer until chicken is cooked through, 15-20 minutes.
3. Transfer chicken to a plate. Let cool, then shred chicken into bite-size pieces.
4. Return broth to a boil. Add orzo and cook until al dente, 8-10 minutes.
5. Remove pot from heat. Stir in chicken and dill. Serve with lemon halves for squeezing over.
Nutritional information per serving:
Calories: 260; Carbohydrates: 22.4g; Protein: 25.6g; Total Fat: 7.1g; Saturated Fat: 1.7g; Cholesterol: 49mg; Dietary Fiber: 1.6g; Sodium: 188mg
Published on: March 6, 2018