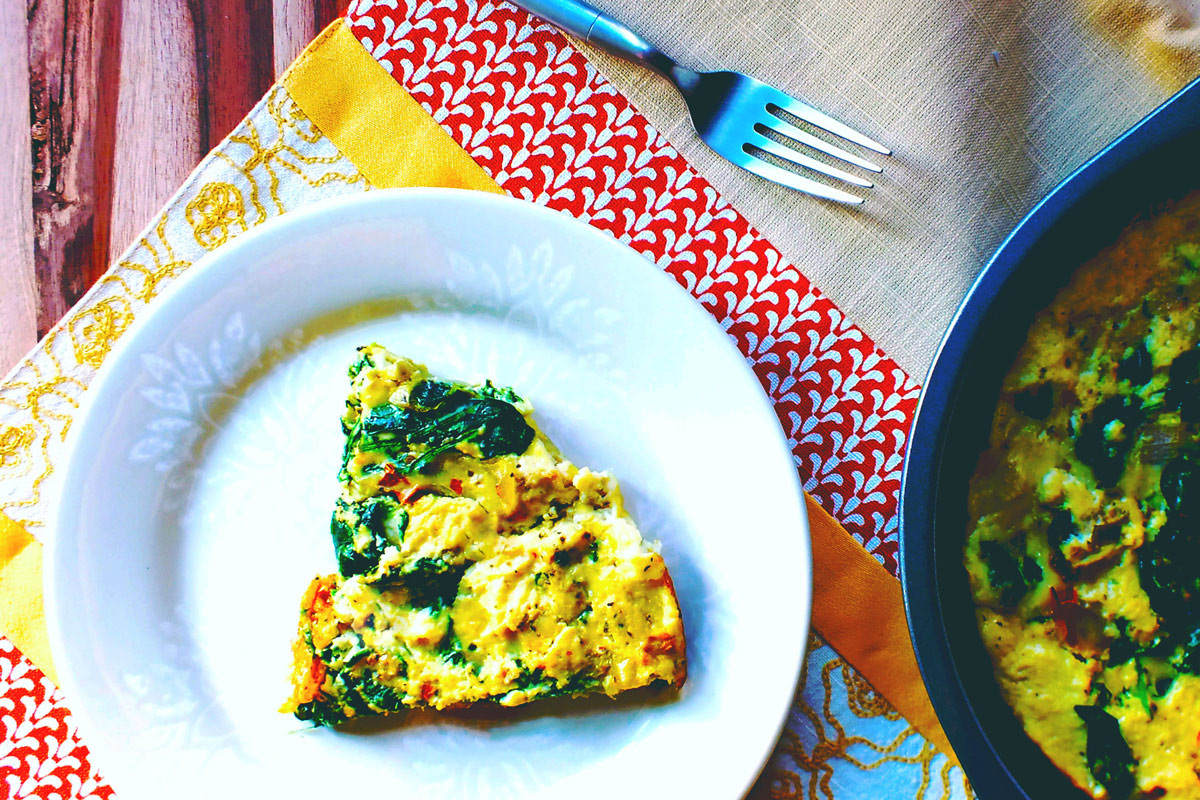 Spinach Frittata
A frittata is the go-to meal for cooks who are short on time but rich in ideas. You can throw just about any combination of ingredients together to whip up a delicious dish in no time flat.
Plus, it's just as tasty fresh from the oven as it is at room temperature or served cold.
But the best thing about frittatas is that they are multi-taskers, and this Spinach Frittata from Pali Momi Medical Center Executive Chef Kyle Kanemura is no exception.
Like a frittata, spinach is a versatile all-star that will work double-time for your health. This dark leafy green is an excellent source of vitamins (A, C, E, K and B vitamins), iron, folate, magnesium, potassium, calcium and dietary fiber.
By using a liquid egg white substitute rather than whole eggs, Kanemura leaves room for a little indulgence in the form of mozzarella and Parmesan cheeses.
Sundried tomatoes, onion and garlic lend extra flavor and nutrients for few calories.
Try this frittata for dinner one night, then take it to work for lunch the next day. On weekends, make an extra-large batch for breakfast or Sunday brunch.
Spinach Frittata
Serves 6-8
Ingredients
1 pound spinach leaves
4 1/2 cups liquid egg substitute
1/2 cup skim milk
3 ounces shredded mozzarella cheese
1/3 cup grated Parmesan cheese
Sun-dried tomatoes, about 2 Tbsp. chopped
Salt and freshly ground pepper, to taste
2 tablespoons olive oil
1 medium onion, chopped, about 1 cup
1 large clove garlic, minced
Directions
1. Preheat oven to 400 degrees.
2. Cook spinach in ¼ cup of water in a covered saucepan until just wilted, a couple of minutes. Drain water and rinse with cold water to cool. Wrap the spinach in paper towels and squeeze out as much moisture as you can. Then chop and set aside. (If you are using tender baby spinach instead of mature spinach, you don't need to pre-cook; just chop and toss with the onions in Step 3, until wilted).
3. In a mixing bowl, whisk together eggs, milk, shredded mozzarella cheese and Parmesan cheese. Add in chopped sun-dried tomatoes, and sprinkle with salt and pepper. Set aside.
4. Sauté onions in olive oil in an oven-proof, stick-free skillet, until translucent, about 4-5 minutes on medium heat. Add the garlic and cook a minute further. Mix the cooked chopped spinach in with the onions and garlic.
5. Spread out spinach mixture evenly on bottom of skillet. Pour egg mixture over spinach mixture. Use a spatula to lift up the spinach mixture along the sides of the pan to let egg mixture flow underneath.
6. When the mixture is about half set, put the whole pan in the oven. Bake for 13-15 minutes, until frittata is puffy and golden. Remove from oven with oven mitts and let cool for several minutes.
7. Cut into quarters to serve.
Nutritional Information per serving:
Calories: 176; Protein: 20g; Carbohydrates: 8g; Total fat:   7g; Cholesterol: 10mg; Sodium: 390mg; Dietary Fiber: 2g
Published on: April 12, 2015